Is this what it would look like if Lily had a twin sister?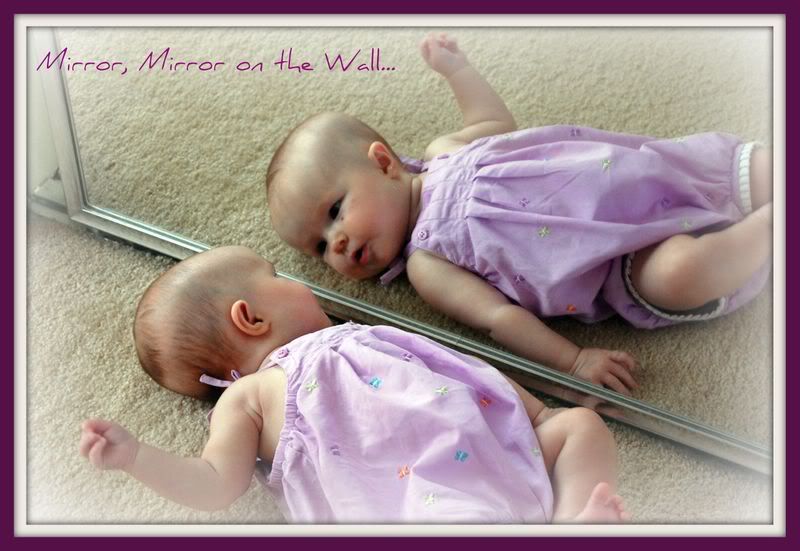 they'd even have matching hemangiomas under their eyes...look at the symmetry!!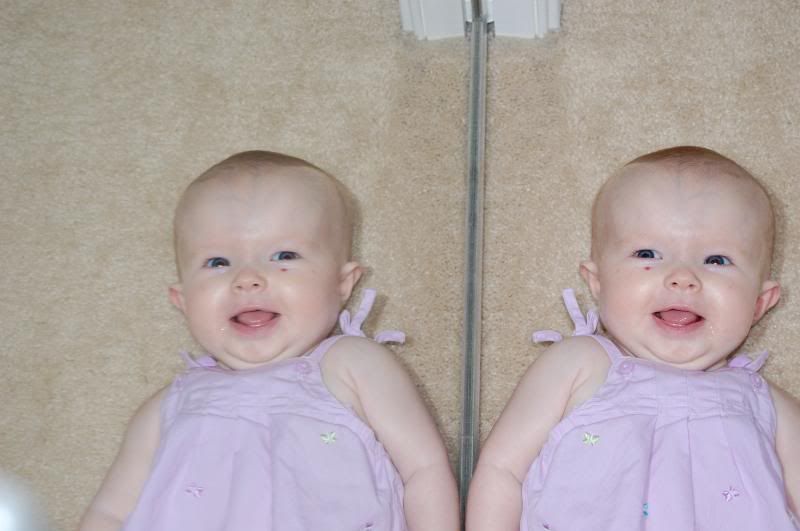 This is my favorite face Lily makes! She talks so much with her invisible eyebrows and adorable forehead!! I melt when I see her do this...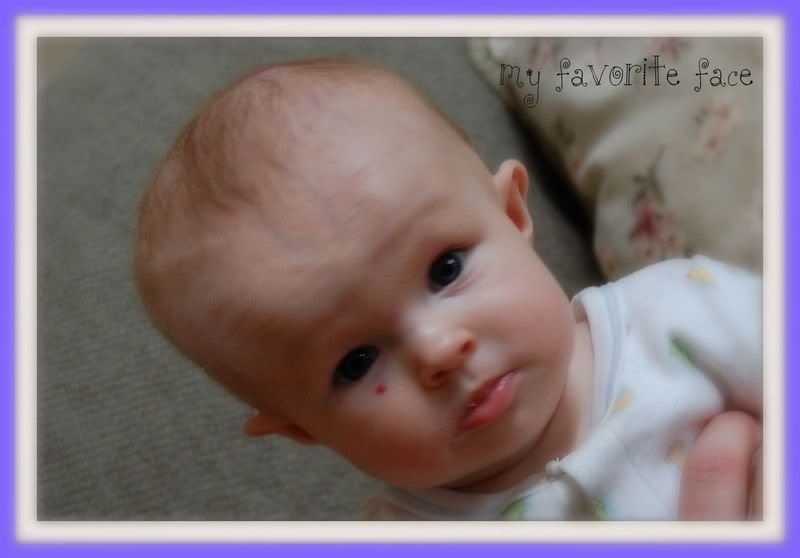 And this outfit has special meaning too! While trying to conceive, I never wanted to ginx myself by buying a lot of baby clothes so I just bought a prayer bear that now hangs on her crib and plays a prayer each night before bed. I also bought this outfit. It was unisex and I thought the bear on the bum was just too cute!! The prayer bear and this outfit hung in our bedroom for 4 years and were a constant, subtle reminder of what our future held if we were patient. Now we get to see our miracle in it...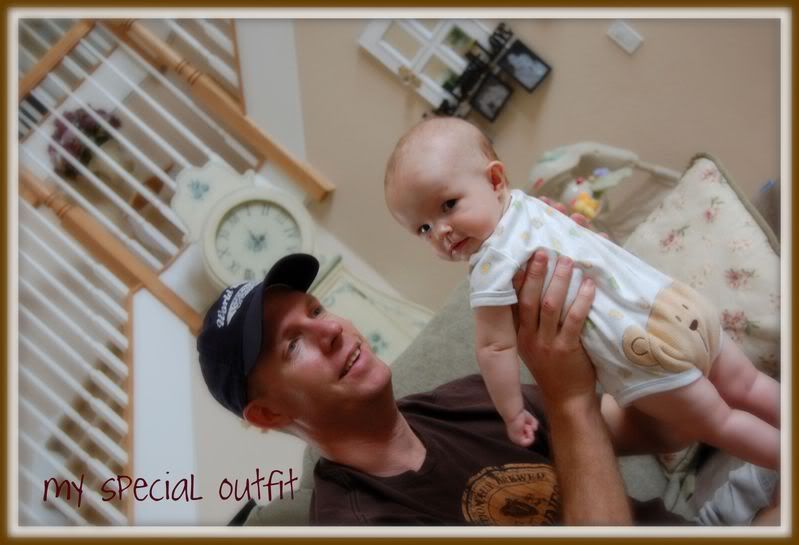 and she just learned how to do rasberries...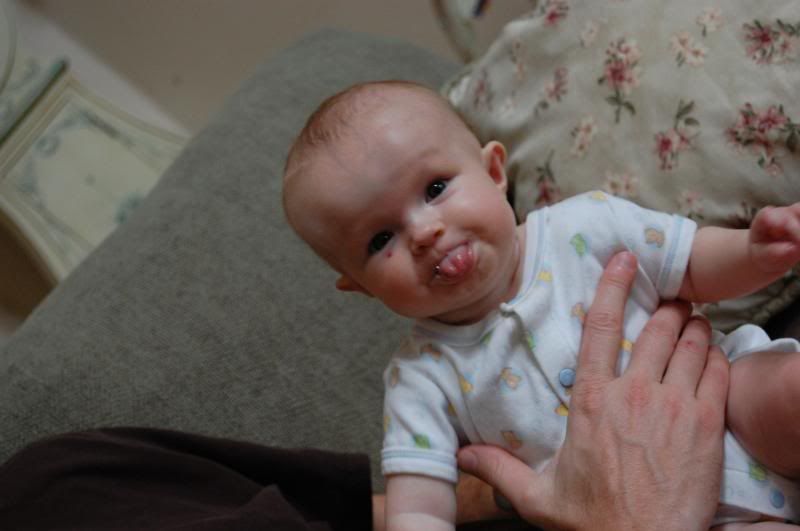 She also reaching out and touch things while trying to pull everything into her mouth. I know this is very common and every baby eventually does it, but it's so strange when she does iIt's so exciting to see her transform into more of her future self everyday.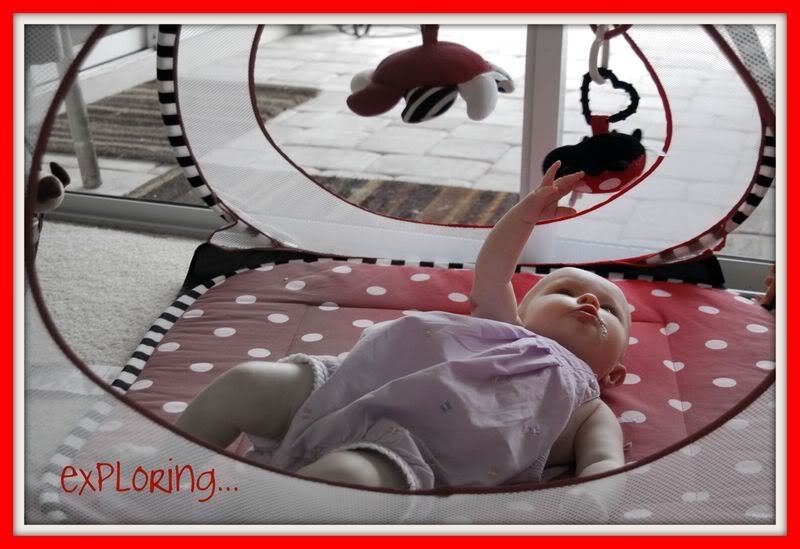 She also likes to talk to her special ladybug friend.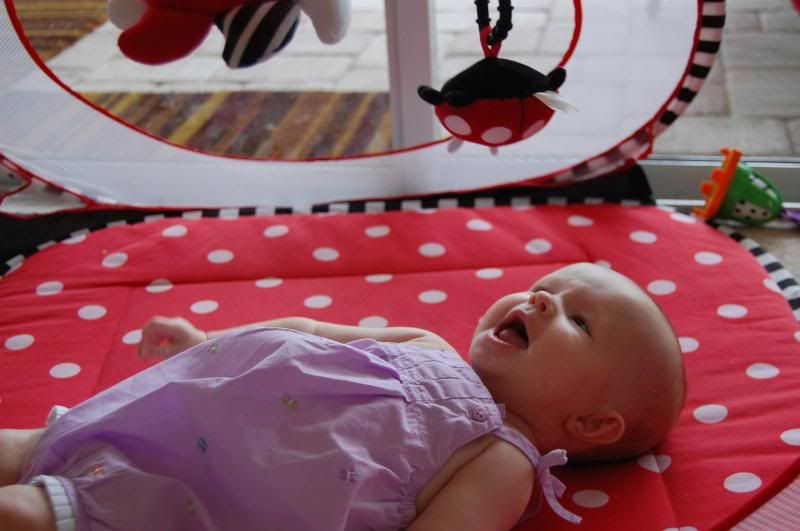 And the girl LOVES to be swaddled! And I mean L-O-V-E!! Especially by the
miracle blanket
. No matter how tired she is at night, she immediately open mouth smiles from ear to ear when she sees the swaddle. When I get her in the morning, this is how I find her! She goes to bed smiling and wakes up smiling. This picture has not been doctored or edited to protect the innocent. tee hee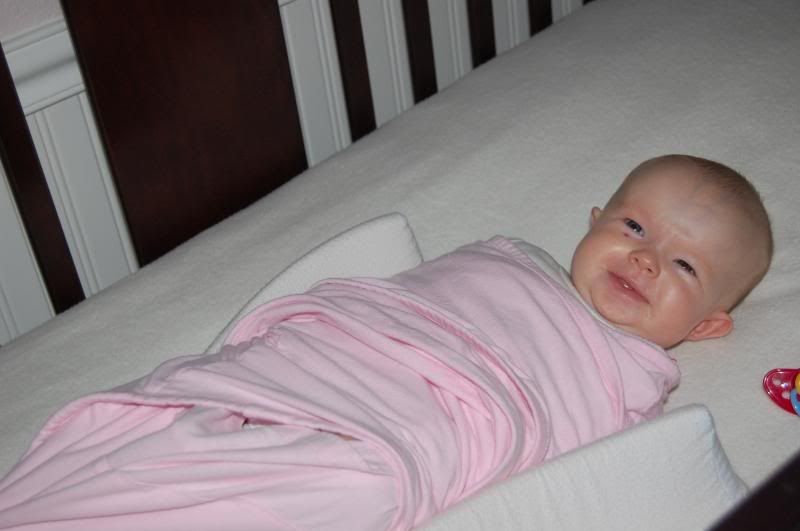 I wrote this post and saved it as a draft on 8/20 so the pictures/events are a little old, but still a snapshot into our lives. It's oh so rich because she is in it. It's been almost 6 months and I can barely remember life without her. She's such a natural part of our lives now. She makes us laugh and AOL (aww out loud) everyday with her emerging personality.
I'm trying to keep you up to date on the blog, but finding time is much harder these days. I'm usually playing with Lily when she's awake and trying to catch up on the daily grind stuff when she's asleep. I'm still trying to find the balance in the working mom thing and it's hard. This weekend was great having unlimited, uninterrupted time with Lily and D, but a pit in my tummy started to form on Sunday knowing I had to throw all those balls back up in the air for the week and keep everyone, including myself, happy! I had a little bit of momentum in the latter part of last week, but feel like I'm starting all over trying to get my "mojo" up and running again. All this new stress is effecting my milk supply a bit so I'm trying to get that under control too.
No matter how hard things get or feel, I keep reminding myself that Lily is here, she's healthy, she's happy, and she is my reason for living each day to the fullest, trying to be the best role model possible for her! I keep pinching myself, not believing that I get to spend everyday with her for the next 18 years; And beyond if I let her go to college. ha ha. I love everything about her and can't believe there's more to come. I'm fulfilled already! She's a pretty nice, cool, & chill chick so I think this is going to be the best ride ever!! We are so blessed!!
Life is good!