Scrapping away the last months in preparation for Lily's 3rd (gulp) birthday. I hope these books turn into a keepsake they pore over as they get older and read the words of how loved they were at every stage of life letting them know how important they are to so many people in this giant world. NOVEMBER 2010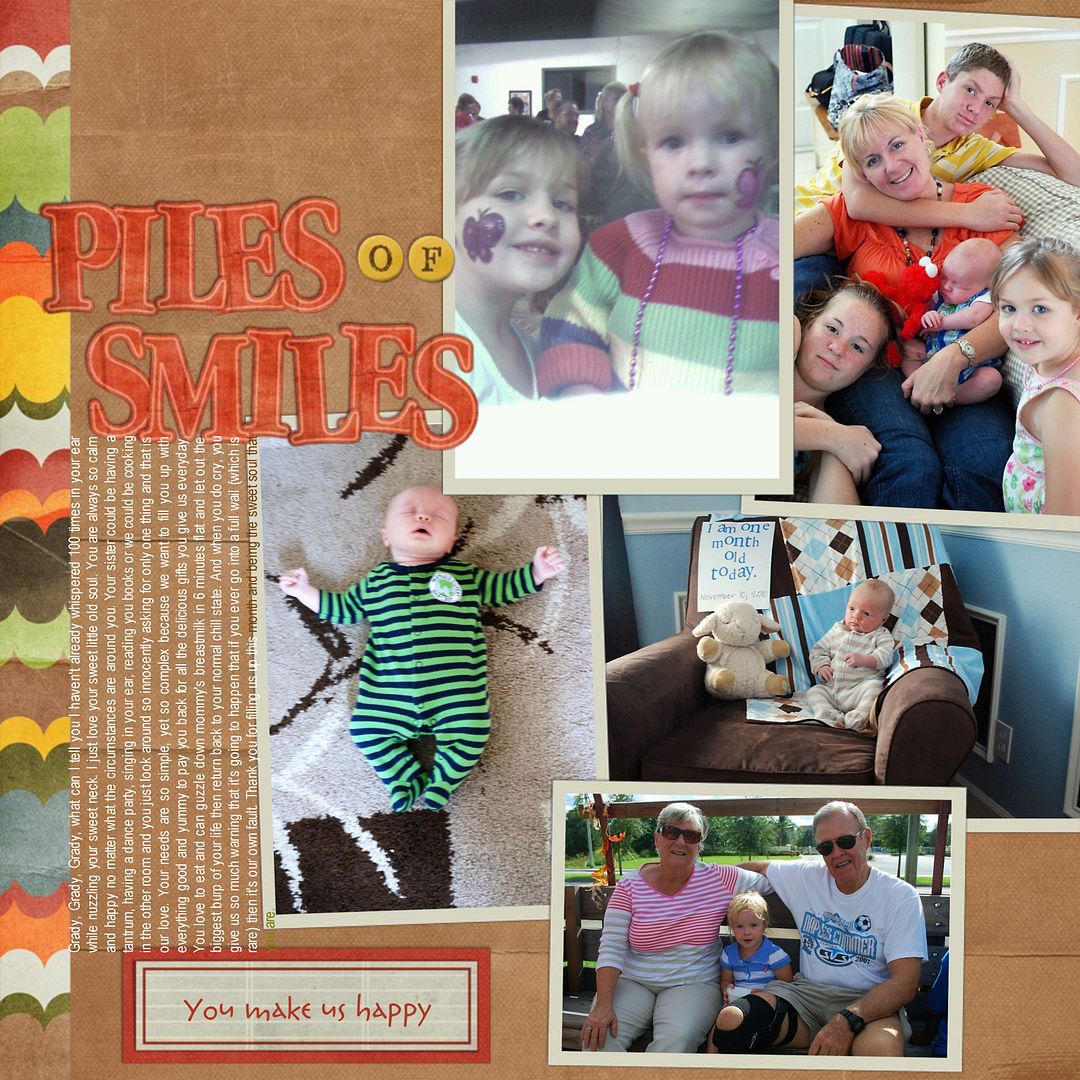 Grady, Grady, Grady, what can I tell you I haven't already whispered 100 times in your ear while nuzzling your sweet neck. I just love your sweet little old soul. You are always so calm and happy no matter what the circumstances are around you. Your sister could be having a tantrum, having a dance party, singing in your ear, reading you books or we could be cooking in the other room and you just look around so innocently asking for only one thing and that is our love. Your needs are so simple, yet so complex because we want to fill you up with everything good and yummy to pay you back for all the delicious gifts you give us everyday. You love to eat and can guzzle down mommy's breastmilk in 6 minutes flat and let out the biggest burp of your life then return back to your normal chill state. And when you do cry, you give us so much warning that it's going to happen that if you ever go into a full wail (which is rare) then it's our own fault. Thank you for filling us up this month and being the sweet soul that you are.
lily, life is starting to settle down for you this month as you are adjusting to becoming a big sister. It was a bit difficult for you in last month when you saw mommy and daddy giving their attention to Grady, but we kept reassuring we still love you to the moon and back and finally you believed us. You are having so much fun being a big sister and being such a good listener to mommy and daddy as you're delineating the difference between what babies and big girls do; all the while imitating both at all times. Sometimes you forget the rules like when you slammeed your bedroom door like a teenager and said no to going on the potty or your meltdown in Target because you couldnt play with the registry computer. But, you always apologize, kiss our heart and remember the rules for the next time and that's the most important part is that you are learning. You are 2, but have the heart big enough for 2 kids because you always want to do your best and try so hard to be a big girl. You embarrassed mommy in the WalMart bathroom telling the entire bathroom that I had "big poo-poo" or when you pointed to the lady walking with the cane and said "what's wong wit that lady leg mommy". You love to paint, are obsessed with glue and just started with a new fascination with scissors; cutting paper into tiny pieces then meticulously coloring each piece with marker. You also can't stop dancing. You beg for music and stand in front of us bouncing up and down cracking yourself up. And us too. Spending our days with you is like a gift everyday and we can't imagine life without you!
DECEMBER 2010: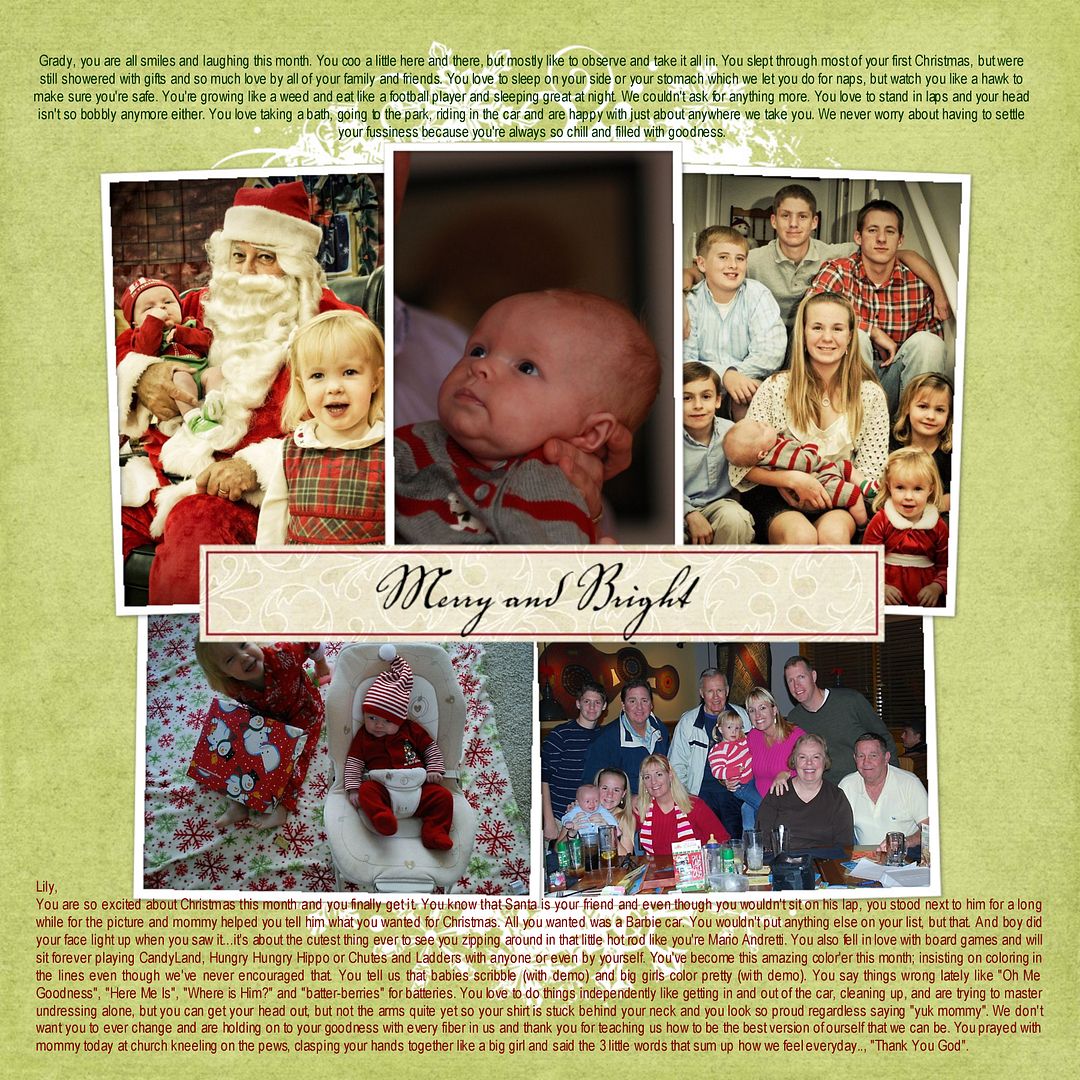 Lily, You are so excited about Christmas this month and you finally get it. You know that Santa is your friend and even though you wouldn't sit on his lap, you stood next to him for a long while for the picture and mommy helped you tell him what you wanted for Christmas. All you wanted was a Barbie car. You wouldn't put anything else on your list, but that. And boy did your face light up when you saw it...it's about the cutest thing ever to see you zipping around in that little hot rod like you're Mario Andretti. You also fell in love with board games and will sit forever playing CandyLand, Hungry Hungry Hippo or Chutes and Ladders with anyone or even by yourself. You've become this amazing color'er this month; insisting on coloring in the lines even though we've never encouraged that. You tell us that babies scribble (with demo) and big girls color pretty (with demo). You say things wrong lately like "Oh Me Goodness", "Here Me Is", "Where is Him?" and "batter-berries" for batteries. You love to do things independently like getting in and out of the car, cleaning up, and are trying to master undressing alone, but you can get your head out, but not the arms quite yet so your shirt is stuck behind your neck and you look so proud regardless saying "yuk mommy". We don't want you to ever change and are holding on to your goodness with every fiber in us and thank you for teaching us how to be the best version of ourself that we can be. You prayed with mommy today at church kneeling on the pews, clasping your hands together like a big girl and said the 3 little words that sum up how we feel everyday.., "Thank You God". Grady, you are all smiles and laughing this month. You coo a little here and there, but mostly like to observe and take it all in. You slept through most of your first Christmas, but were still showered with gifts and so much love by all of your family and friends. You love to sleep on your side or your stomach which we let you do for naps, but watch you like a hawk to make sure you're safe. You're growing like a weed and eat like a football player and sleeping great at night. We couldn't ask for anything more. You love to stand in laps and your head isn't so bobbly anymore either. You love taking a bath, going to the park, riding in the car and are happy with just about anywhere we take you. We never worry about having to settle your fussiness because you're always so chill and filled with goodness.
January 2011: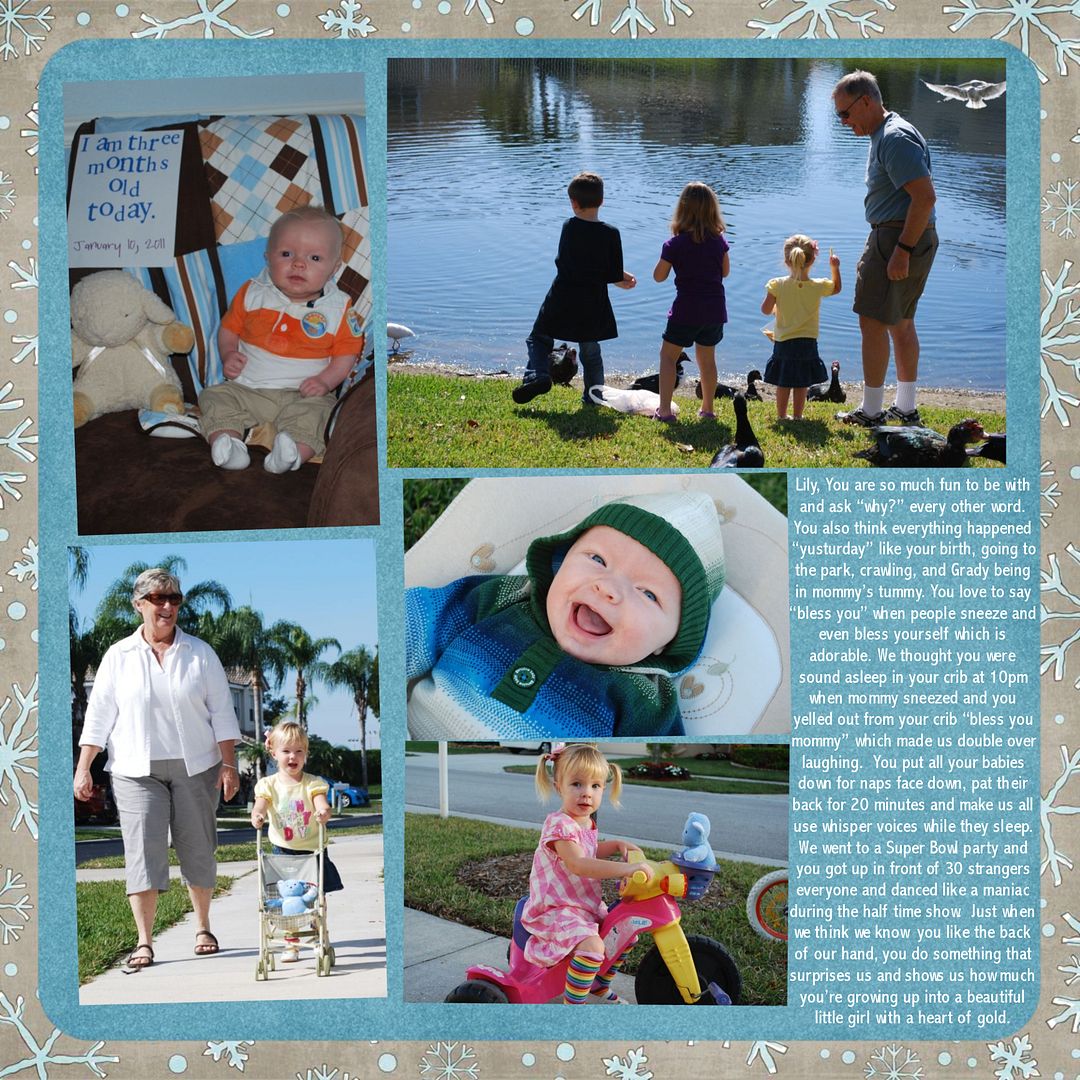 Lily,
You are so much fun to be with and ask "why?" every other word. You also think everything happened "yusturday" like your birth, going to the park, crawling, and Grady being in my tummy. You love to say "bless you" when people sneeze and even bless yourself which is adorable. We thought you were sound asleep in your crib when mommy sneezed and you yelled out from your crib "bless you mommy" which made us double over laughing. You put all your babies down for naps face down, pat their back for 20 minutes and make us all use whisper voices while they sleep. We went to a Super Bowl party and you got up in front of everyone and danced like a maniac in front of 30 strangers during the half time show. Just when I think I know you like the back of my hand, you do something that surprises me and shows me how much you're growing up into a beautiful little girl with a heart of gold.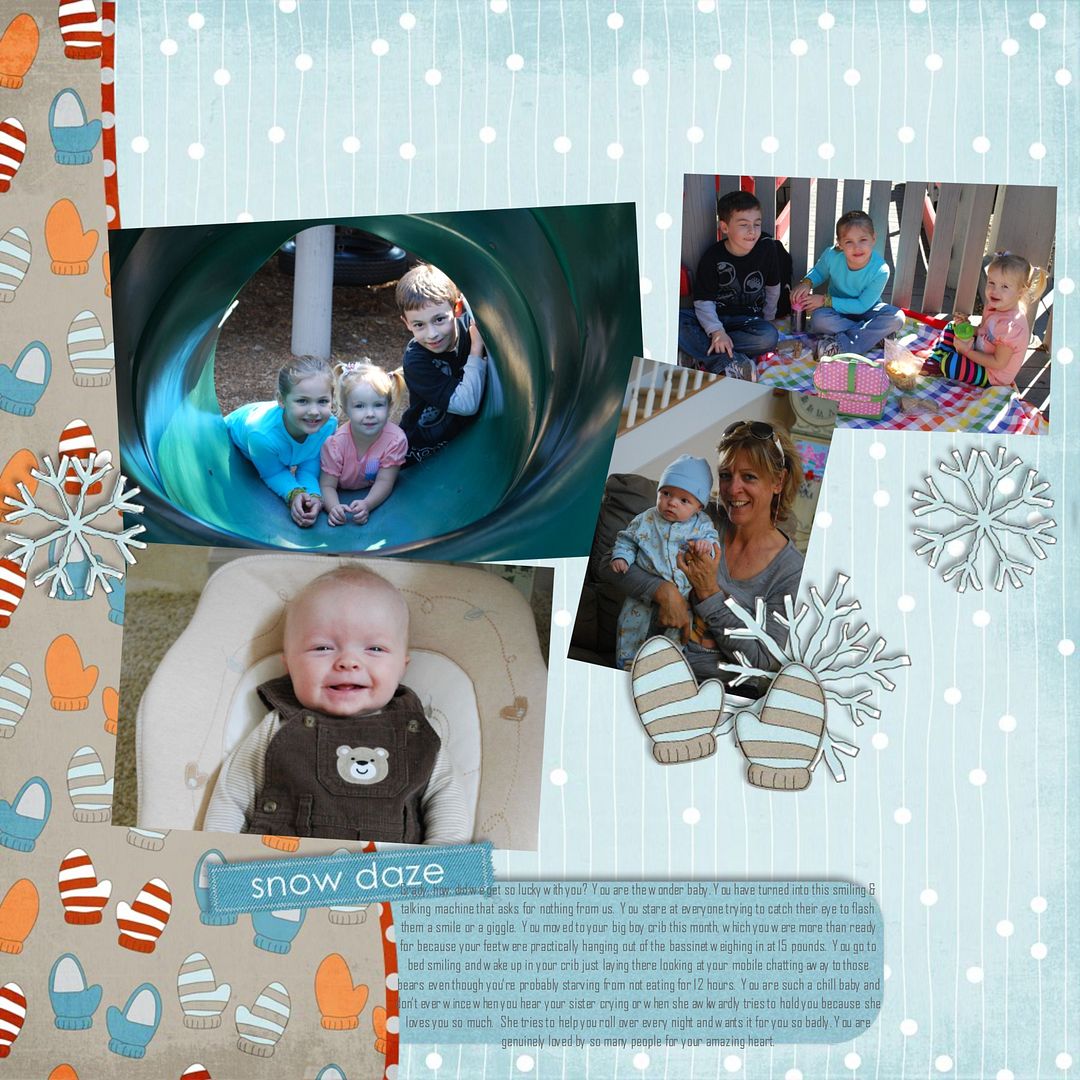 Grady, how did we get so lucky with you? You are the wonder baby. You have turned into this smiling & talking machine that asks for nothing from us. You stare at everyone trying to catch their eye to flash them a smile or a giggle. You moved to your big boy crib this month which you were more than ready for because your feet were practically hanging out of the bassinet weighing in at 15 pounds. You go to bed smiling and wake up in your crib just laying there looking at your mobile chatting away to those bears even though you're probably starving from not eating for 12 hours. You are such a chill baby and don't ever wince when you hear your sister crying or when she awkwardly tries to hold you because she loves you so much. She tries to help you roll over every night and wants it for you so badly. You are genuinely loved by so many people for your amazing heart.
FEBRUARY 2011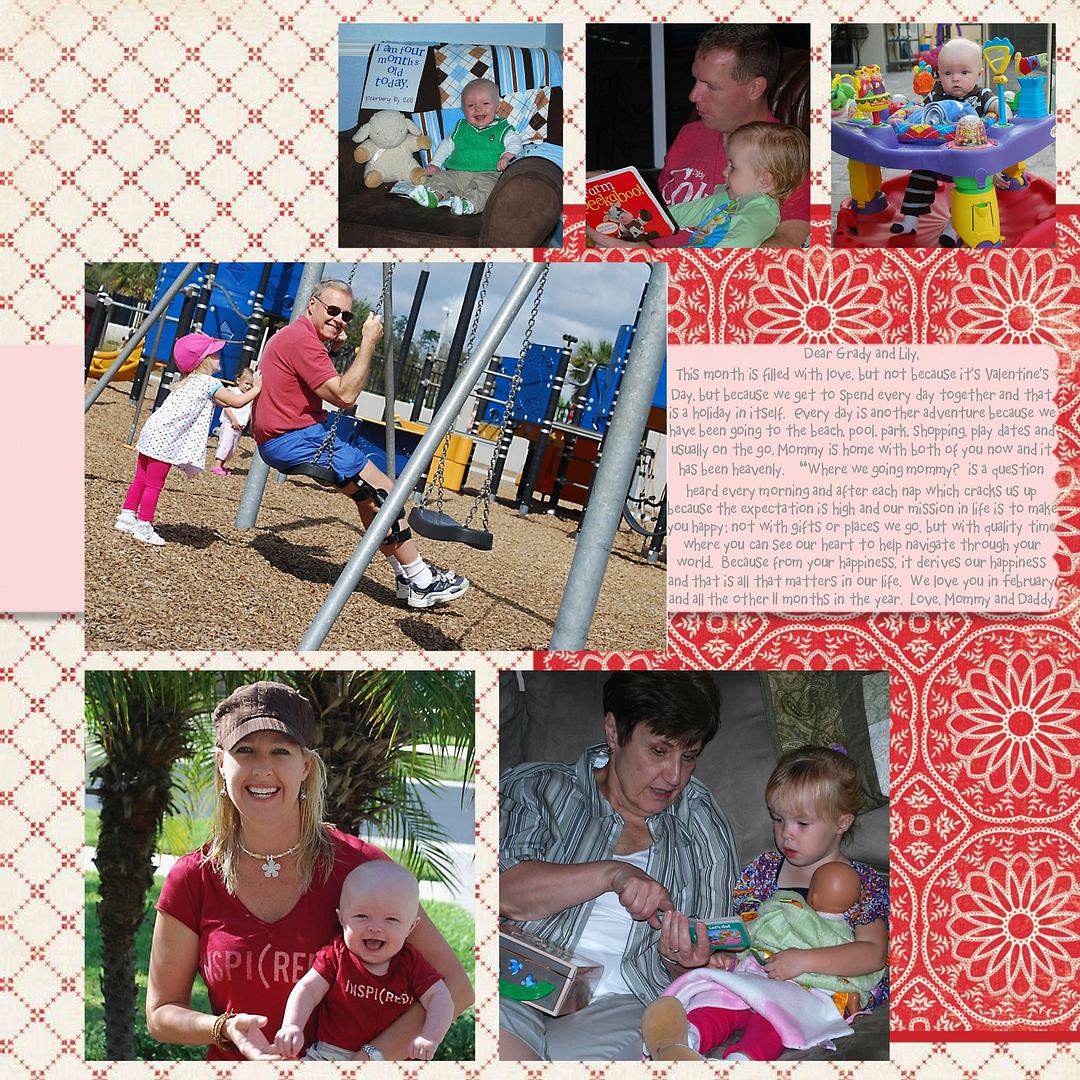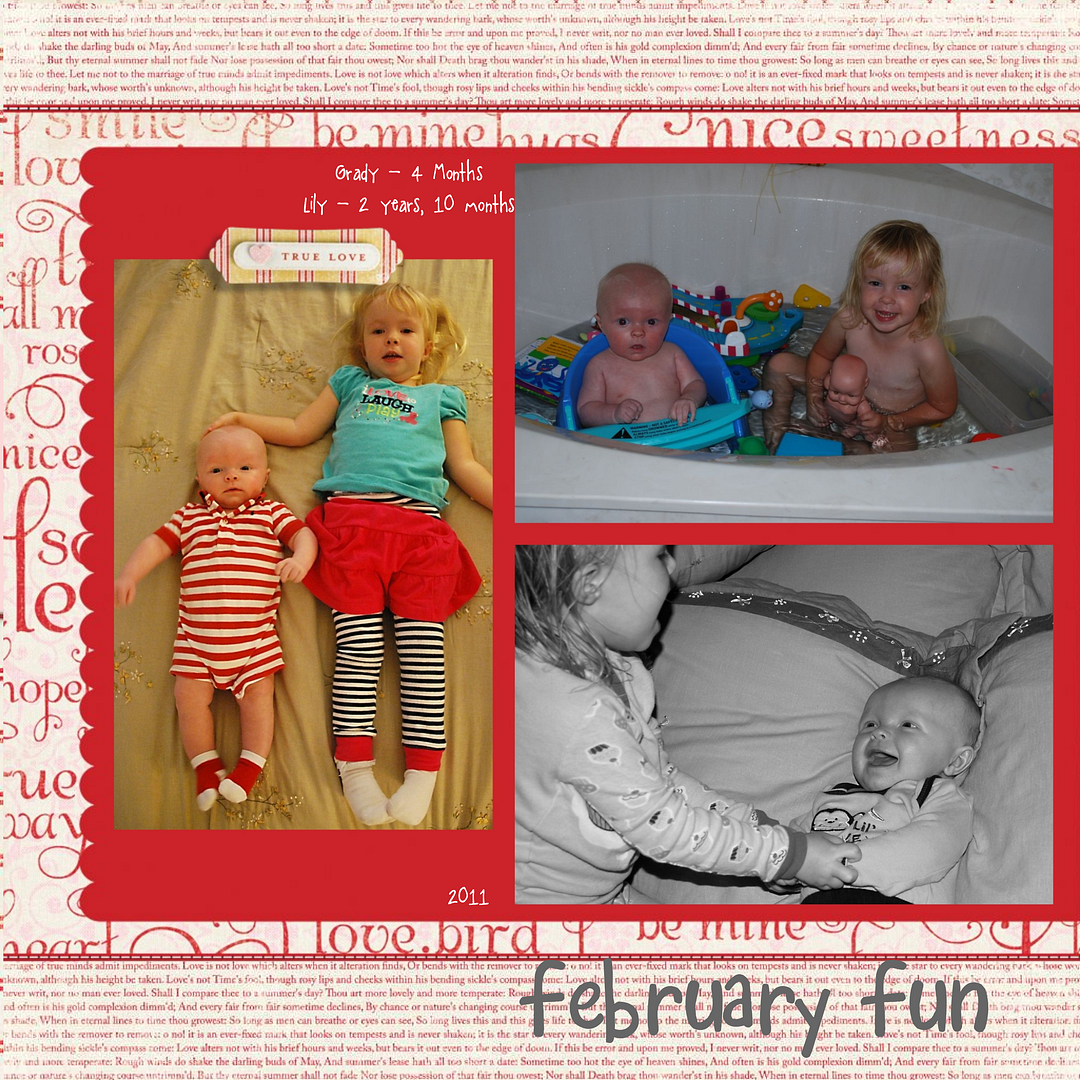 GRADY'S BAPTISM. MARCH 2011
MARCH 2011
phew, that was a lot of work, but so much fun it didnt feel like work at all. it's neat to read back the last few months and see how much has changed and nothing has changed at all at once. life is good.