We're home and feeling fuller than ever! Not only our tummys are fuller (that Dot can cook a mean meal), but our hearts are even fuller feeling the love everywhere we turned and watching Lily be loved on so much that I think I saw some love oozing out of her ears when she left.
She was all smiles on the plane!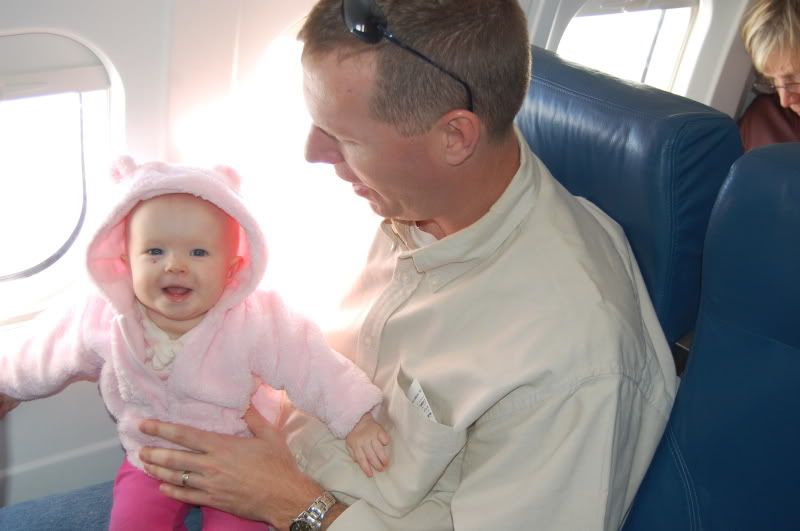 She even flirted with the captain!!
Flirted so much that she pulled off the picture that they said couldn't be done!! Even thee Kelle Hampton told me it would be the million dollar shot like when she SNUCK INTO THE NICU to take a picture of Lily for me when she was born.
Well, Lily's smile must've done it bc I didn't even ask. Suddenly, I was handing my camera to the co-pilot, handing off my precious daughter, while singing the best version of ABC's that I could belt out from the outside while she was whining her whine that says "mommy, I'm not sure about this" and I'm singing in a higher pitch than Carrie Underwood "A-B-C-D-E, mommy's here, F-G-H-I, yaa, little Lily, J-K-L-yaaa". (licking bills counting out million dollars)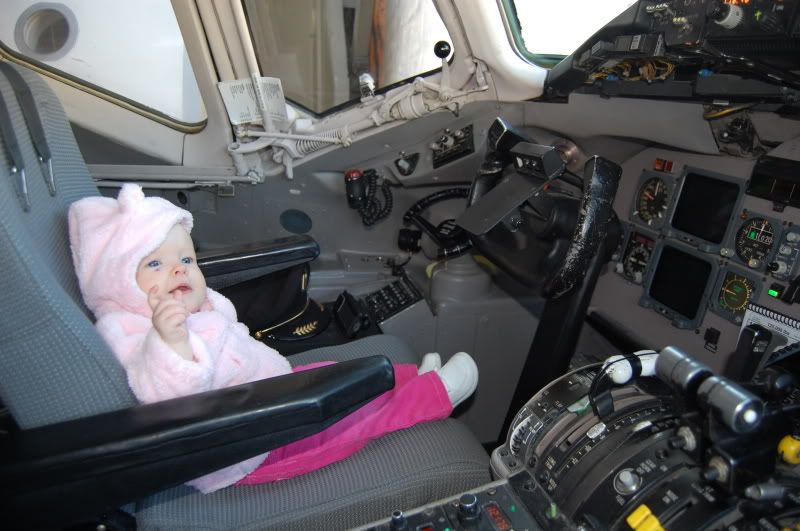 She was giving the pilot the holy stare down and I thought he'd say to her "take a picture, it lasts longer"
Oh wait, I did take a picture.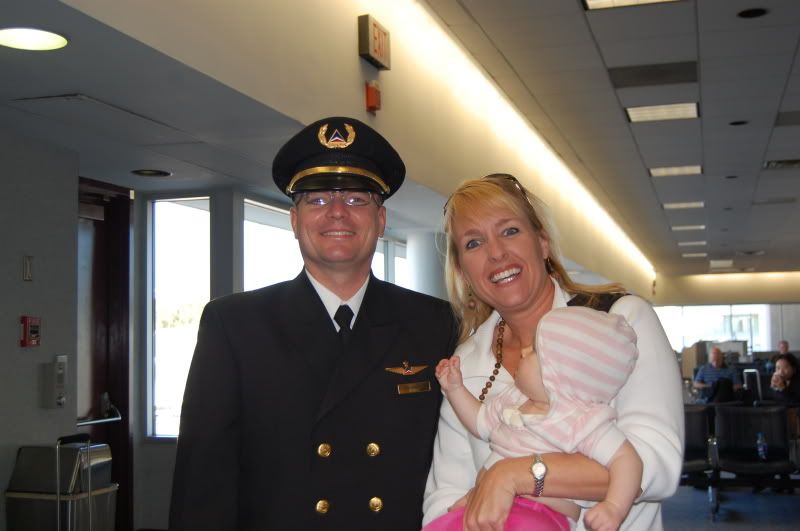 How can one 16 pounder require so much STUFF!!??
Dot and Lare-Bear were so gracious that they turned their beautiful house into a mini-daycare borrowing baby toys, furniture, gear from the church. I just loved this high chair. Lily looked like she was from another era.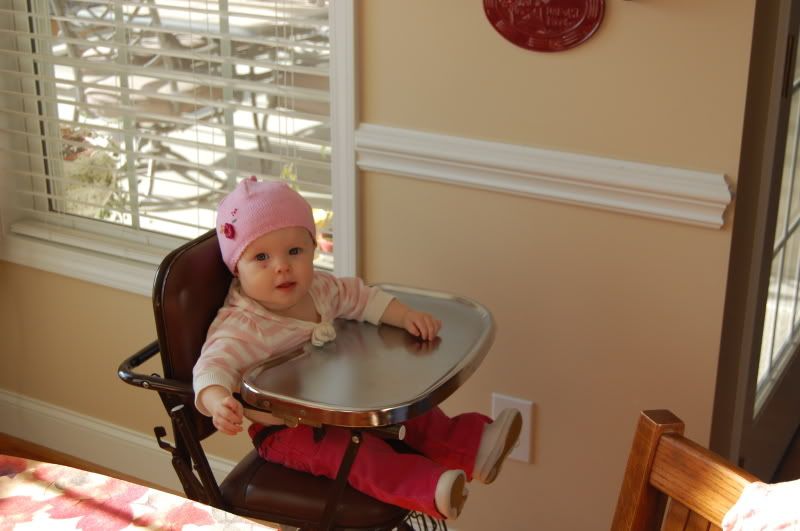 I think Lily was actually caught in a tug-o-war between Allison and Anna who were first to tackle her on the scene with lots of love, kisses, giggles, hugs, and wanted to do everything to make her happy! They were counting the days until they could meet her. It was the sweetest scene!!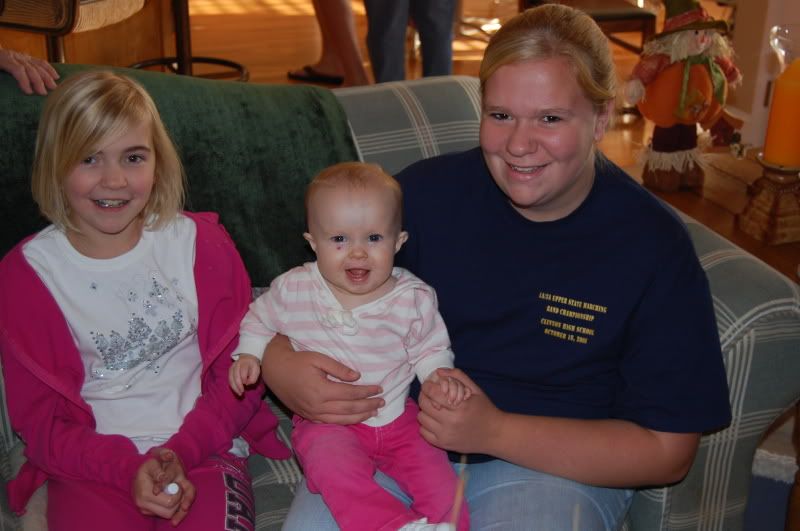 We went to the fabric store of all fabric stores to pick out fabric for Dot to make ANOTHER quilt for us!! This was the largest fabric store I've ever seen. I felt like I was in Sam's. Everywhere I turned, there was more fabric. Good ole' "Mary Jo's" delivers some serious fabric!! If you're ever out yonder, must check it out!! Dot's also making another
Taggie blanket
for Pie as she LOVES the one Wendy Hathaway made for her when she was born.
Lily also LOVED with a capital L her sling we borrowed from Kelle. Thank you K!! We couldn'tve survived the trip without it! Especially on the plane when the overtired back-arching Lily was trying to fall asleep. Once we put her in this jobby, she was off to dreamland!!! I felt pg again and she was curled up like she was still in the womb! (going on EBAY now to order one rush delivered)
Or sometimes, she just like to hang out while mommy shopped.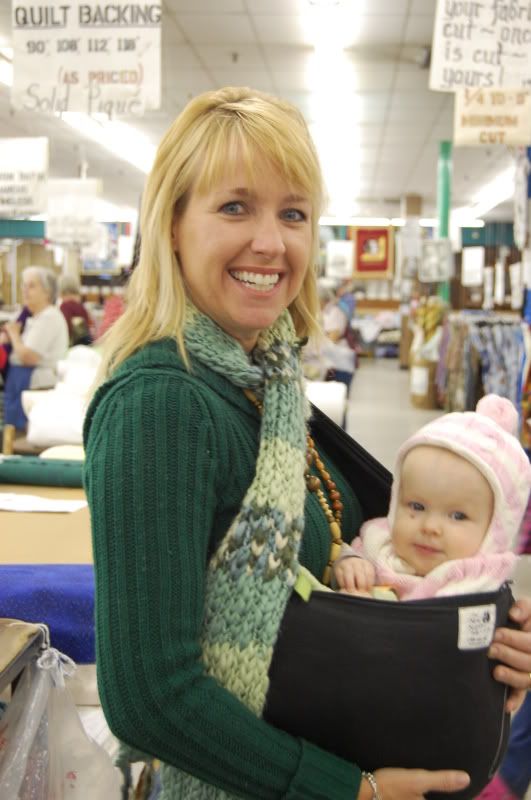 Lily also went on her first swing! It's amazing we forget what she's capable of because sometimes we still think she's a newborn, but it was all smiles in the swing!! Thanks Janet for reminding us we have a sitting up 8 month old who would LOVE this!!
Lily also went down her first slide! All smiles on the little one, but big tears when we ventured on the tall one with her in my lap.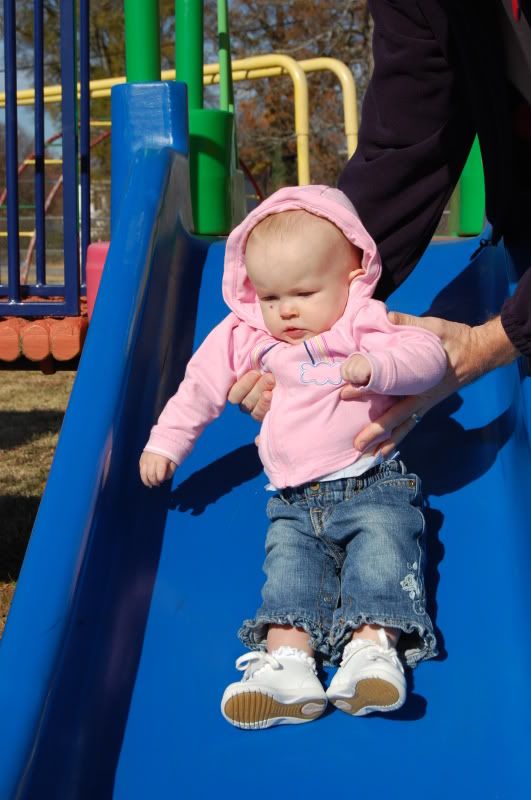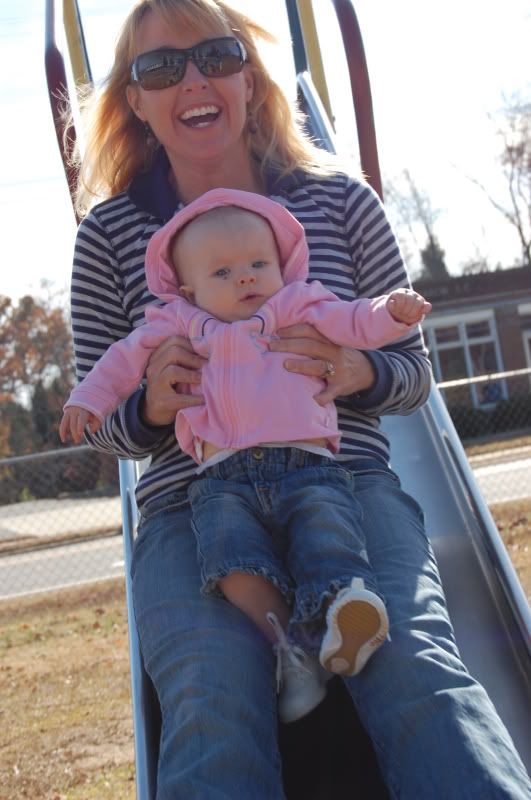 She was a fan of the tire swing too. We were going to try the teeter-totter, but it didn't seem up to "code".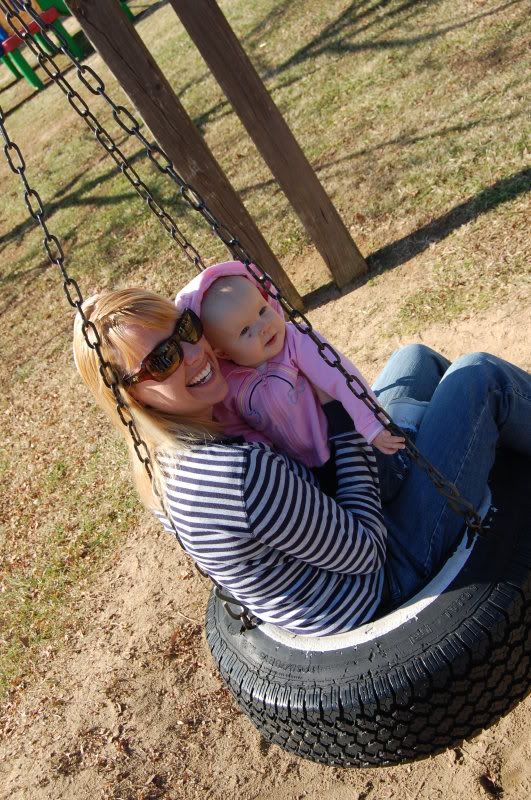 We also met a turkey farmer. Not everyday you meet one of these special people who actually nuture the birds eaten on Thanksgiving!!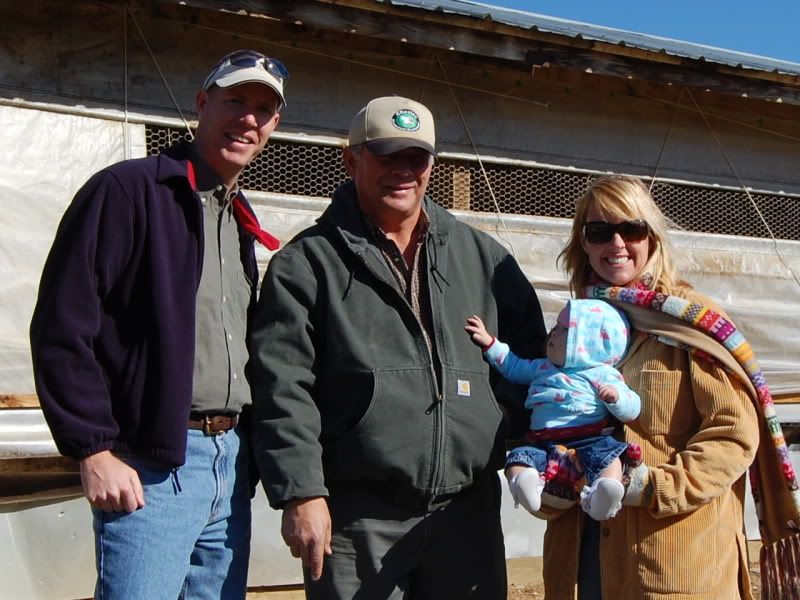 When I say a turkey farmer, I mean, they had a FARM of turkeys! As in turning over 80,000 turkeys every 6 weeks!! My camera couldn't even reach the end of these birds. I've never seen so many in all my life. Nor will I ever.
Great Grandma Thelma was as cute as ever! She did not act like a 96 year old great grandma as she was playing peek a boo, reading books, hugging, kissing, cuddling, and feeding her. Every time I looked up, Thelma had her eyes set on Lily Pie! My camera couldn't stop snapping!!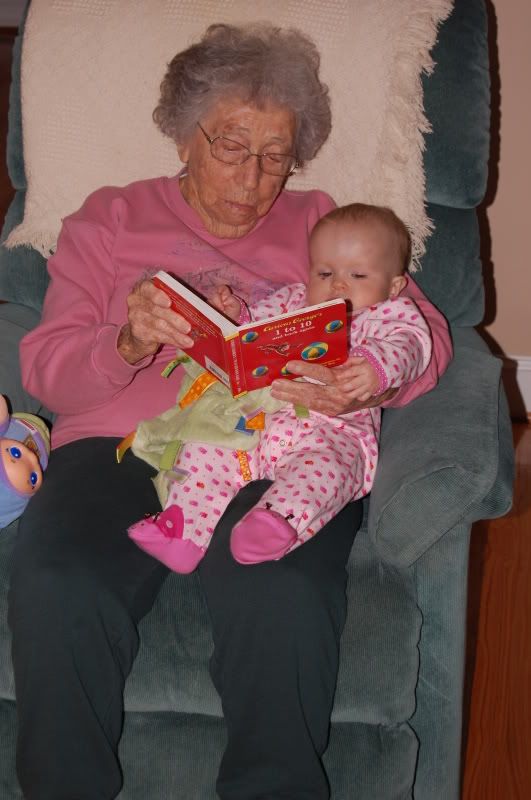 My heart swells an extra swell seeing them interact. Thelma prayed so hard for Lily to be in her arms one day. Miracles I tell you. Nothing short.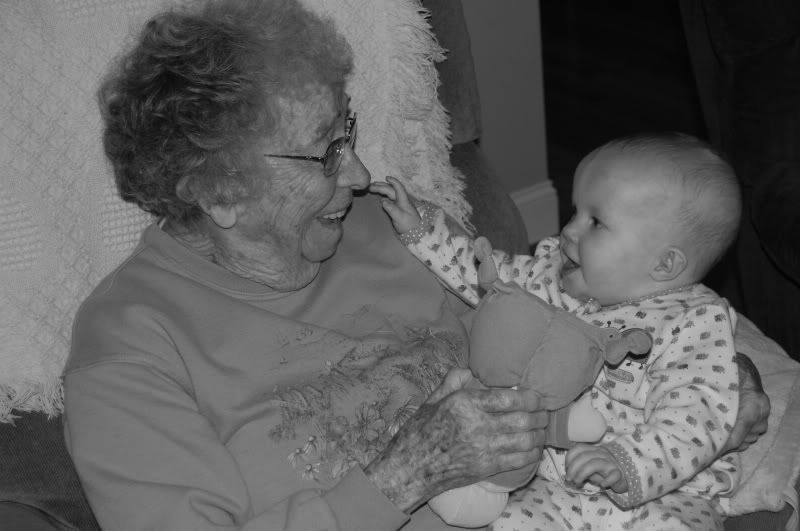 Lily is trying to get the word out about the importance of recycling.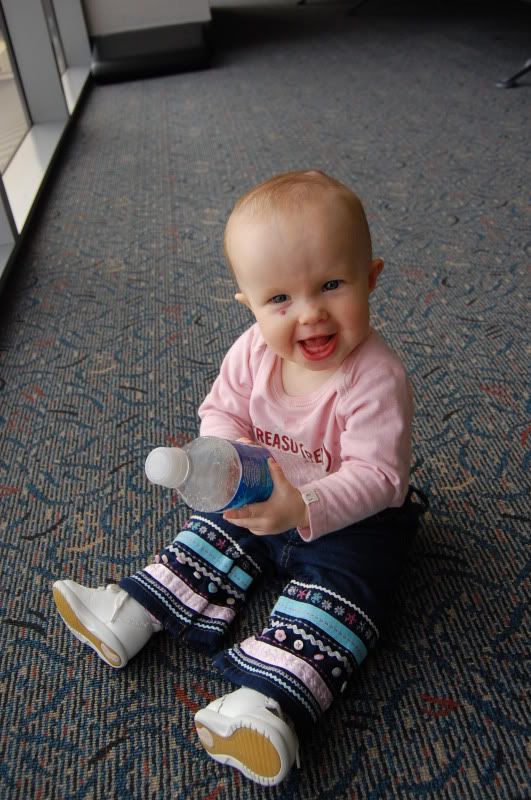 and smiling everyday....
Oh and I think there's something in the turkey or their water in SC because Lily surprised us with her first....
toofer!! Kelle called it weeks ago, but I rolled my eyes thinking Lily would be the first kindergartener to wear dentures to school! Then her 2nd came the next day!!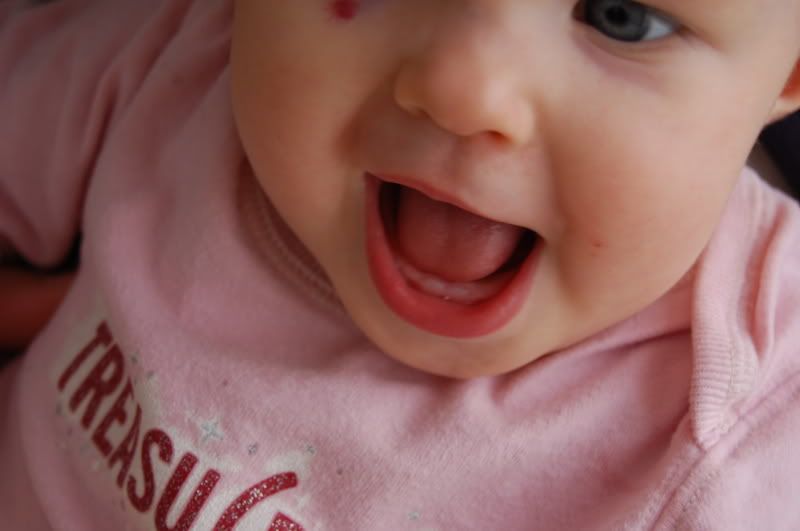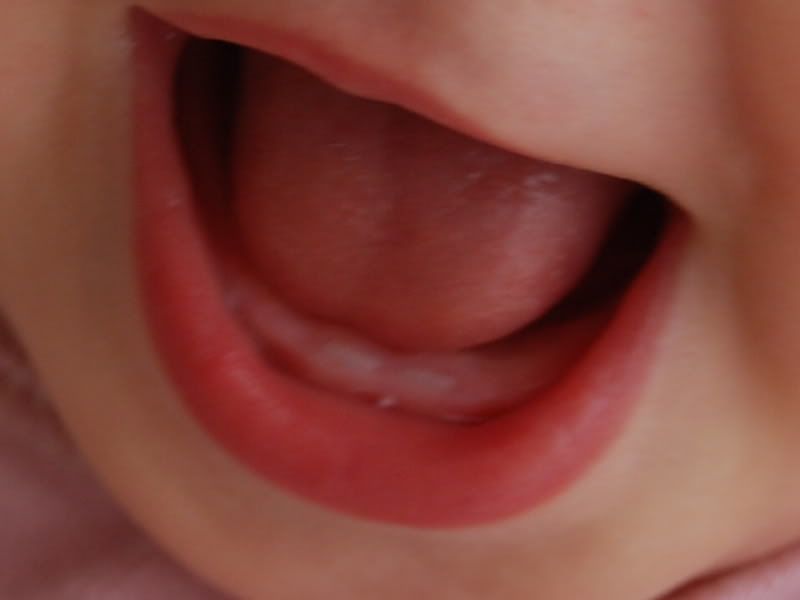 Tears filled our eyes as we said our good byes knowing the next time we're together Lily will be a different baby, but we share the stories, the pictures, the videos, the love across the miles and know we are better parents because of the way you nurtured your own children and we will try to pay it forward the best we can. We hope we can be half the parents and role models that you are to us. Big shoes to fill I tell you!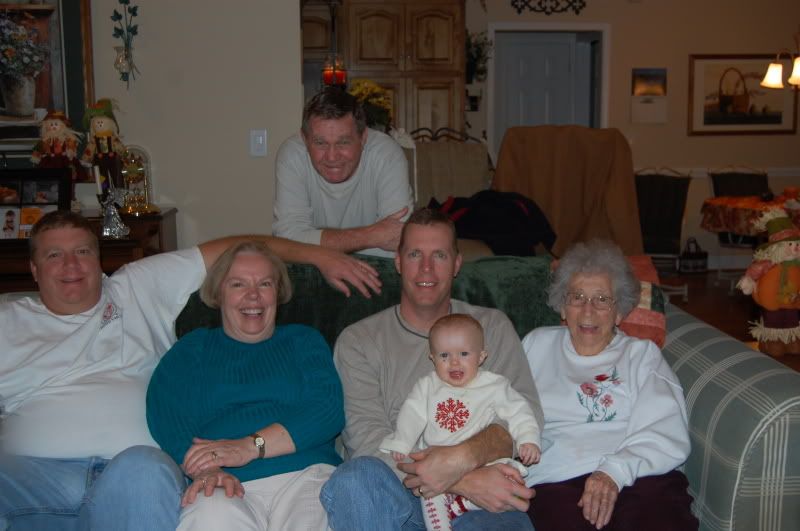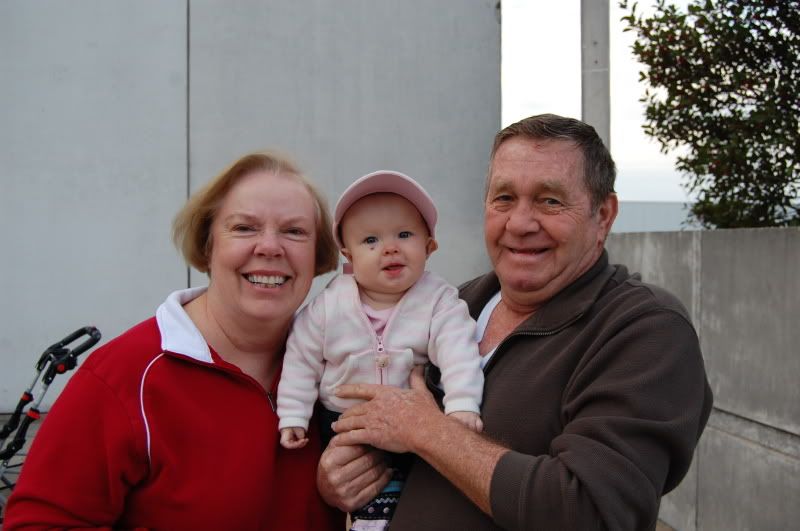 Now our family picture is complete....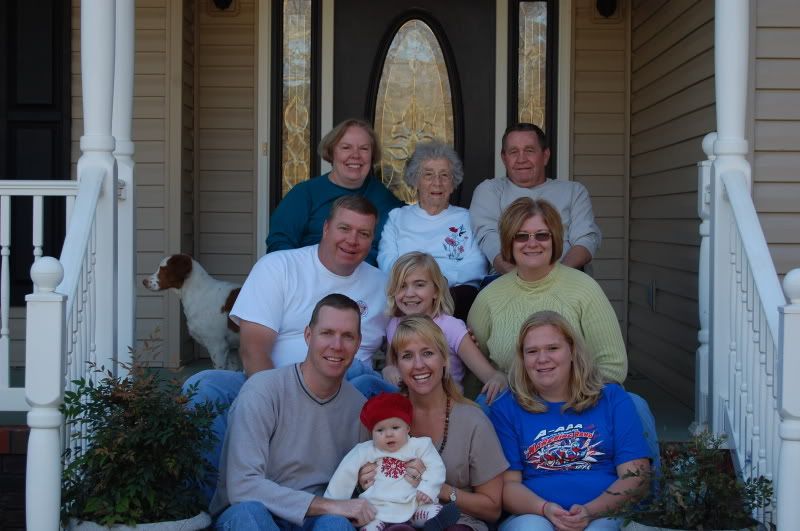 Life is oh so good!! xoxo