I'm usually clueless when people ask me who their baby looks like (ie mom or dad) and even more clueless when people ask me who I think Lily looks like. 99% of people say they see David which I think is kinda neat. I just wish I could see it too. Nanny K actually says she sees David so much in Lily that she sometimes blushes when she changes her diaper because she feels like she's looking right at David. Ok, now that is some funny stuff!!
Well, my school wanted my baby picture for Thanksgiving slide show they're doing so I went digging and stopped in my tracks when I saw this picure of Lily. Actually, it wasn't a picture of Lily, but it was a picture of ME as a baby! I had to do a double take. Then a triple take. If the picture wasn't so grainy, I would've thought it was Lily. Ready for the reveal? You're going to die at the similarities!! It's uncanny.
For the first time I can actually see it....
Woah! Did your jaw drop like mine did or am I seeing things?
Here's Lily as a comparison doing her famous open mouth smile...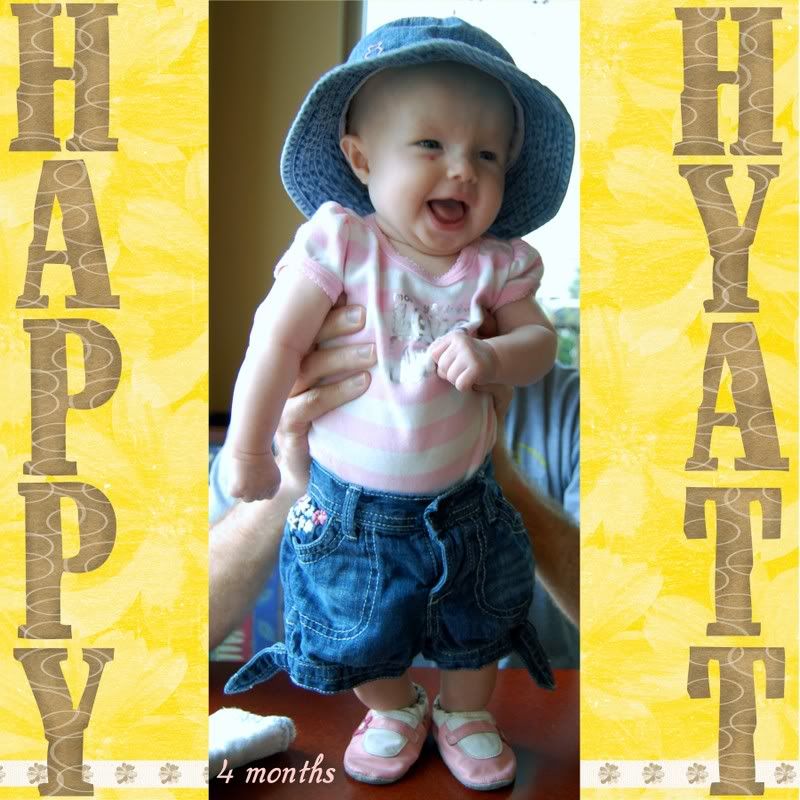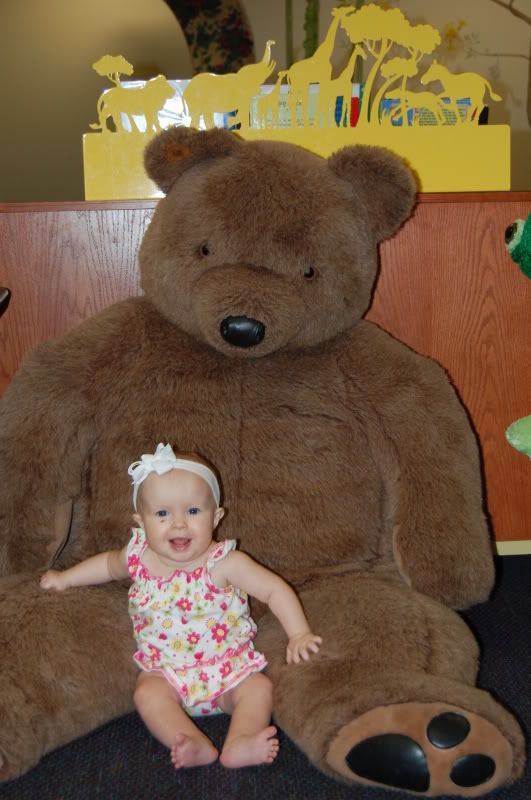 Guess we know there was no mixup at the lab!! lol.
Here are a few more pictures for your viewing enjoyment... we were trying to get a family picture in front of the giant teddy bear at the library, but it looks like I got in the way. Not enough room for all of us. The librarian was trying to get Lily's attention so I told her she could try to sing the ABC's if she wanted to make her smile. I think she was embarrassed to do it. But she did it anyway. What followed was the most fragmented, monotone, uncomfortable version of the ABCs I've ever heard. I think Lily was shocked too.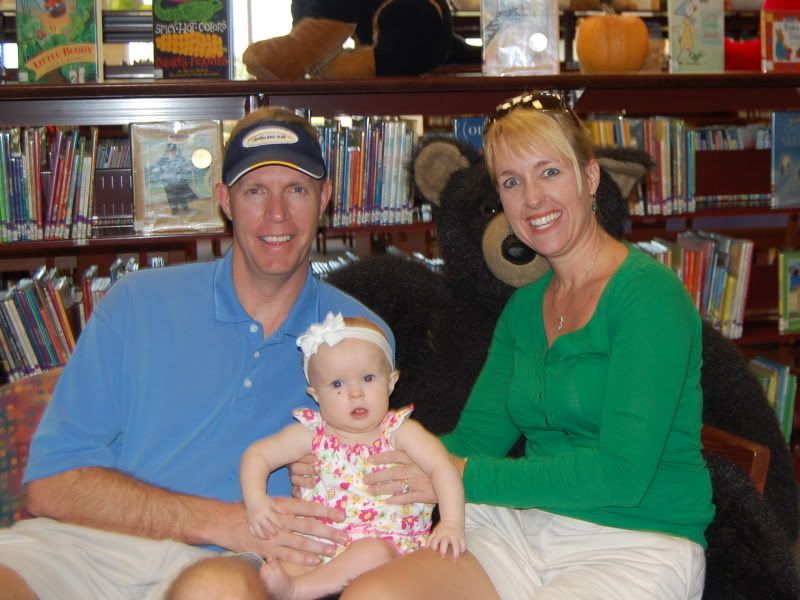 This girl loves a good book...
She's not even phased by the larger than life size ape peering over her shoulder. (I don't mean me)
This picture at Taste of Bonita makes me laugh looking at David holding the claw of the crab who I think was making a pass at him.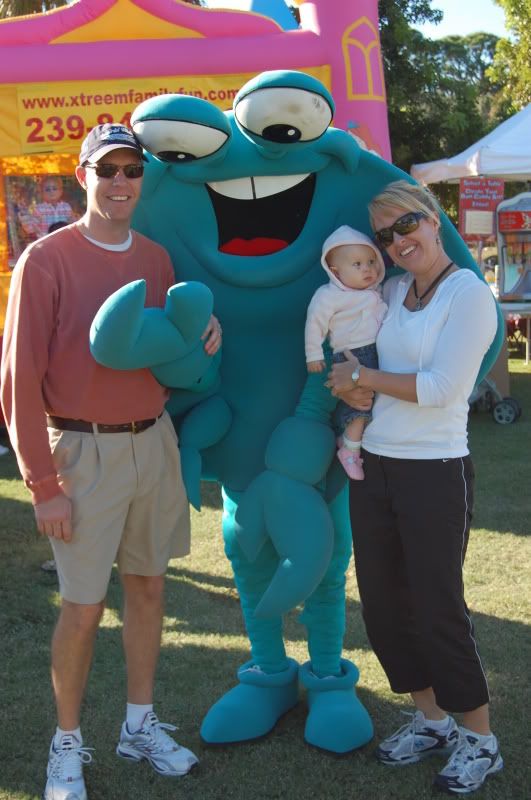 Lily loves a good football game!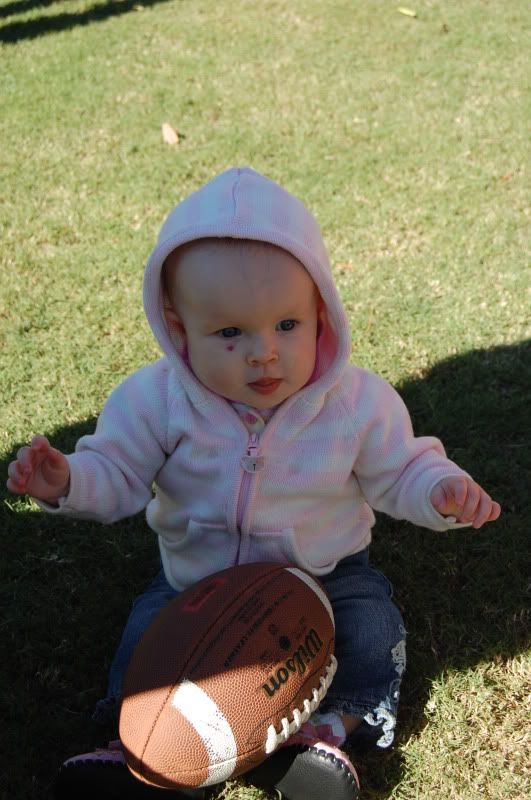 I absolutely love this picture of her as she looks so cozy and innocent...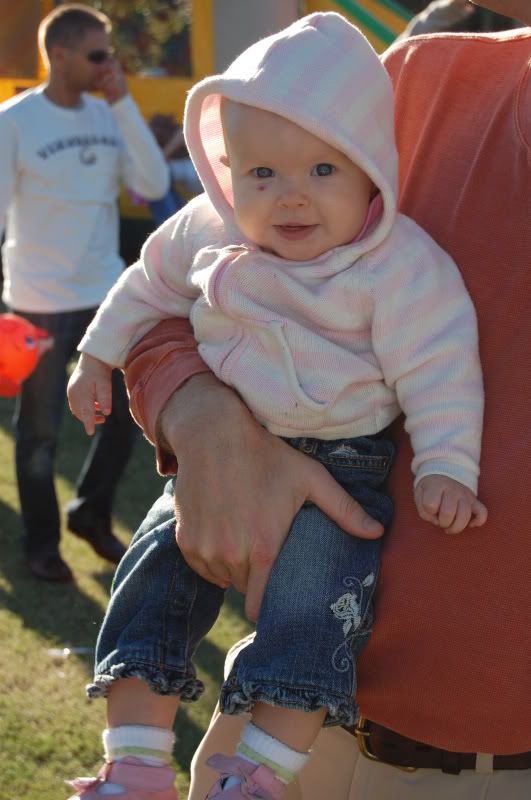 Trying to show off her jeans...think it's her first time in them (jotting in baby book)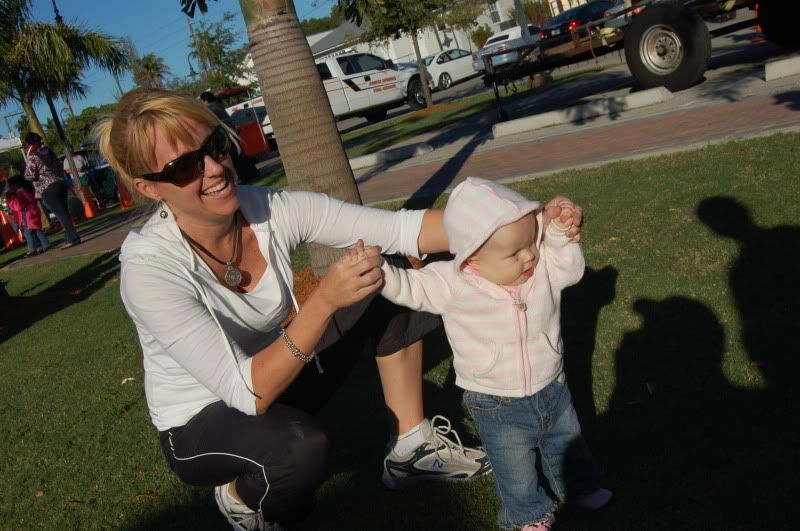 This is such a beautiful sight at the end of my day. This wonder woman manages so much everyday with ease, grace, love, and patience. Then she passes the baton of love to me. We love you so much Nanny K.
Life is good!