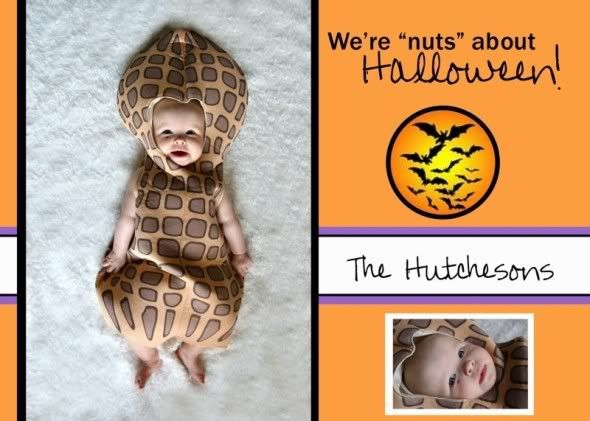 Thanks to Kelle for making this adorable card! David and I called Lily "peanut" while I was pg so we thought it'd be appropriate she would be one for her first Halloween! Looking forward to seeing her trick or treating abilities and helping to eat some/all of her candy! :)
On another front, we've had a stressful couple of days...we took Lily to the dermatologist for a routine appointment because it looked like one of her hemangiomas (ie angel kisses) was getting infected. We thought he'd prescribe some cream because it is always dry and flaky, but we left with a slew of directions that left us with our heads spinning. He seemed to be a bit of an alarmist and a bit out of his league so we're going to get a 2nd opinion from someone he highly recommended at University of Miami who specializes in hemangiomas. Oh my surprise! We went to the dermy to get a tube of cream and now are heading to Miami on Monday to see a specialist. Not what we had planned, but he opened pandoas box so we need to close it! Hemangiomas are not dangerous to her so we keep telling ourselves that. Our pediatrician made us feel better about the situation too. They are slightly concerned about the one near her eye because they don't want it to grow more and interfere with her vision. The one on the back of her arm is "ulcerating" which means it's dry, flaky and sometimes bleeds, but special cream should fix that. There is a lot more info about each of her 5 "hermys", but I'll spare you the details as you may fall asleep from the boring nitty gritty about each one. Should be interesting what we learn on Monday and how we need to proceed,
if at all!
Hope you have a Happy Halloween and remember to floss after all the sugar intake in the next few days! Will keep you posted after our appointment on Monday at 2:30. I think I'm more nervous about Lily having to sit in the car for 2.5 hours one way to Miami, then turning around and doing the same 2.5 hours home! Um, math was never my strongest subject, but that's FIVE hours in the car!! Yipes!:)
Life is still really Good!