Who would've ever thought 7 years ago we would've gone from this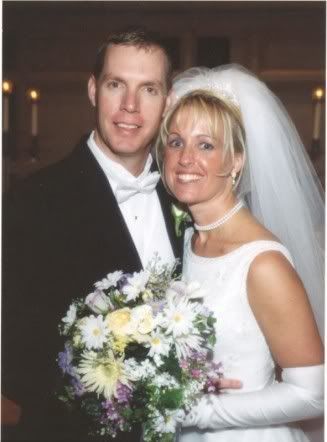 to....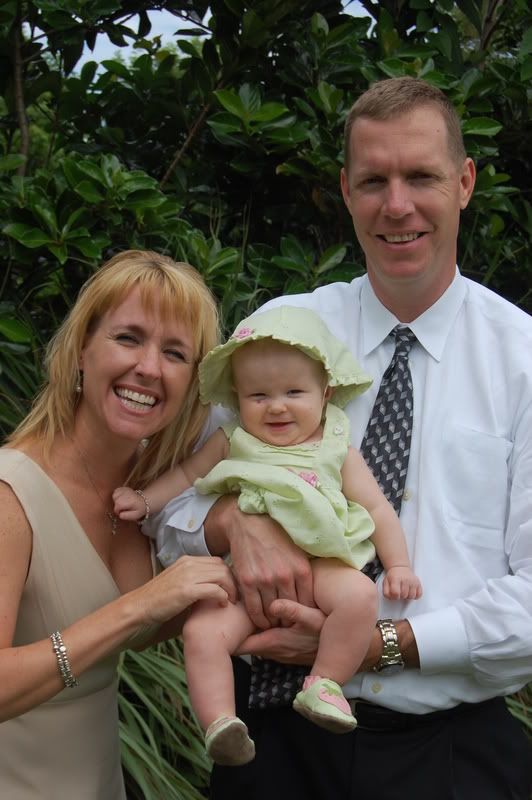 Lily was baptized yesterday which is 7 years to the day we were married. Very meaningful to be walking down the same aisle in the same church listening to the same magical voice of Paul Todd. We requested him play a special song during mass and he agreed because he shared it took his mom 10 years to have him and he's an only child so he could relate with our story. I swear that I've seen actual angels flying out of his mouth when he sings...
Jen and Molly were co-godmothers as they were co-bridesmaids in our wedding. There's no way to choose just one. It's like choosing between Aruba or Bermuda for a vacation. Both are beautiful on the inside and out!! David's brother Duane (aka "Duaner) is Lily's Godfather who made us feel so special by flying in for her baptism. Duane, thank you for coming and loving Lily in such a fun way. Your "Little Tater" loves you so much!!
here they all are supporting and loving Lily like their own...(Duaner is in blue, Molly needs to be on her tippy toes)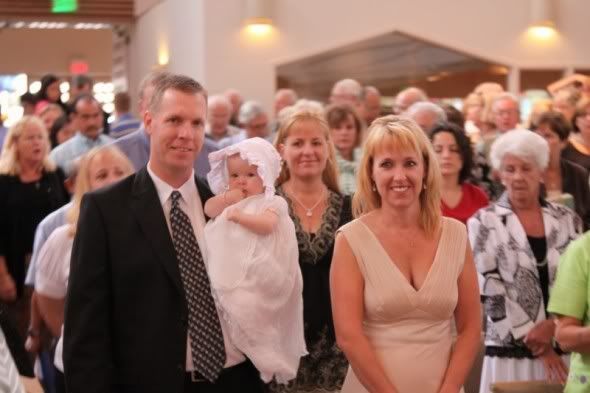 it's very dramatic the way the baby/family/godparents walks in the with the priest as everyone stands with powerful music in the beginning of the service. They only do baptisms at the 11:00 mass so I used to try to make sure we went to the 9:00 service because the baptisms were too painful while we trying for so many years. Amazing that it was US as a family walking down that same aisle!!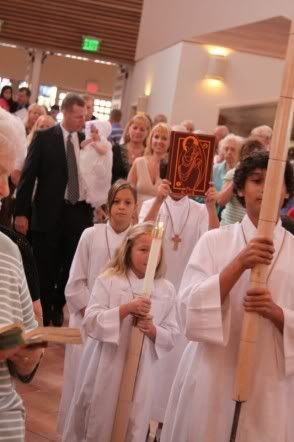 The whole experience was very surreal and felt similar to our wedding day where it was all just a whirlwind happening around me and I watched from a helicopter above like it was happening to someone else...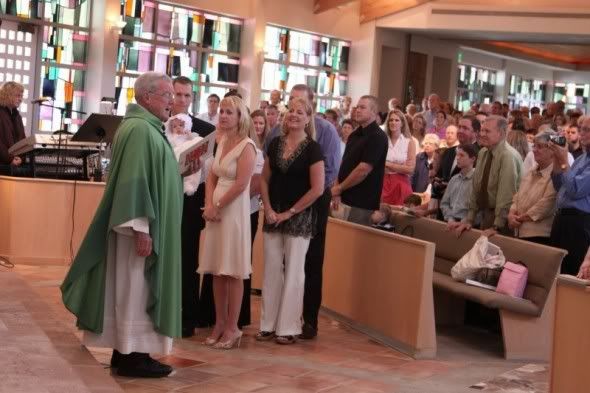 Donna Lucarelli's son Jack was even an altar server to make it even more personal...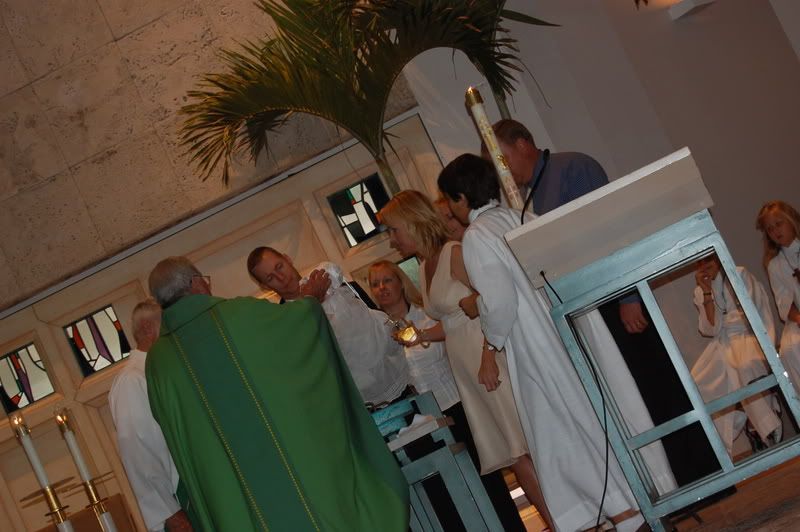 Lily was wearing the same dress my sisters and I wore for our baptism as a baby. That was really special to think about...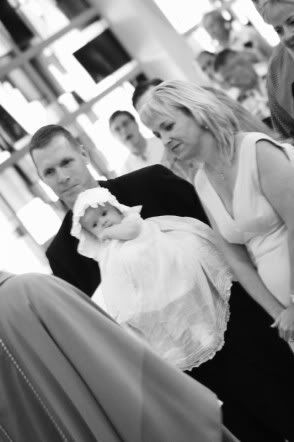 I think she knew she was the center of the church because she was all smiles looking around...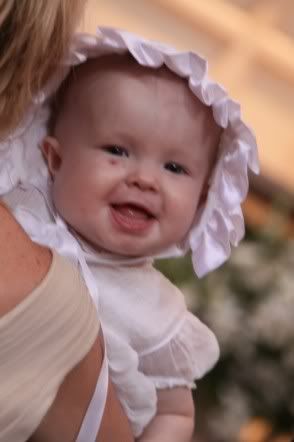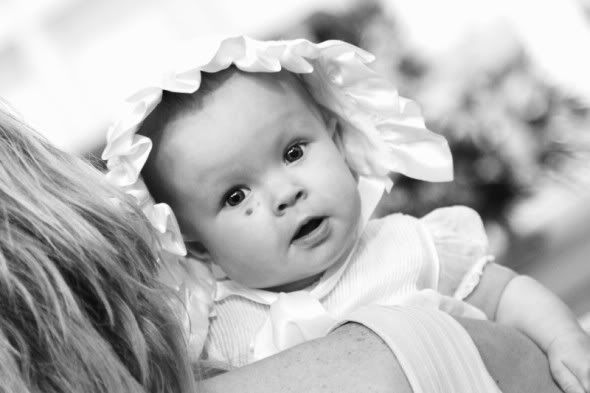 My mom and sisters got me a
mother's bracelet
for my bday - major tears when the card read "you can finally have one of your own" and then saw "Lily Grace" on my very own bracelet...I love it so much that I want to wear it on my forehead for all to see.
Mom and Bob bought one for Lily that read "Lily" with a cross to wear on her special day. We were twinnies...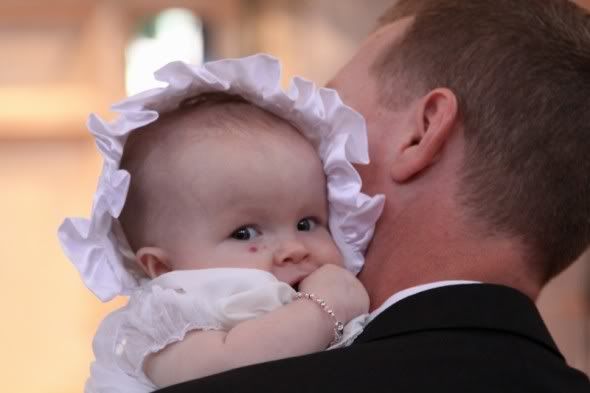 also celebrating Father Glackin's last mass ever after starting the church from the ground up...Lily would be his
last
baptism ever before retiring!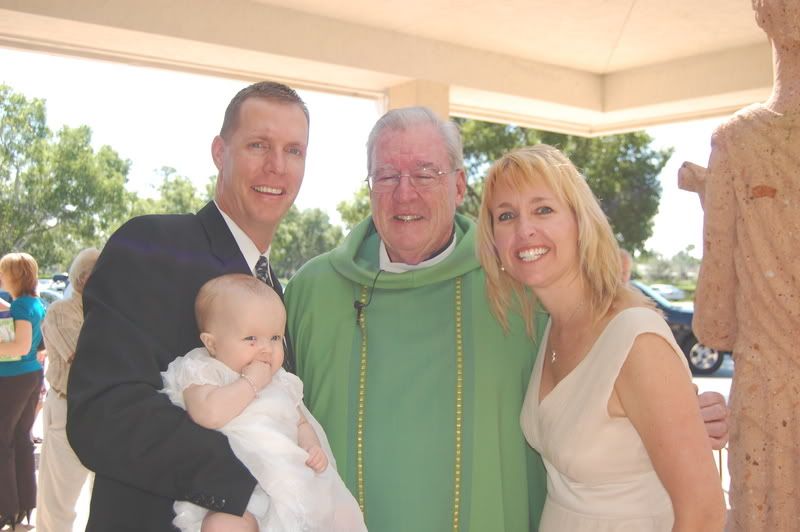 Afterwards, we were approached by a man who told us his daughter was the FIRST baby he ever baptized so he wanted to get a picture of his first and last baptism as a keepsake...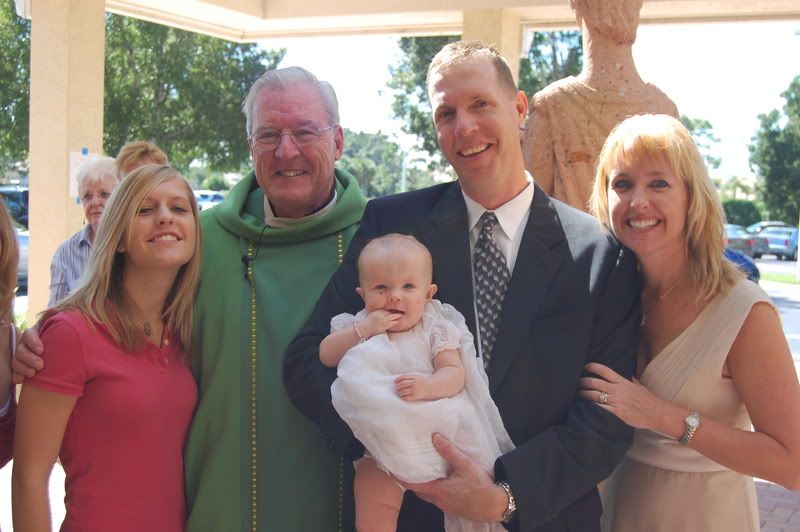 she had a special dress for her "after party" ...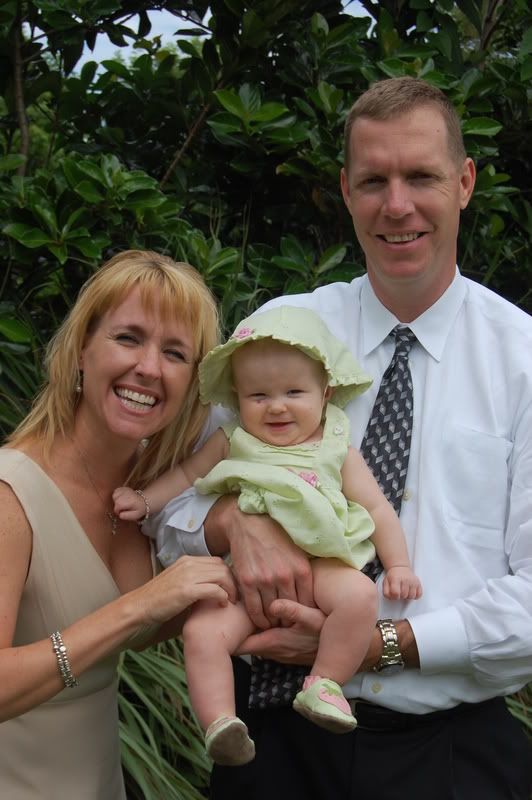 angel face...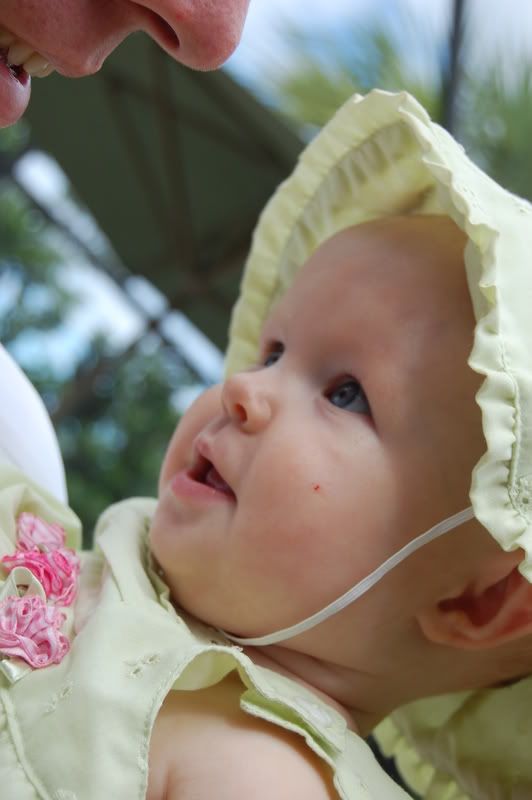 It was a great way to celebrate our 7 year anniversary which is actually today. We were so busy the last couple of days we decided to celebrate with a nice dinner in, but when I got home David gave me a card that said we needed to boogie because we had 5:30 reservations as a location TBD. Casual attire "like we're going to Moe's" he tells me. I couldn't imagine a restaurant needing reservations with Moe's attire! So the 3 of us pile in the car and went to my favorite restaurant ever...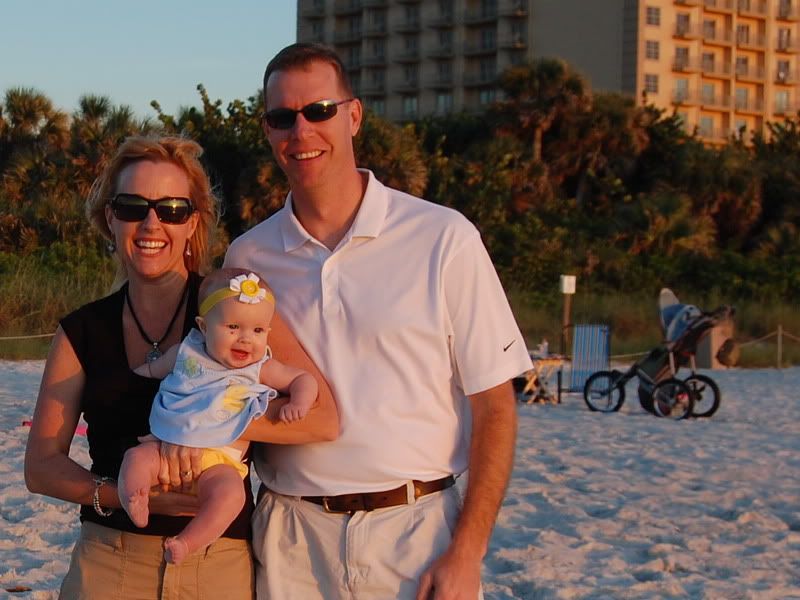 the Beach Restaurant catered by David. The car was secretly packed with a cooler, chairs, blankets, & jogging stroller, so we went to the beach for a picnic to watch sunset. I felt so loved. There's no better way I'd rather celebrate...
He packed dinner, drinks and even included appetizers (my favorite meal)
Lily was happy too...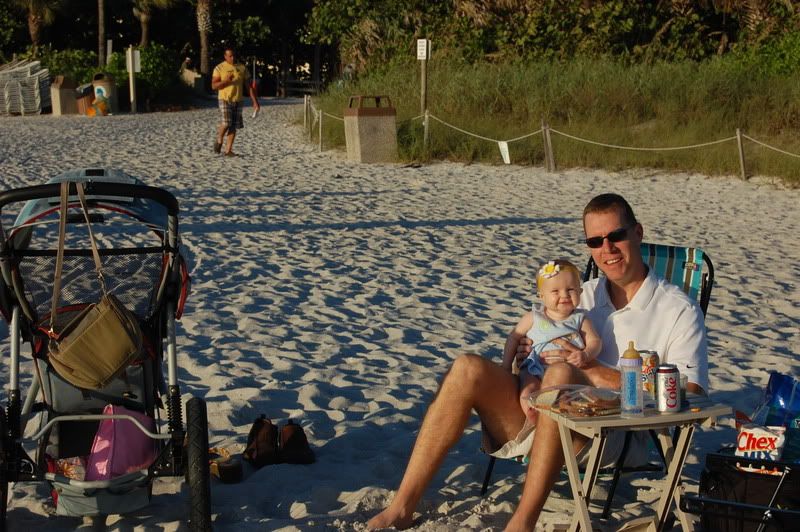 We even played in the sand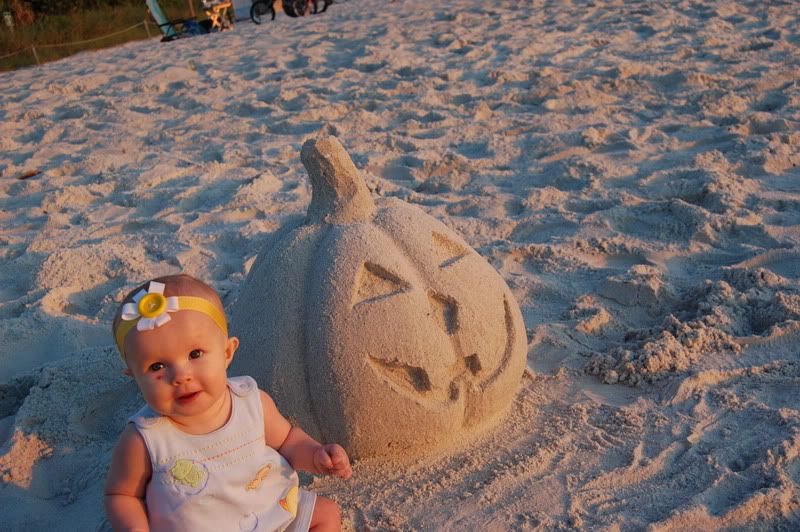 Thank you David for giving me the best 7 years of my life and 9 years together... you are always so kind to me, making me laugh, and being such a thoughtful daddy...I hope Lily marries someone just like you...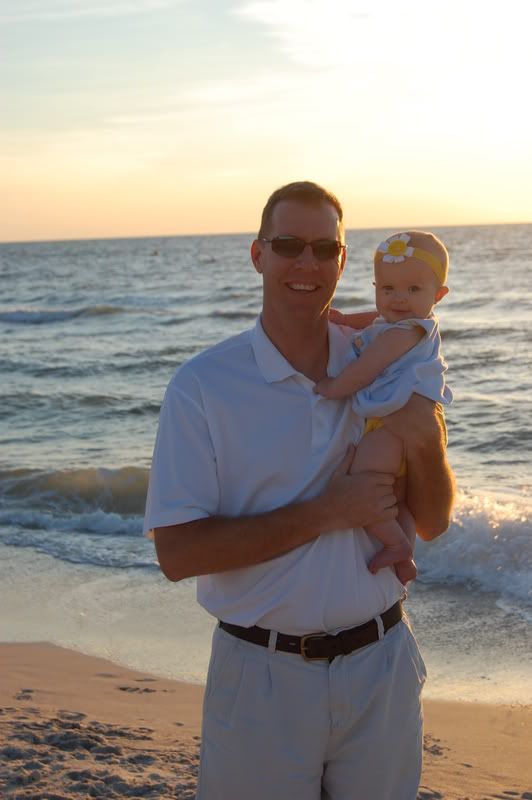 and it's even better to celebrate our love with "Little Person"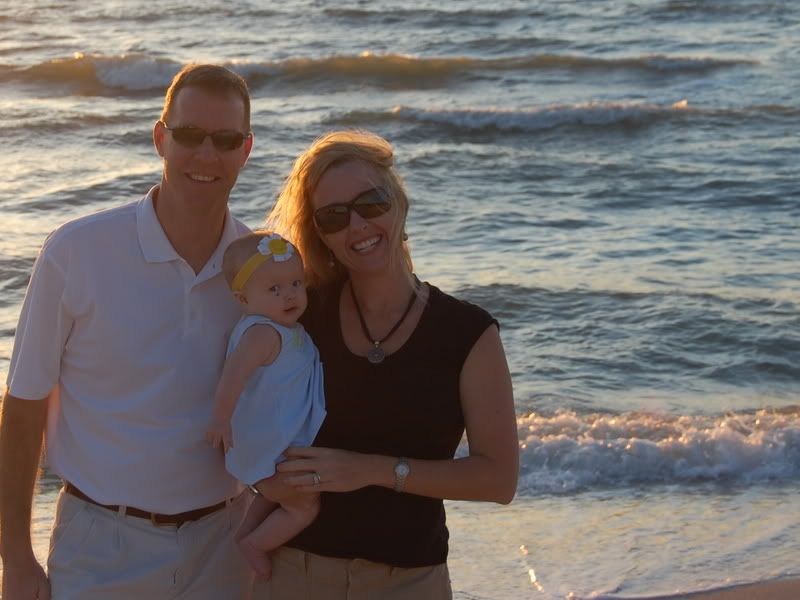 Life is good.