To say we had fun is an understatement! It actually cheapens the week and the memories to say it was just "fun". It was a perfect balance of me time, mommy time, family time and couple time! I wish I had a magic power to stop time and make it last forever. Going away for a week is a long time for me because I like quick little getaways and LOVE my bed and the comforts of my own home, but this is the first time I actually
wasn't
craving my own bed and home because it felt like a home away from home.
Short of a red-nosed clown actually staying in our room, this was the most family friendly place I've ever been to. Not that I'm a big family vacation expert, but when there's a stroller, pack-n-play, baby bathtub in your room then regular high chairs (like you'd find in your house) at every breakfast, lunch and dinner, I felt like I was in the right spot! Plus there were kids EVERYWHERE!! Not too many where you didn't want to see another one, but enough where they added that perfect energy to every activity, game or just hanging out. Lily made lots of friends and even met another Lily from Canada who was the same age, but babbled with an accent. My obsession of bathing suits was finally appreciated here as she had one on all day everyday!
We rented a parasailing boat where we sailed on the river; Lily was all smiles as her hair stood up like she put her finger in a light socket blowing in the wind.
When we got off, the man had put our shoes in line for us and it was so adorable to walk back to see this! (yes, I like baby powder in my shoes; usually I put so much in, I leave puffs of smoke in my trails as I walk-haha)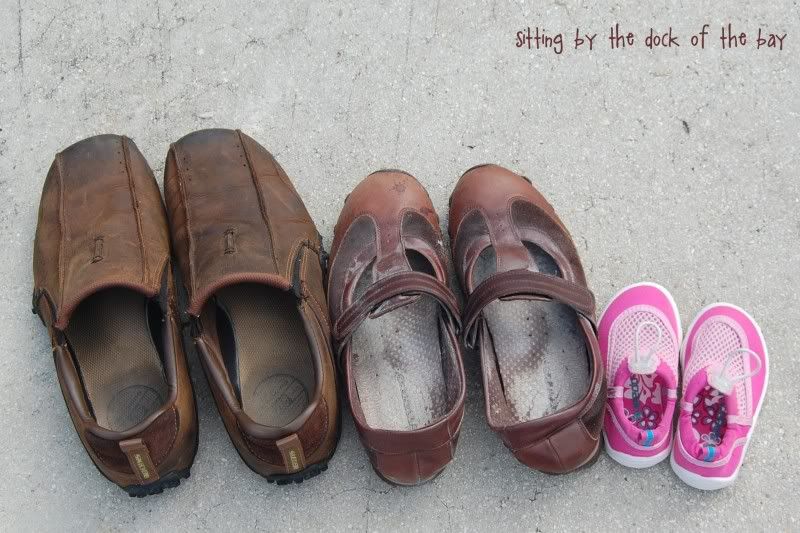 Then we had that sunkissed feeling as we were off to dinner and a show every night. Uh, the food was OUT. OF. THIS. WORLD! Choices galore and even Lily pigged out! I'm not kidding, we'd be finished with our meal and dessert and she was still chowing on her salmon! We've both never seen her eat so much in her entire life! I think her diapers are even a little tighter! The shows were amazing too that were perfect for kids and adults! Did I mention everything was all-inclusive? Like EVERYTHING!! It was mindless vacationing!! Everything included from food, drinks(gasp), room, to the entertainment. No tip jars anywhere to be seen and rejected if we tried to tip!! Mmmm, that's my kind of trip! It was comparable to a cruise, but we still had our car if we needed to go anywhere!
During the day, there were TONS of activities and games to choose from or you could just lounge by the pool and catch some rays. Or both! We decided to try our hand at archery. David was pretty good and got a bunch of bullseyes. When I asked the man if they had an archery competition coming up that day, he said (and I quote) "Yes, we do at 4, but I don't think you should enter." Enough said there. I do think my form is nice tho!
Another (not so) secret obsession is with halter top dresses on Lily. I can't get enough! I think it's because I love to see her little shoulder blades bee-bopping as she walks around and get a snapshot of her cute heart-shaped hemangioma on her back where I know someone in heaven gave her some kisses.
They had a HUGE indoor/outdoor playland just for kids. You could drop your kids off there or use the area and play with them too. The colors were so bright and they had something for every age. Did I mention this place was a little kid friendly? Lily didn't know what to do with herself with so much to do. Either did her parents.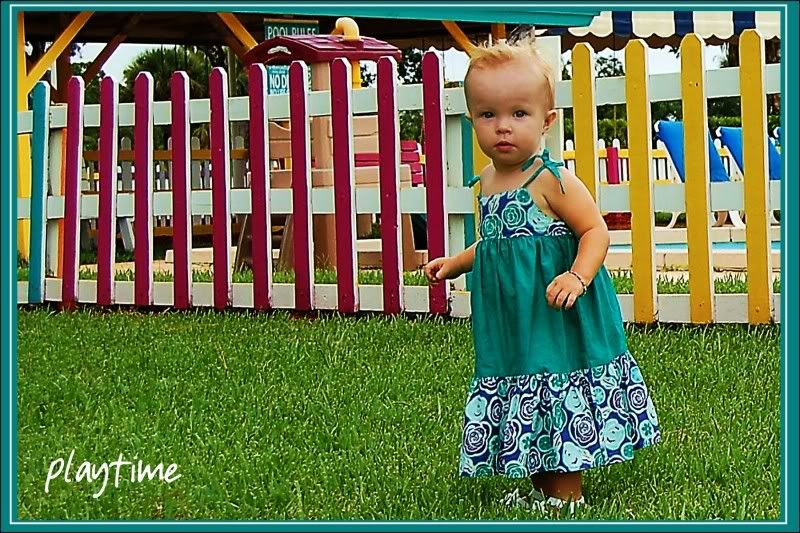 They even had tennis and golf for the bigger kids and the biggest kids (ie parents). David's sore elbow left him on the sidelines, but I think he was nervous for the competition (ie me...growl)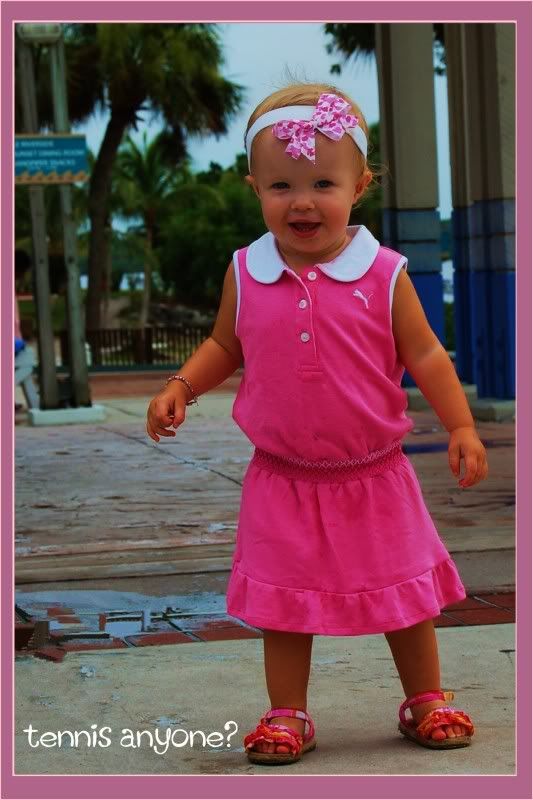 How about a little morning yoga by the dock? Who said yoga was easy? Yes, it was nice and relaxing, but I was sweating by the end by some of the poses. The instructor came over to me more than once and said, (and I quote) "You're doing it exactly the opposite as everyone here." Enough said there.
(David, there's Tatiana-lol)
or you could fight Mr. USA in the pool when they had America Day. The GO's (employees) always had games or dances going on by the pool.
Do you recognize this person? One of my favorite parts of Club Med and best memory as a kid with Allison's family!! The walk up that skinny, rickety ladder UNharnessed to anything is definitely the hardest part! Plus, it's pretty darn high once you're up there! Lily even cheered me on from below!!
Allison, I tried to make you proud!
These are just a few of the 200+ pictures we took, (more to come in part 2) but it was the best family vacation I could ever have dreamed of having my 2 favorite people with me around the clock. Here we are by the pool; Lily doning a tye-dye shirt she made in baby land (with a little help from momma). Did I mention this place was family friendly? We kept telling Lily she was the reason we were there! I feel like we were on a family honeymoon where the meaning of family was celebrated, encouraged, supported, and loved up all week long.
Life is Good!!