Hmmm, how should I put this lightly?
It's officialy....Lily does
not
like going to the doctor. She's usually been very happy go lucky at the doctor until the shots of course, but at her year checkup she was a little shakier than normal and then her 15 month checkup took the cake; actually if she had cake she would've thrown it at the doctor. She knew something was awry as soon as they called her name.
Our gig is up.
She's onto us.
She's onto the nurses.
She now looks at her doctor with an untrustful-I've-got-my-eye-on-you-at-all-times-don't-even-try-anything-fishy look.
She's putting it together. Doctor visits + shots = pain translating into Lily no likey!!
She holds onto us like koala bear not letting go and you'd think they put fire on the scale table because she sceamed her pretty little head off! She treats the doc's ear light like it's a fire hose and she almost hypervenilated when he checked out her sacral dimple (which is fine btw) Well, like they say, a picture is worth a thousand words...or tears!! (2 visits rolled in one)
But she's all smiles when it comes to her monthly picture which I'm going to try really hard to keep up with until she is 2. It's definitely a 2 person shoot because she likes to rock like her daddy in this chair almost trying to flip it at times. Thanks mom for your help with product placment (ie Lily)!
and her 4th of July pages for her book - so hard to be patient to touch and feel these pages until next year, but oh so worth it...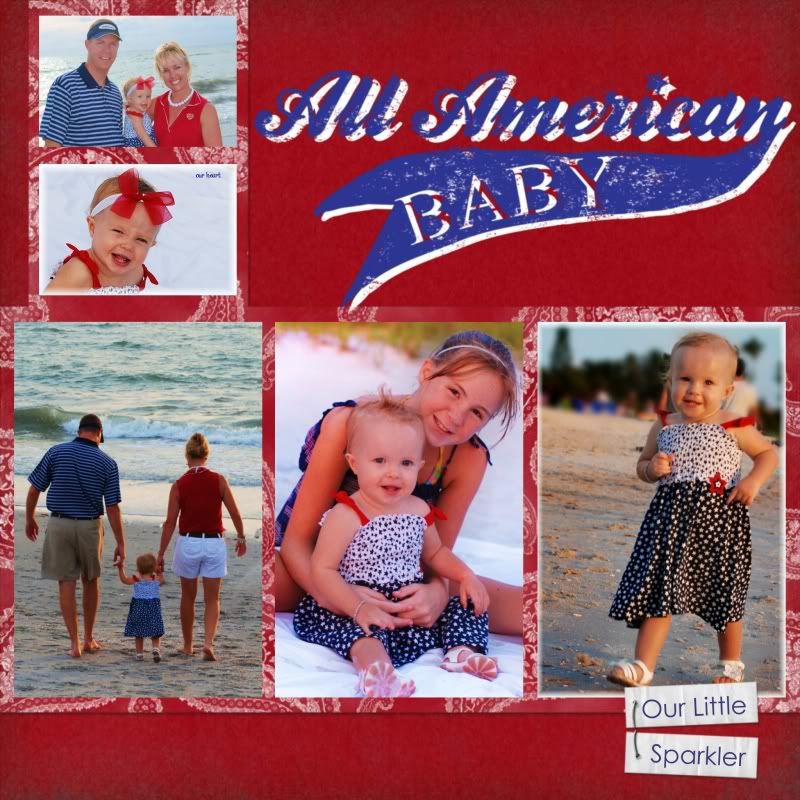 I seriously don't know how this summer could get any better with my sidekick with me around the clock and having so much fun doing nothing special and knowing how special that really is!
And an anniversary of sorts today...Lily's itty bitty embryo was implanted into me today 2 years ago...prompting me to write
this post
last year and we haven't been apart since! Profound! Imagine the irony when I found her playing with the SAME pregnancy stick that left us elated to find out we were pregnant with her!!
I thought this was a pretty profound picture until someone *coughallisoncough* :)said it might not be sanitary to be schnacking on a pregnancy stick, but I promise it was clean, sanitized and no small babies were harmed during the process. teehee
Life is Good!