Here's a picture of what it would've looked like if they did an MRI on my heart and stomach today.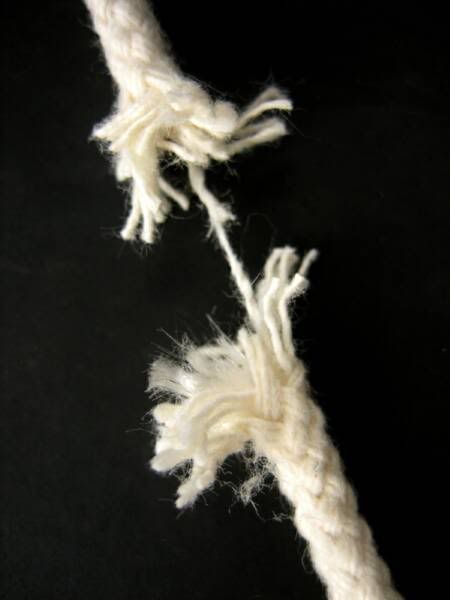 Wow, what a day! I feel like I ran 5 marathons!! Then another 2 more! With no food or water or training! Just thrown into the marathons and finished them all!
It was a tough day for everyone, but it's over and behind us.
Thank God!!
Literally.
I've never said so many prayers and felt so helpless in my life. She was such a trooper the whole time and looking at us like we were crazy for not feeding her!! She got up around 8:30 and wasn't sedated until 11:30!!! Um, I don't know if you're any good at math, but that is THREE HOURS awake with no food! Not any breasmilk. Not any water. Not any juice. Not a cracker. Not a cheerio. Not a rice puff. Nothing! Then she became tired too and wanted to sleep, but was too hungry to sleep. The nurse said we should try to keep her up because the medicine would sedate her quicker.
Um, so that's THREE HOURS with no food and no nap!! Yipes!! The. poor. thing. D and I were like a comedy routine trying to distract her and keep her happy. She was such a trooper! We were like the 2 stooges trying to distract her grumbling tummy and tired eyes. The nurses thought we were nuts. I can't imagine what we must've looked like. Some things worked. Some things didn't so we went back to what worked 2 minutes previously and then that didn't work so we tried something else. We were hopping and changing gears every 2-3 minutes. Sometimes 2-3 seconds. I think we were giving her ADD in the process.
We never left her side which was good for her to have comfort in our faces, but SO HARD for us to see her so upset as they put in her IV as she flailed and cried. The nurses had to hold her down so she'd be still. Talk about helpless.
Then they gave her medicine to make her sleepy and she went completely limp so quickly. I wasn't expecting her to be so limp. She was like a newborn with a floppy head, no control over her limbs and went from fussy to
completely sedated
in my arms.
I insisted on holding her as long as possible so they let me hold her as we walked what seemed like miles of mazes alongside the nurse pushing the empty gurney through hallway after hallway, up and down elevators, even going outside, then inside passing hospital room after hospital room seeing patient after patient, visitor after visitor, elderly volunteers, doctors, nurses, all the while holding our entire life in my arms as I prayed, kissed, hugged, prayed, worried, hoped, loved and snuggled her little helpless body praying it was healthy, intact, and just as normal on the inside as it appeared on the outside.
Then they had to put her little innocent motionless body on a GIANT gurney and send her into this enormous tube which looked like a spaceship where she stayed for over an hour, as they snapped image after image reaching a whopping 200 images of her entire inner workings. All of her organs, her spine, her brain, and even every chamber of her pretty little heart. Everything that makes lily our Lily! They burned those 200 images to a cd and gave to us as a keepsake. Now when I say she's beautiful on the inside and the outside, I have proof!! :)
After she woke up around 1:30ish, she was like a drunken sailor looking dazed, loopy and confused. They gave her 8oz of pedia-lite which she guzzled down faster than I've ever seen her drink, then drank 6oz of breastmilk, then another 6oz of apple juice. She couldn't drink it fast enough. We couldn't keep up with her. It was such a relief to finally be able to feed her and satisfy her needs.
Now for the good news. Doctor
just called
with the results and said the sacral dimple is NOT ATTACHED to anything internally and poses no risk to her EVER in her lifetime!! Nor will it ever be attached. I repeat,
NOT ATTACHED
!! They were worried it was attached to her spine and would do funky things when she was older (Dr. Google can really freak out parents who research the "what ifs" which I don't recommend, but still did it). I feel like I just lost 200lbs after that phone call. They also scanned her internal hemangioma and it looks normal and harmless as well. There goes another 100lbs. Here are a few pictures I took with my cell phone.
Here's Lily just after the MRI. Poor thing had to have an IV which we weren't expecting. Either was she. They had to give her oxygen too after she was sedated which we weren't expecting either. She is so out of it here...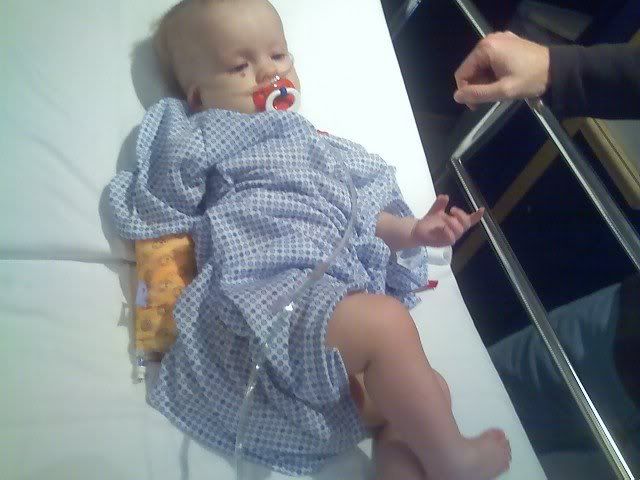 Lily has always been a little shy being naked around people so she might be embarrassed by this shot, but I think she'll forgive me. Here's what I mean by her being beautiful on the inside. Yes, this is her and we have 199 other images like this. She looks like a bodybuilder.
Here she is home in snuggly clothes still feeling a little loopy and trying to force her famous smile to daddy who is probably standing on his head at this point. I swear we could go on the road with our routine!
Once again, the power of prayer prevailed and it's because of you we have a healthy, intact, amazing little miracle who is currently passed out in her crib in the star formation with her arms and legs spread out like she's Stretch Armstrong. My little heart is so full of gratitude, relief and enormous love not only for our little Lily Grace, but to all of you who love her so much and helped to carry this weight with us through texts, emails, calls, cards, visits, home cooked meals, powerful prayers, and buckets and buckets of love that we pour all over our perfect little LilyGrace. Thank you, thank you, thank you!! We are humbled by it all and know that it got us all through today!!
Life is Good!! (flailing onto bed, passing out in star formation)