Nine months doesn't sound like very long, but I can't remember life without Lily; seems like another lifetime. She closer to a year than she is to 1/2 year and that is crazy to think about! The whole process of growing up is so gradual, natural and beautiful all at the same time. She had her 9 month checkup and she is growing like she should be.
It's so funny that she only makes this face when she's listening to Dr. Wilson. It's the "I-think-you're-kinda-important" face...She makes it the whole time and doesn't take her eyes off of him for a second.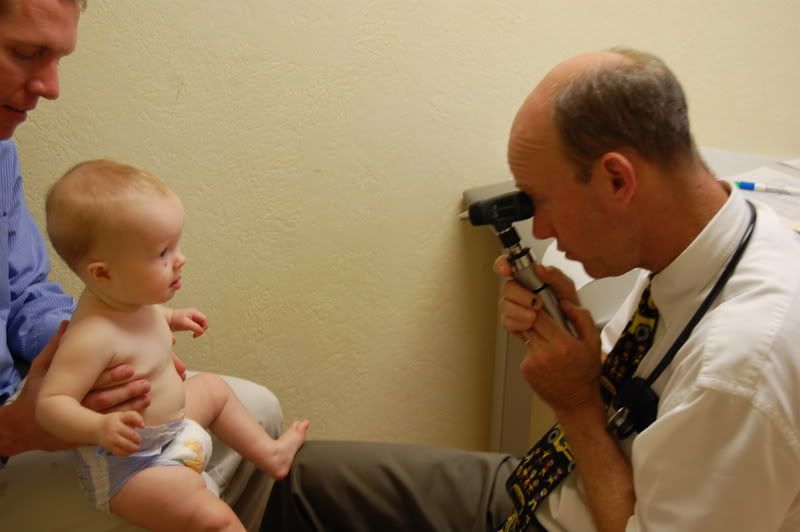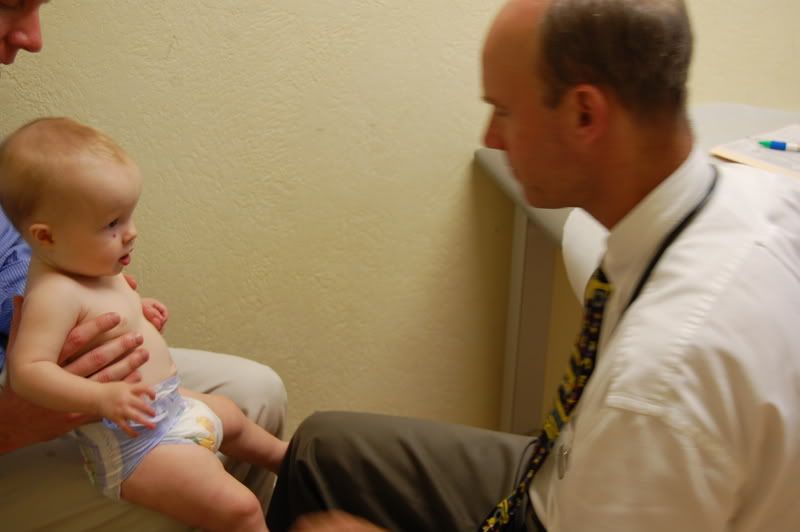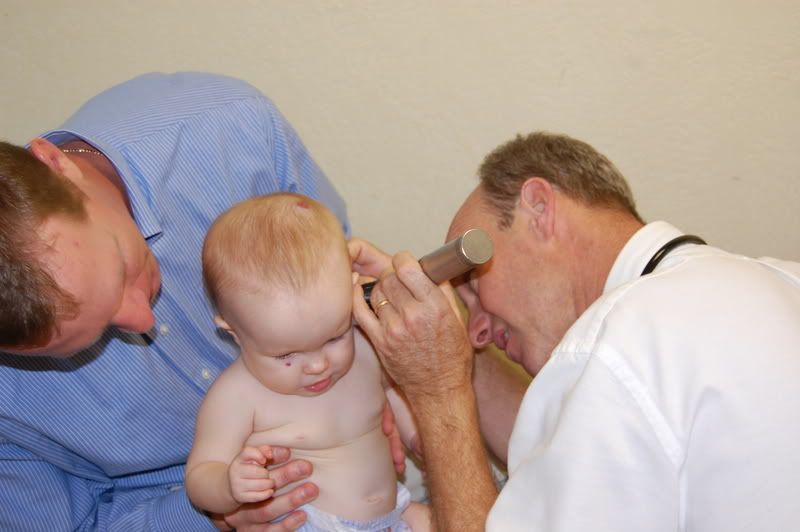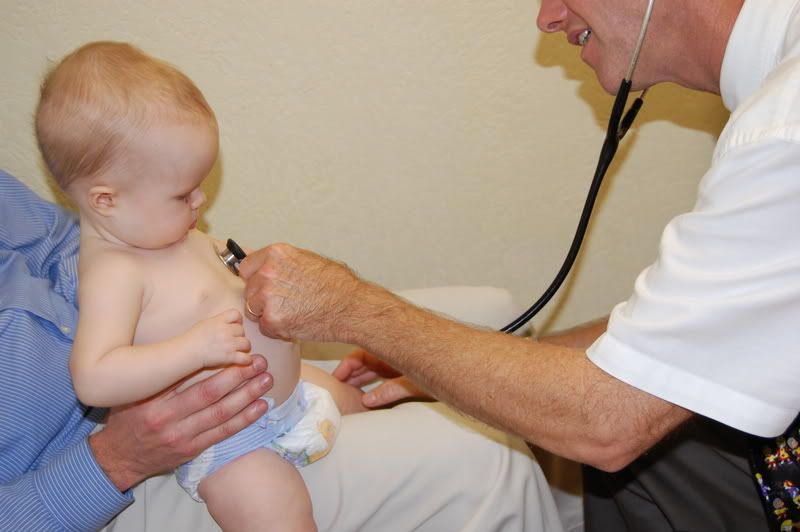 For her 9 month shot, she is going after the paper of course. She'd eat the ENTIRE sheet of paper if we let her. I have to hide my shopping list at the grocery store because she'll want that and only that if she spots it. Visualize me crossing things off my list down by my knee so her eagle eye doesn't pick it up on her radar. I'm packing paper in her lunchbox when she grows up.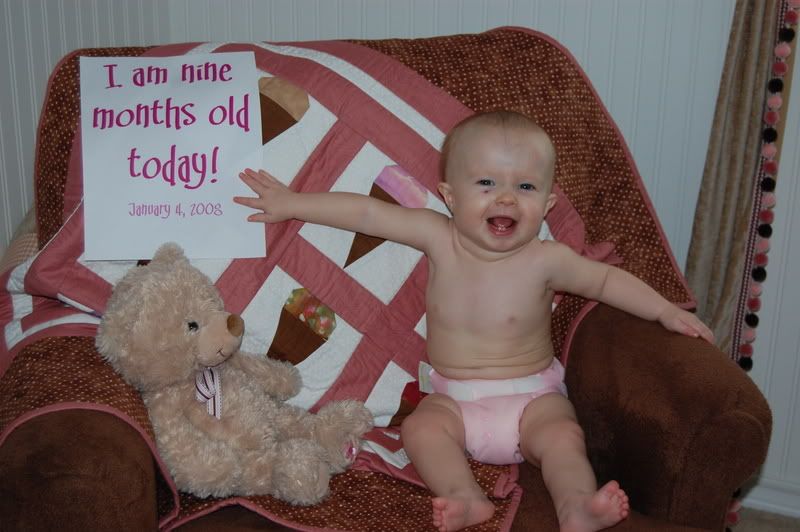 oh, how I love this dress on her...I'd let her wear it everyday if that was sanitary; oh and if it wasn't 80 degrees!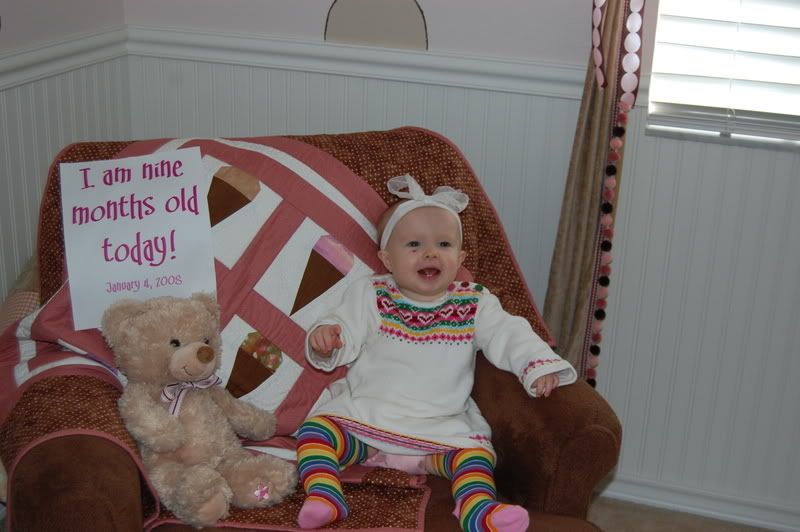 See, it's hot down here! Don't you northerners feel bad for us;) Lily is saying hi to your northerners... (notice my "Life is Good" hat from Santa)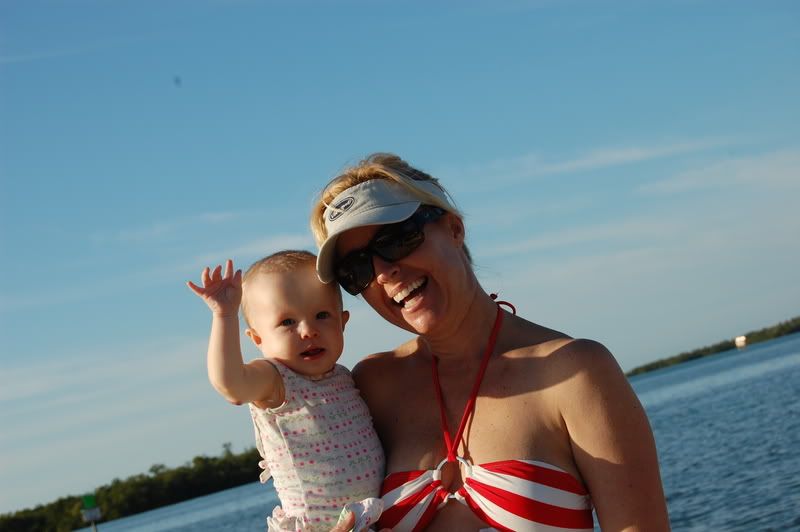 Oh, how she loves her
Lainey Love
...her eyes light up, huge smile appears, & legs start kicking when she sees her. It's magical how she knows that's someone her age and someone she should look up to. Lucky us!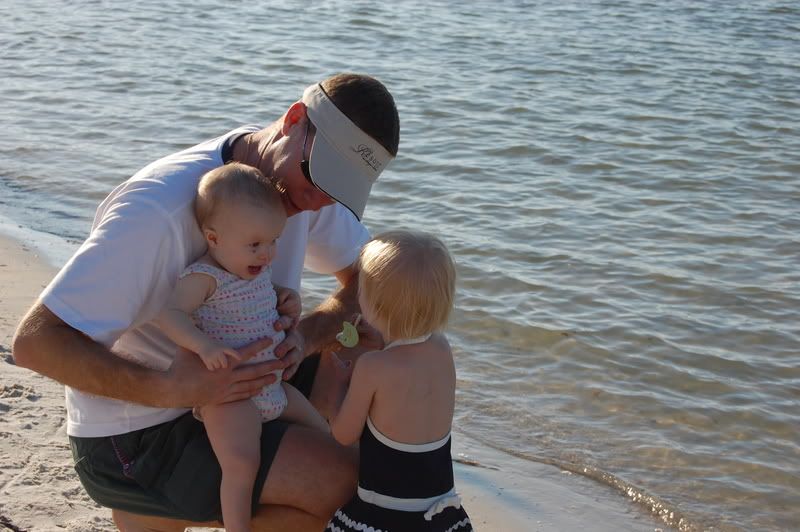 She loves her wagon rides too...thank you Santa!
ok, so it gets cold at night...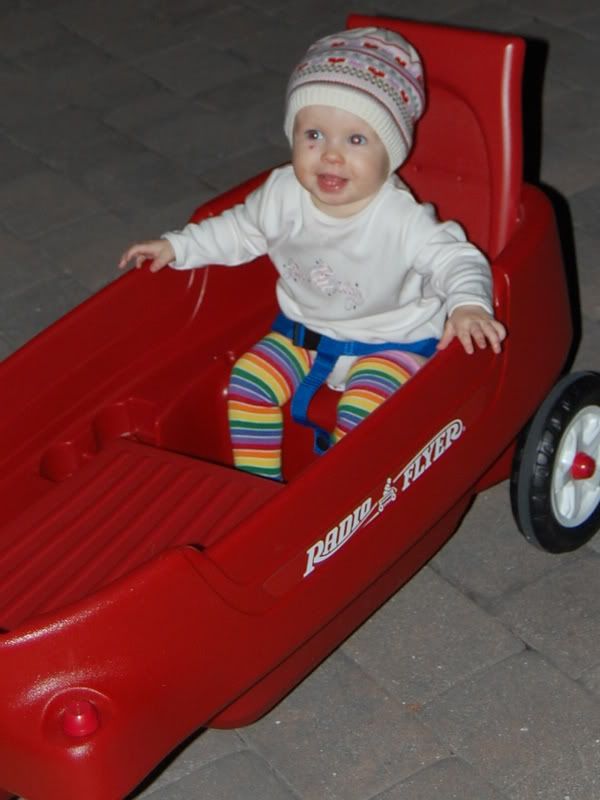 We've been using this mesh pacifier food thingy that Aunt Molly gave us eons ago and we love it. Actually, Lily loves it. We put food in the mesh bag and she goes to town on it. Here she is eating a strawberry, but she missed her mouth a few times...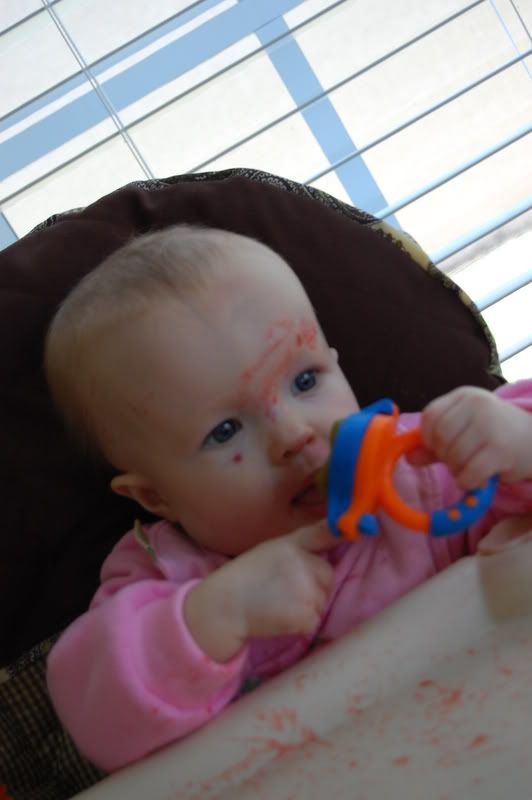 I was making her food while she was gnawing on it and came back to this face...what? me? I didn't do it. She actually looks like Groucho Marx!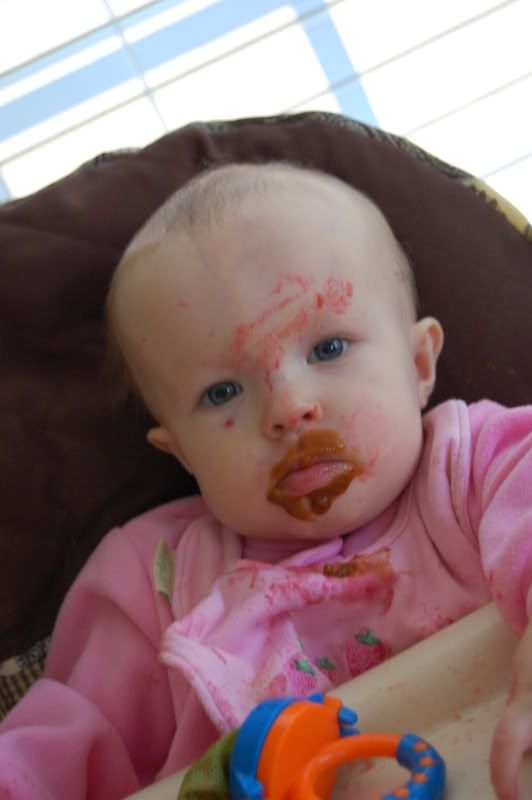 see the resemblance?
ok, that's better...


She loves to play "Where's Lily" when david flies her around on his head asking where she is over and over; she squeals with laughter in delight. Not quite sure who likes this game more ;)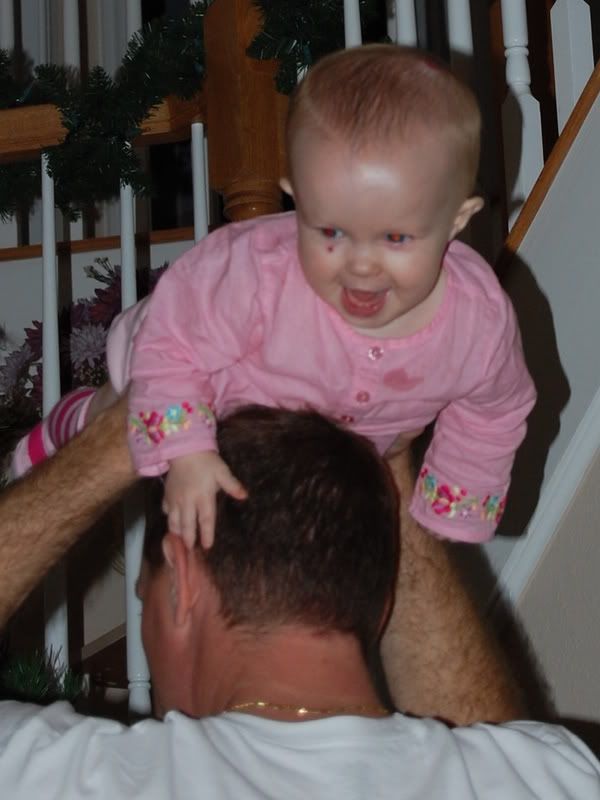 There is NOTHING I like more than our mornings together. Where we're not doing anything special, but we all know how special that is.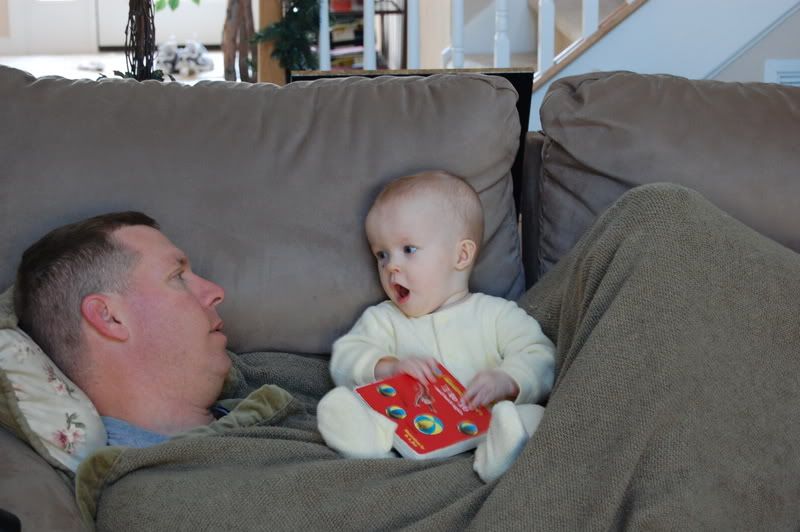 She loves to stand more than anything... here is she is hard at work...(she has cloth diapers on so it looks like she has more junk in the trunk-haha)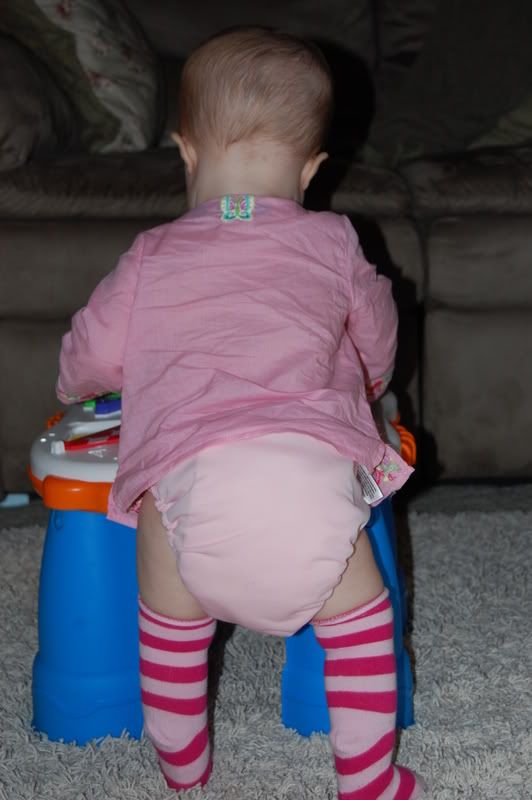 Say hi to your peeps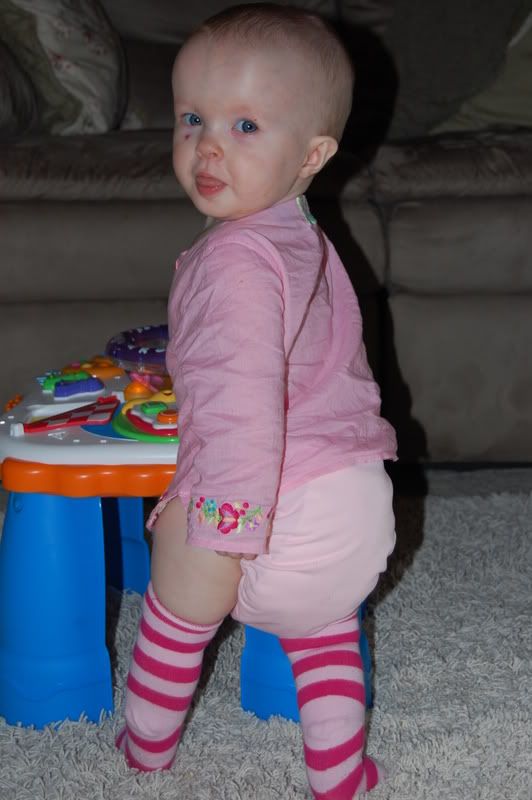 Life is good! xoxo