Someone is 4 and will tell you if you see her! Our little shy one is slipping out of her shell lately and telling everyone she is 4.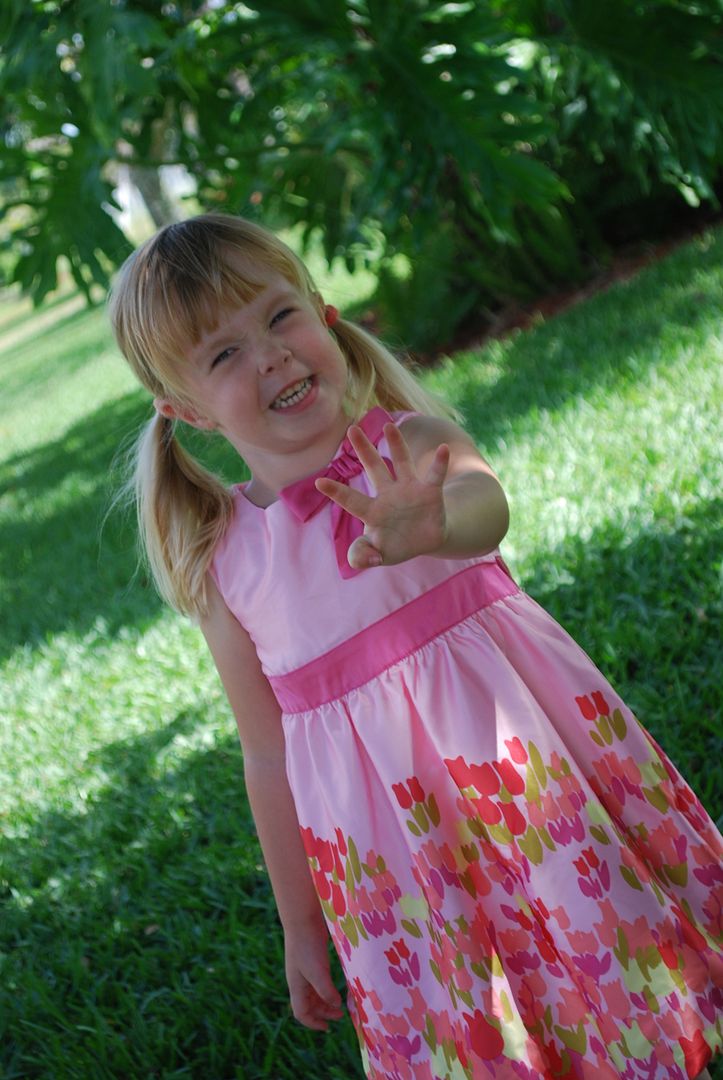 The neighbors, the check out clerks, the family, her friends, her teachers and Larry overheard her chanting to herself "I'm 4. I'm 4. I'm 4." in a sing songy voice while riding her tricycle.
David was leaving for work on her birthday and she says "daddy, tell everyone in your meetings that I'm 4." In the car she'll say "I don't know how to be 4, but I know I'll never be 3 again right mommy?"
I love what 4 has in store for us because 2.5-3.5 about kicked our booty and took our name so I'm enjoying the freedom of enjoying her more and not dealing with the incessant tantrums what felt like every hour. They're still there of course, but fewer and further between making it much more manageable and normal feeling, whatever that is.
I gave her about 100 choices where she wanted to go on her actual birthday and of course she chose Chucks!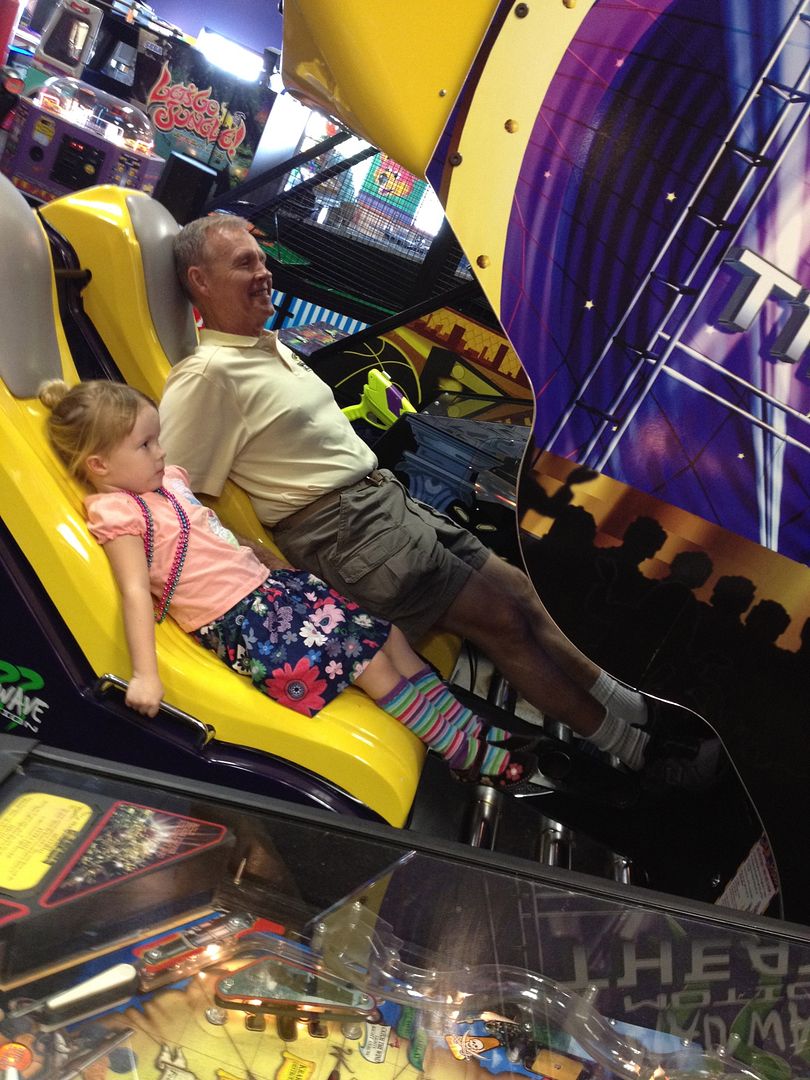 she usually wins 15-20 tickets on average with her gaming, but she went off to play some games and came back with the mother load. Talk about a lucky day? I still don't know how she won all these.
and she had a celebration at school with her sweet little friends. There are only 7 other kids in her class with 2 teachers so it's always so quiet and peaceful in there which is great for Lily bc she doesn't like too much chaos. One day she was playing with some rowdy kids at the pool with Aunt Molly and she said to Molly, "I don't like loud kids Aunt Mowwy." Um, has she met her brother?
Grandma and PawPaw flew in for all the festivities and the love was flowing back and forth like the wild rapids.
(One of my favorite pictures.)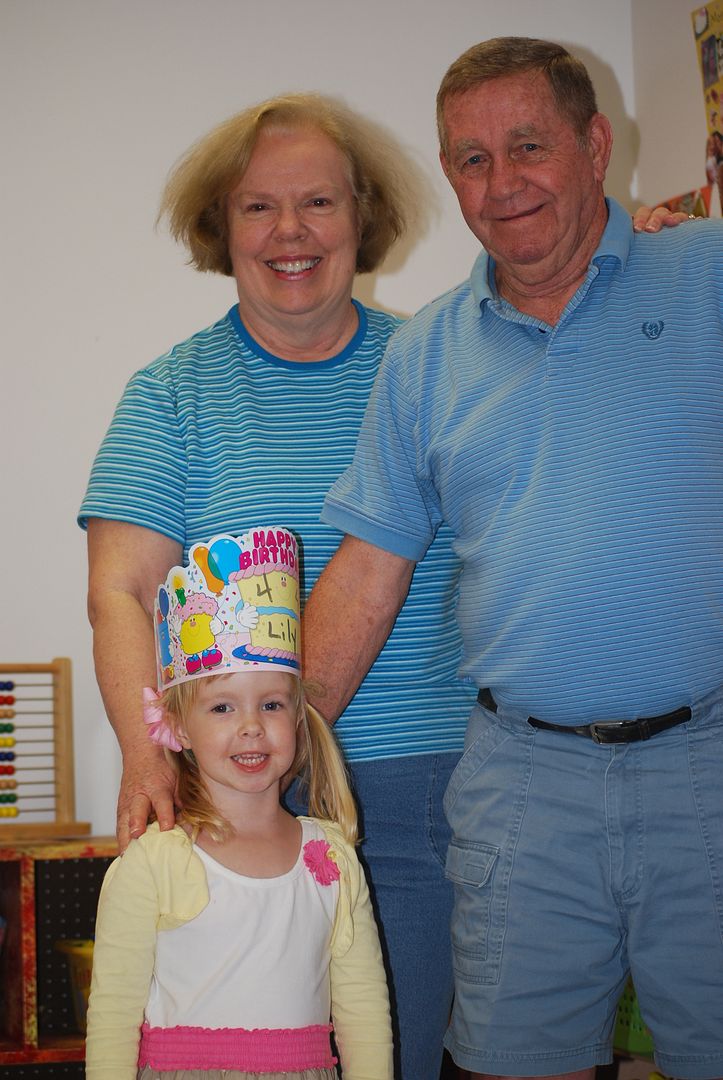 and PawPaw had the genius idea to point to her birthday which was also her golden birthday because she turned 4 on the 4th of April. (Allison loves the golden birthday reference:)
I almost didn't recognize Lily when I scanned her room looking for her cute little pigtails and smile because of the crown she wore so proudly. I love her sweet little heart.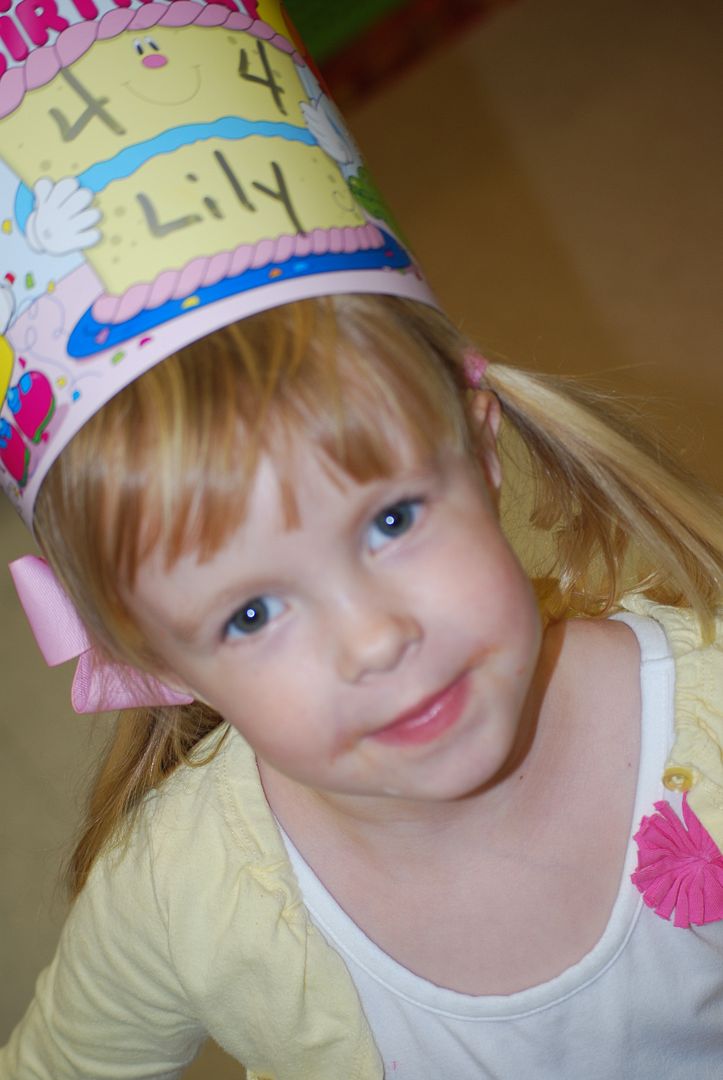 She surely didn't want to take off her crown no matter where she went or what she did.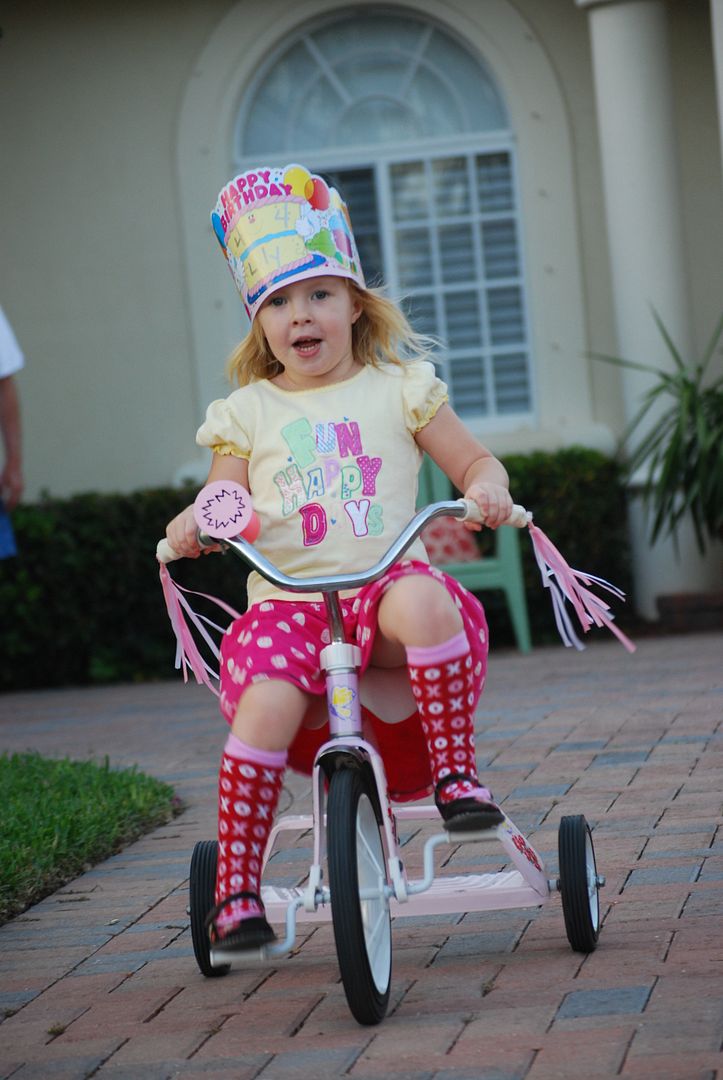 and didn't care about wardrobe malfunctions.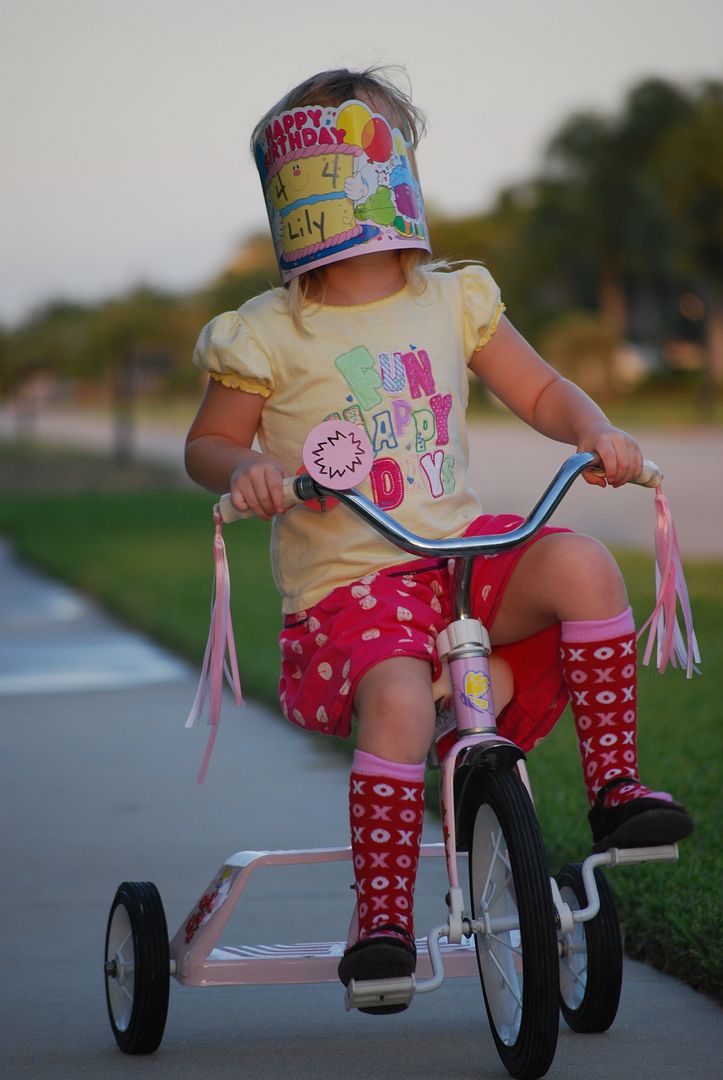 nothing stopped her.
she wanted the world to know she was 4. And proud of it.
And then she could go to any restaurant of her choice for her bday dinner and she chose the "Chicken on the Corner Restaurant". It took us a bit to figure out, but an actual man in a chicken costume stands on a corner everyday advertising for Hurricanes right around the corner from us (hello awesomeness?) and we see it everyday. Since she didn't know the name of the restaurant, she made up her own. So off we went to the ChickenOnTheCornerRestaurant and insisted climbing to the top of the statue for the group picture. She didn't have to know it was Captain Morgan.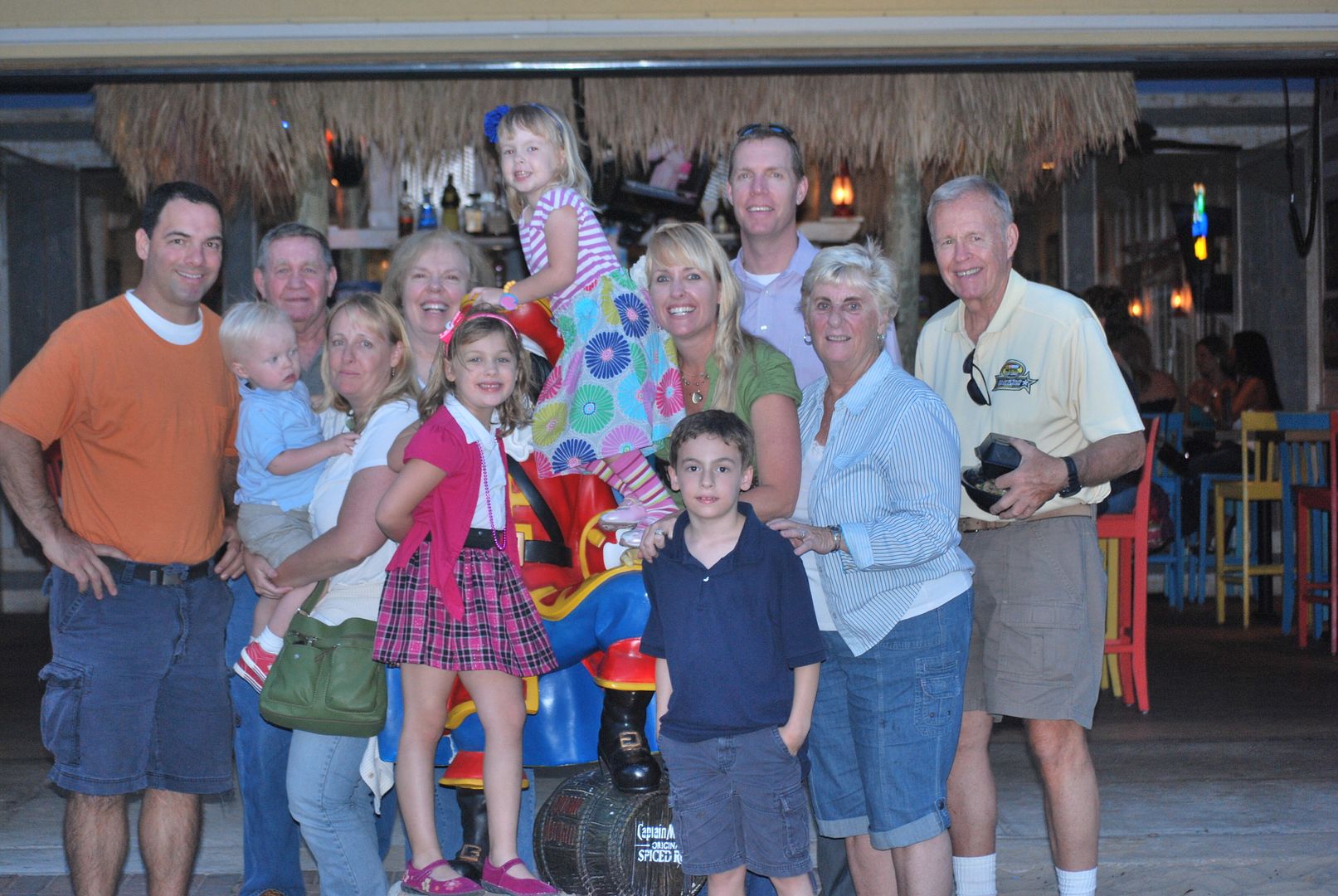 Then on Saturday we had the full blown celebration of 4 in true Dora style. She's been asking for a Dora birthday a day after she turned 3 and kept that consistently for the last 364 days. I try to push Barney on her because I love his lovey-dovey friendship themed message and although they are both very close in her heart, Dora always wins the rivalry.
and Grandma Dottie went all out on her cake. She worked on it for days and endless hours and it came out PERFECT!!!!! Even her bangs are layered and the two sprigs of hair pop up like the real deal.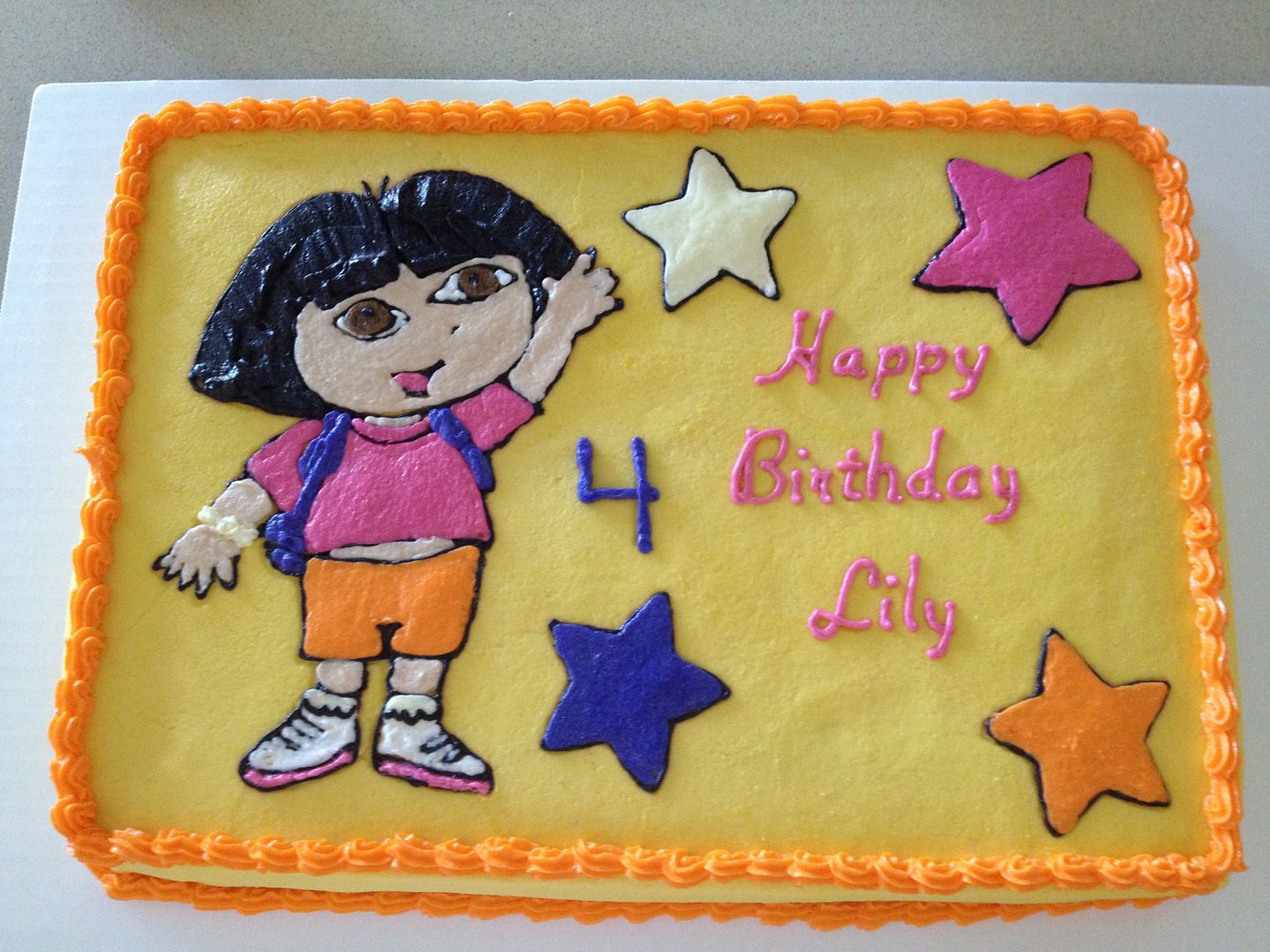 and 48 balloons to match her 4/4/08 birthdate. I'm crazy for numbers; especially on her golden birthday which comes once in her lifetime.
and I'm absolutely in love with the water bottle idea for parties which doubles as decorations and talk about affordable...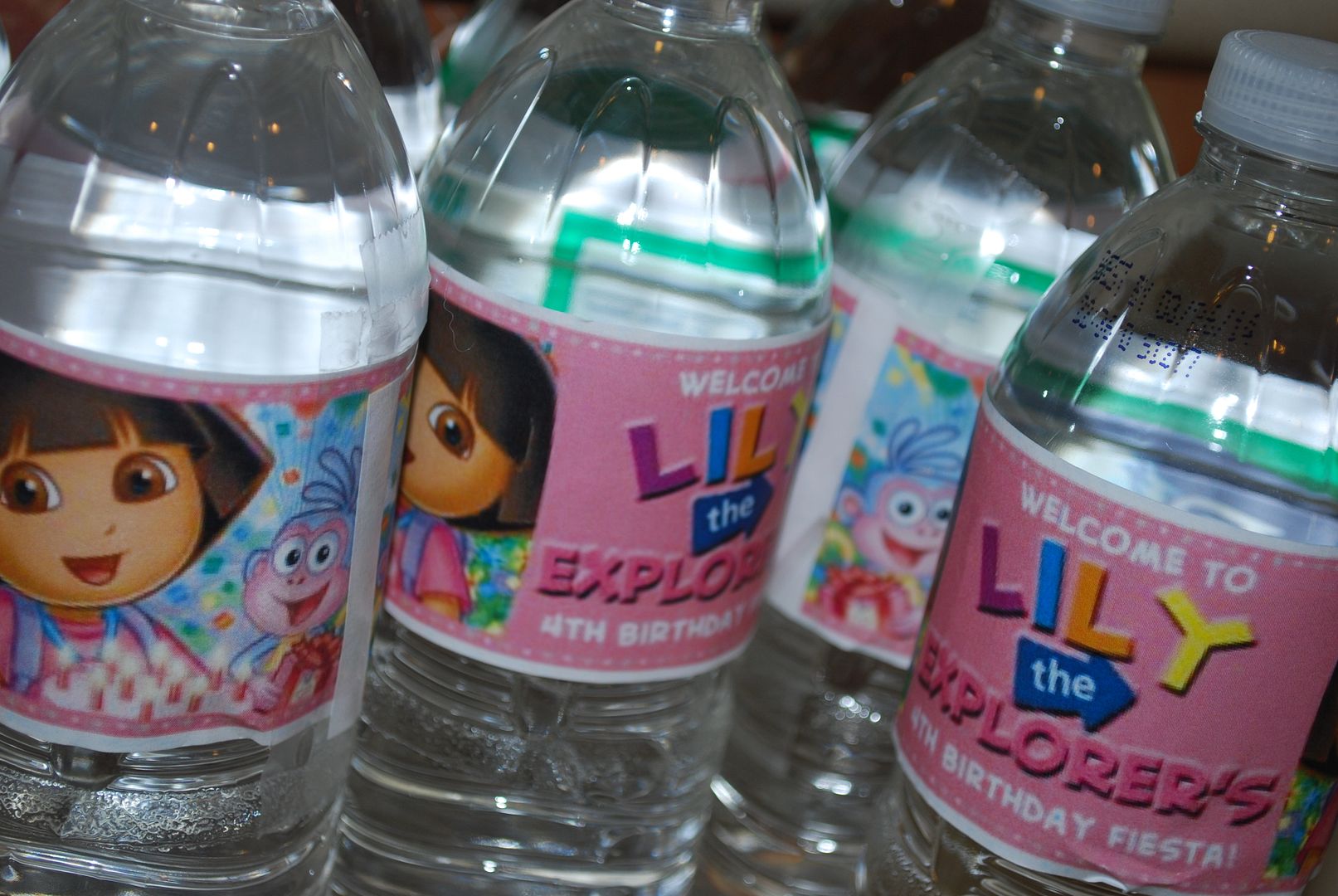 and a dora kitchen from her grandparents to complete the theme
and her very own fishing pole from the Hutchesons to entertain her new love for fishing with daddy. (notice the aDORAble dora dress we had made for her special day-oh how I love it)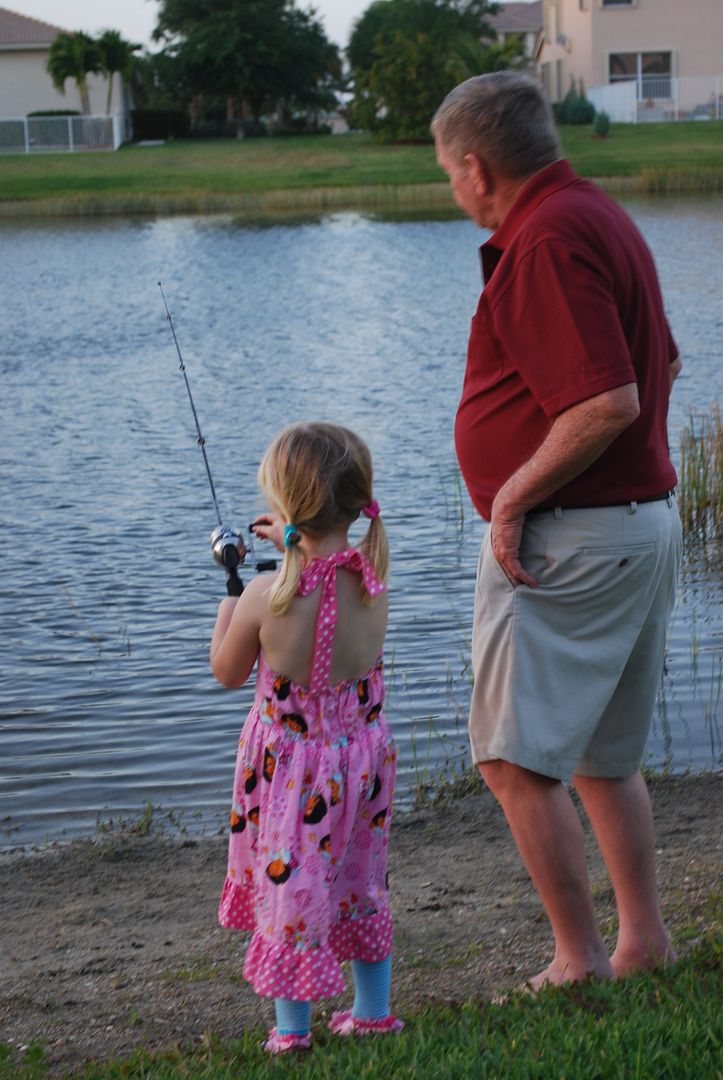 Grady wasn't himself during the party and wanted to be held which isn't like him, but there were plenty of arms to fill. I think the balloons freaked him out. He loves balloons, but it was almost like it was too much of a good thing for him.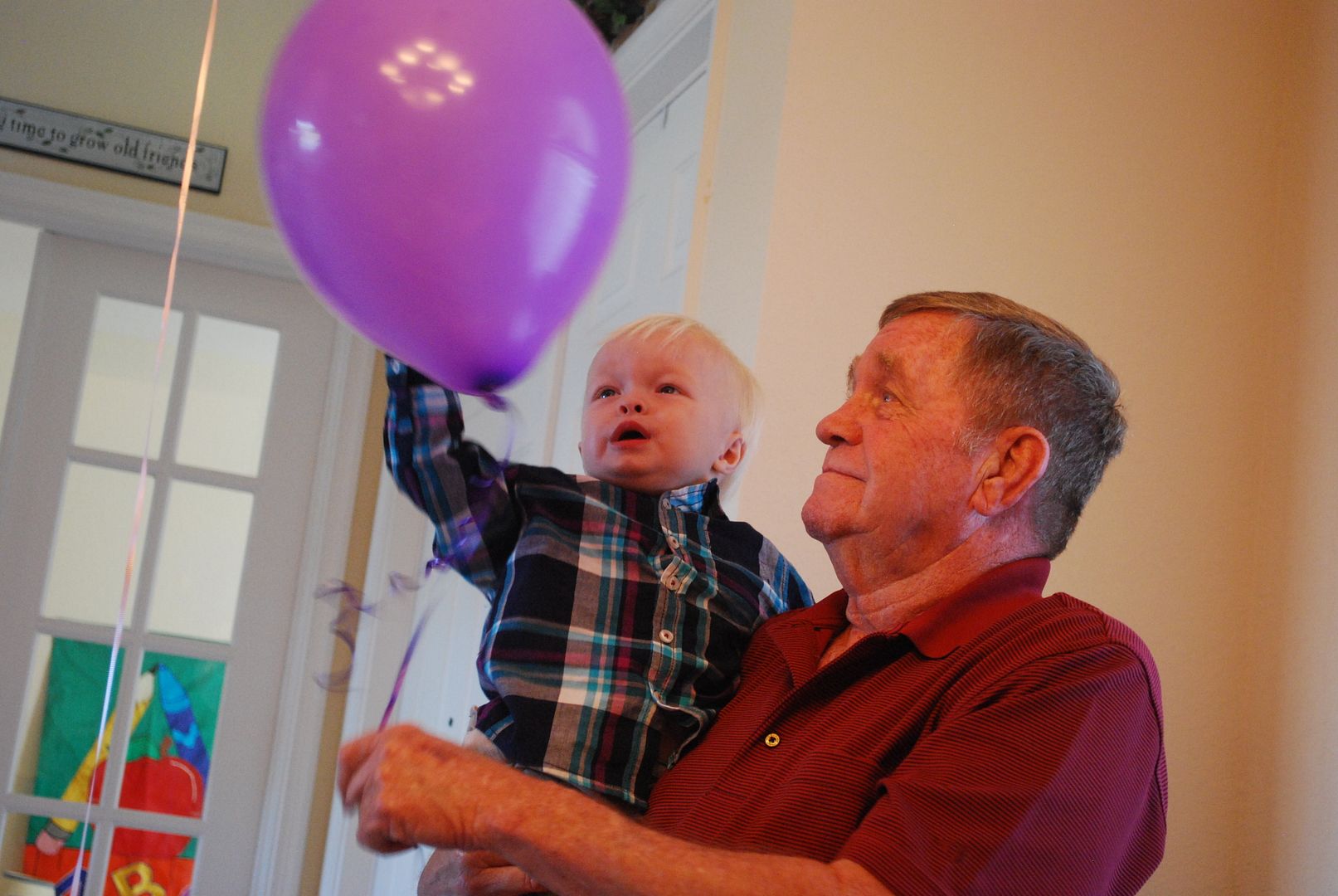 the classic-blow-up-in-the-scrapbook-shot; especially with all 4 candles still lit.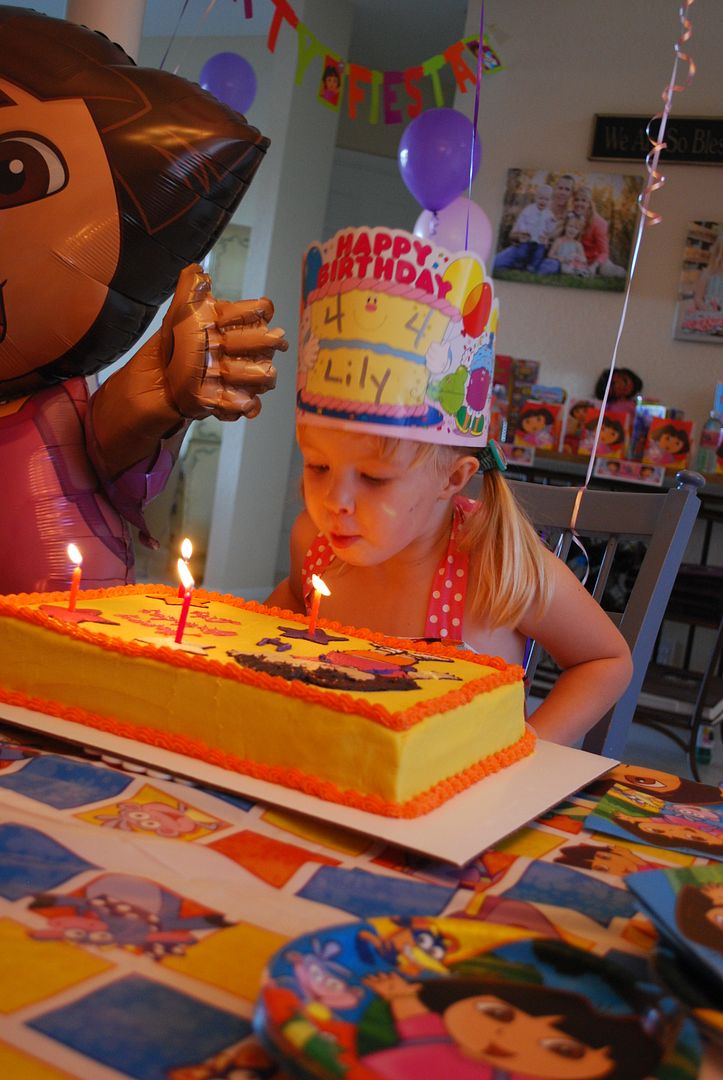 When planning her party, I tried to think of every last detail that would scream "you are special. You are loved. We are celebrating you because you were born." and every time I tried to wrap that into the party ideas, I came up short because the love we all feel for her is limitless. Uncontainable and indescribable....but we sure tried our best and I think she knew.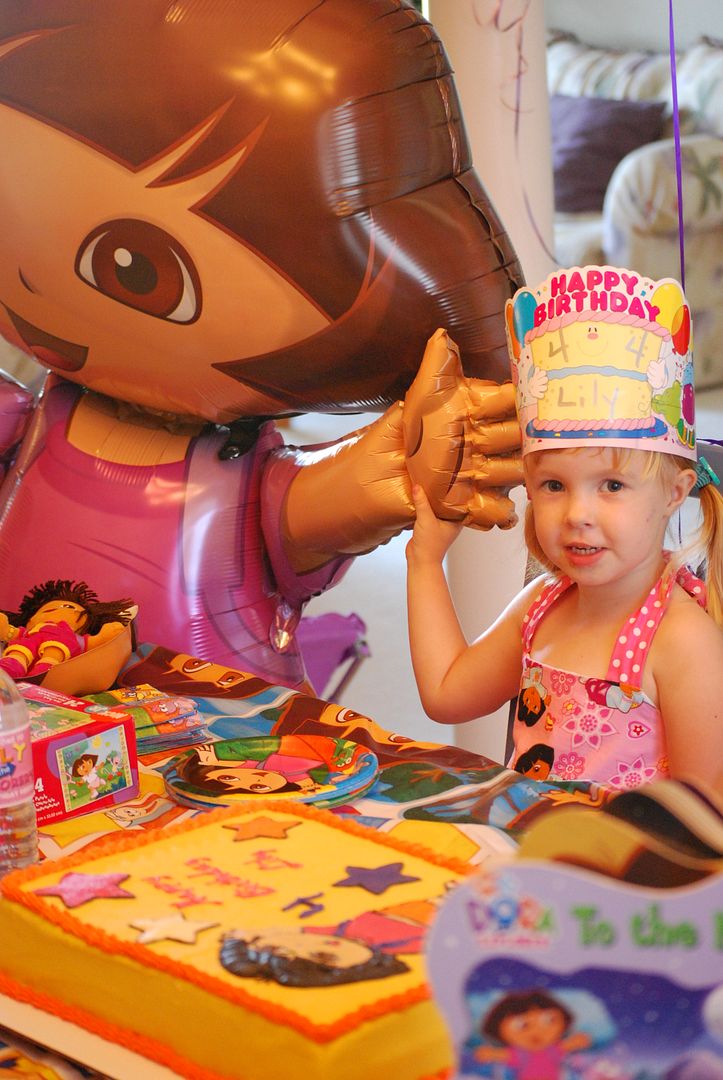 and if she didn't know, she had a life sized Dora to prove it to her. This gal has a mind of her own and floats around the house like a ghost. She's not even close to losing her helium 4 days later so I think she'll be around for awhile practically taking a spot at the dinner table with us and startling us at every turn.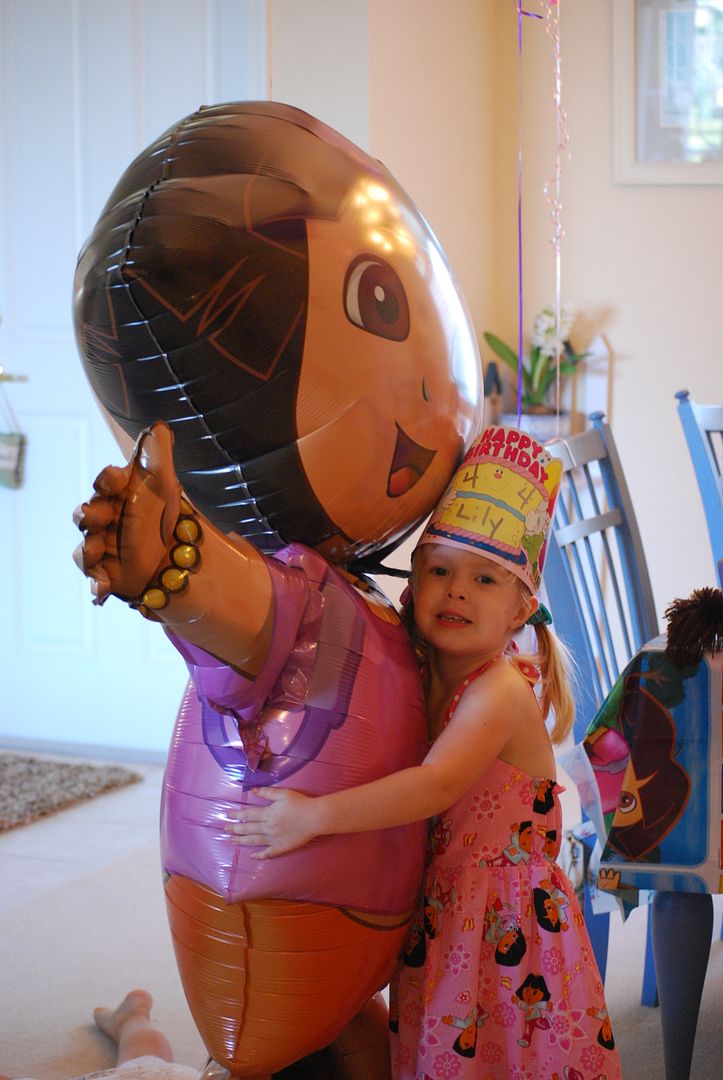 I've been having nightmares about Dora and her big brown eyes and brown bob haircut. The mask doesn't help either.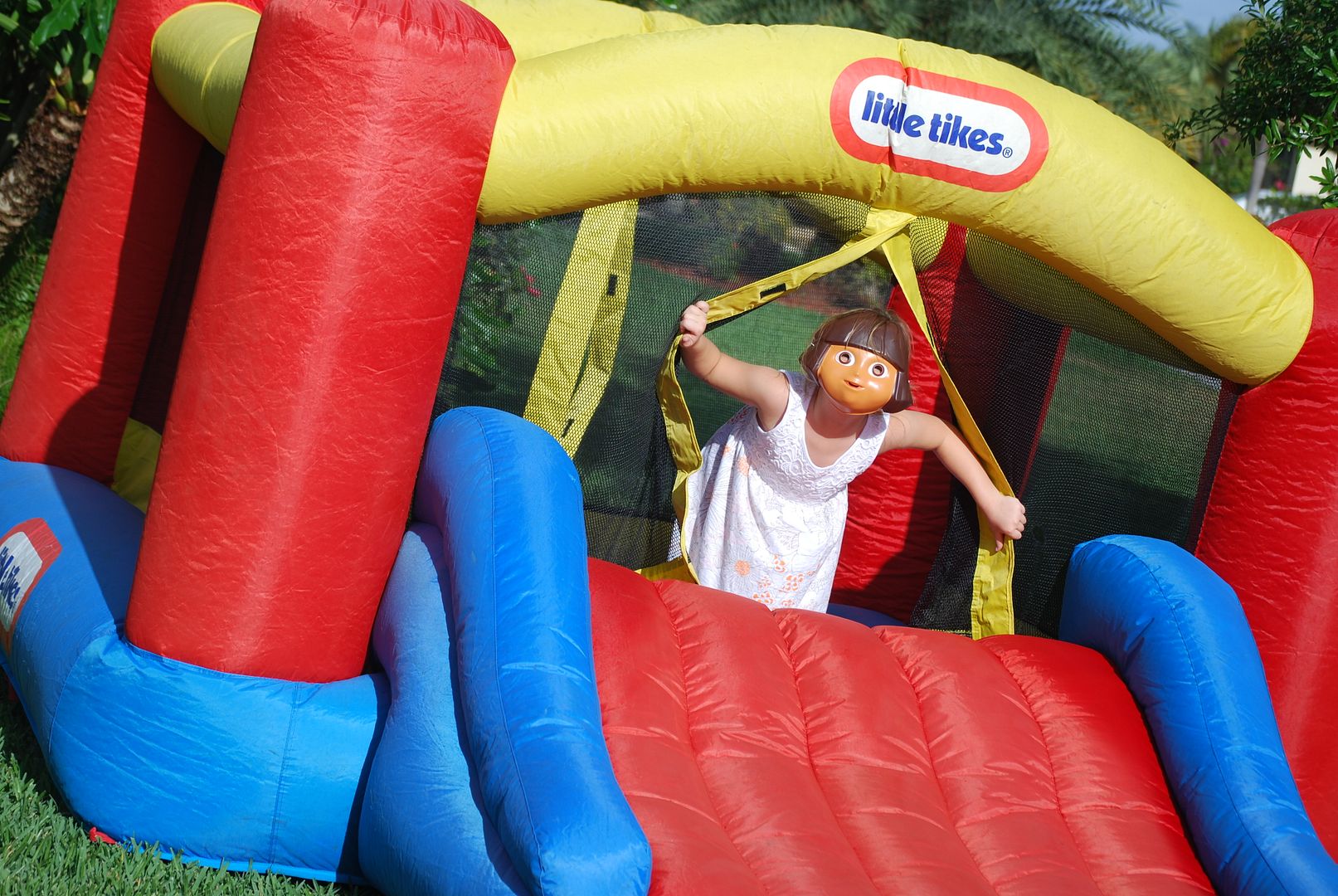 using all her 100s of board books at decorations and hanging the paperbacks onto the wall completed the party touches. (for free-holla)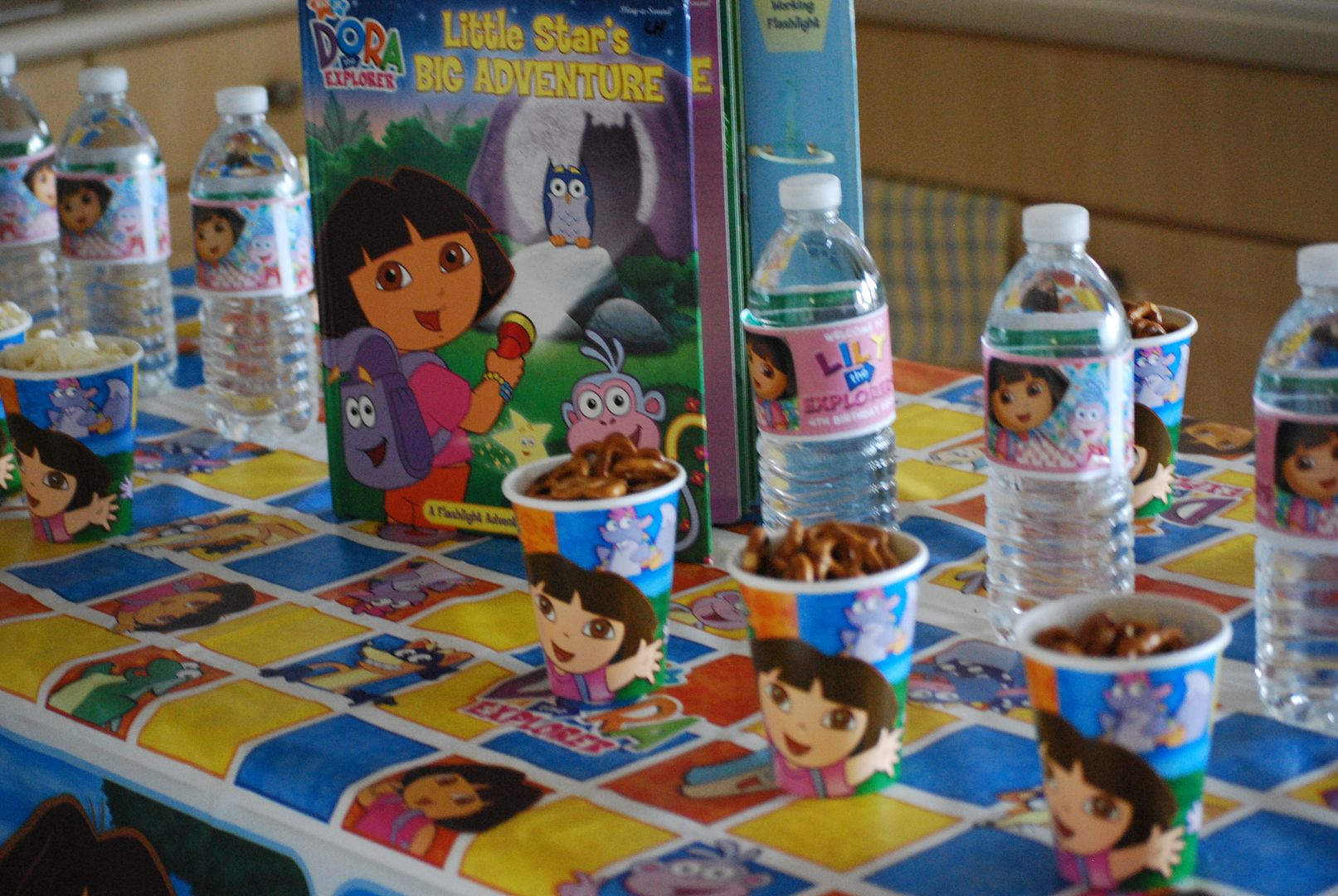 and even aunt Jen came for the festivities and don't know who was more excited about Lily turning 4.
I think some of Jen's talents are rubbing off on the Lillers.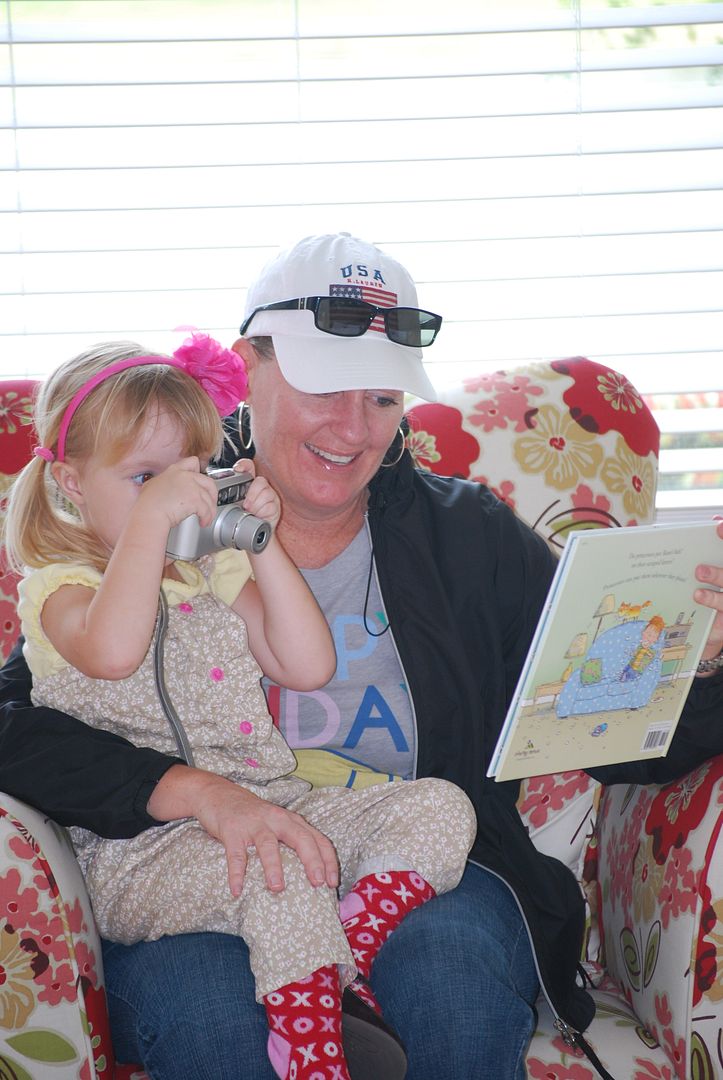 I don't know how all this has happened so fast, yet I can't remember a day in this life without her. Then it feels like this was just yesterday all in the same breath.
it's amazing to have a 7 pound, 4 ounces of love placed in your arms and you want nothing more in this life than to see them happy as they grow so does your heart.
(yes, the 3 month picture is real-lol)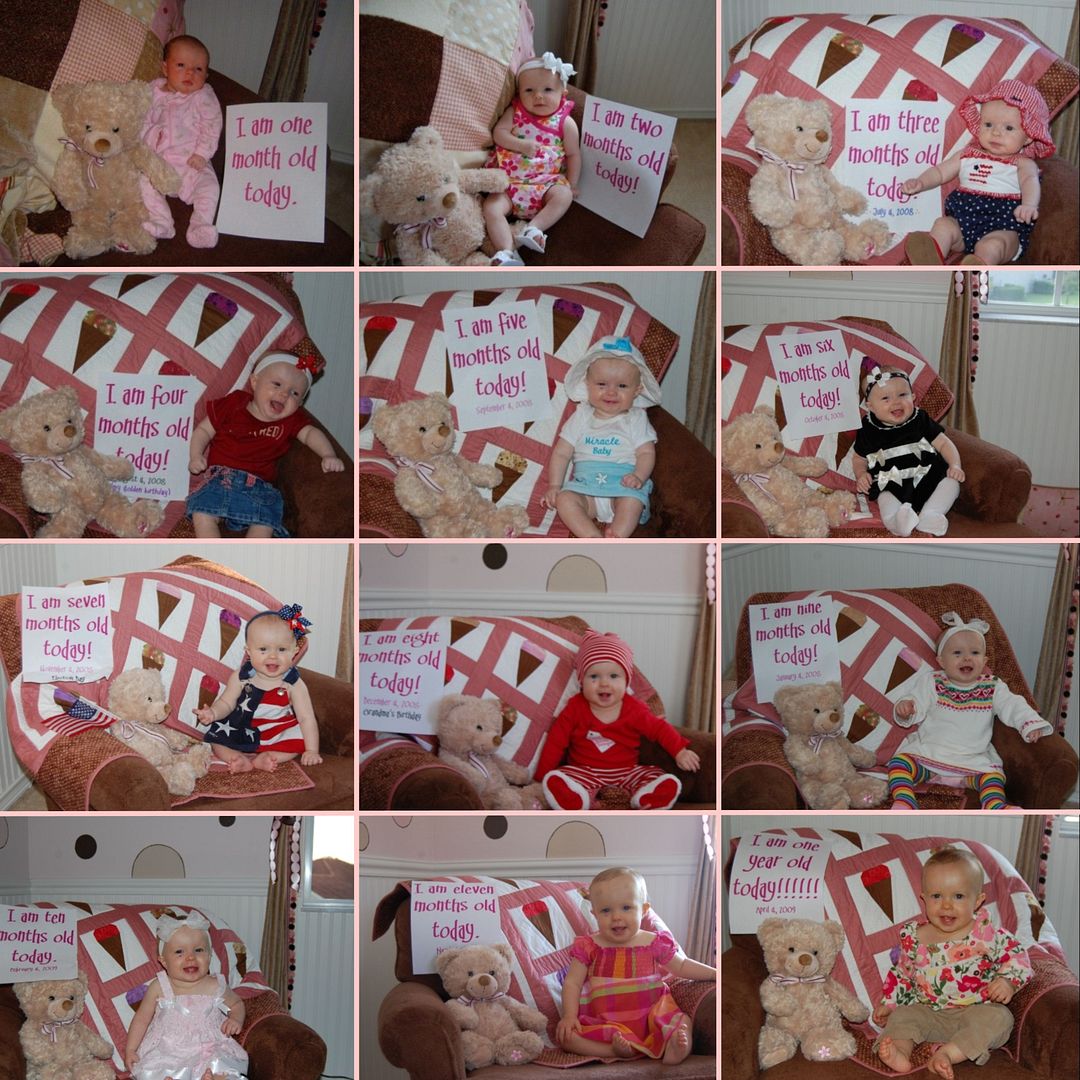 her 2nd year...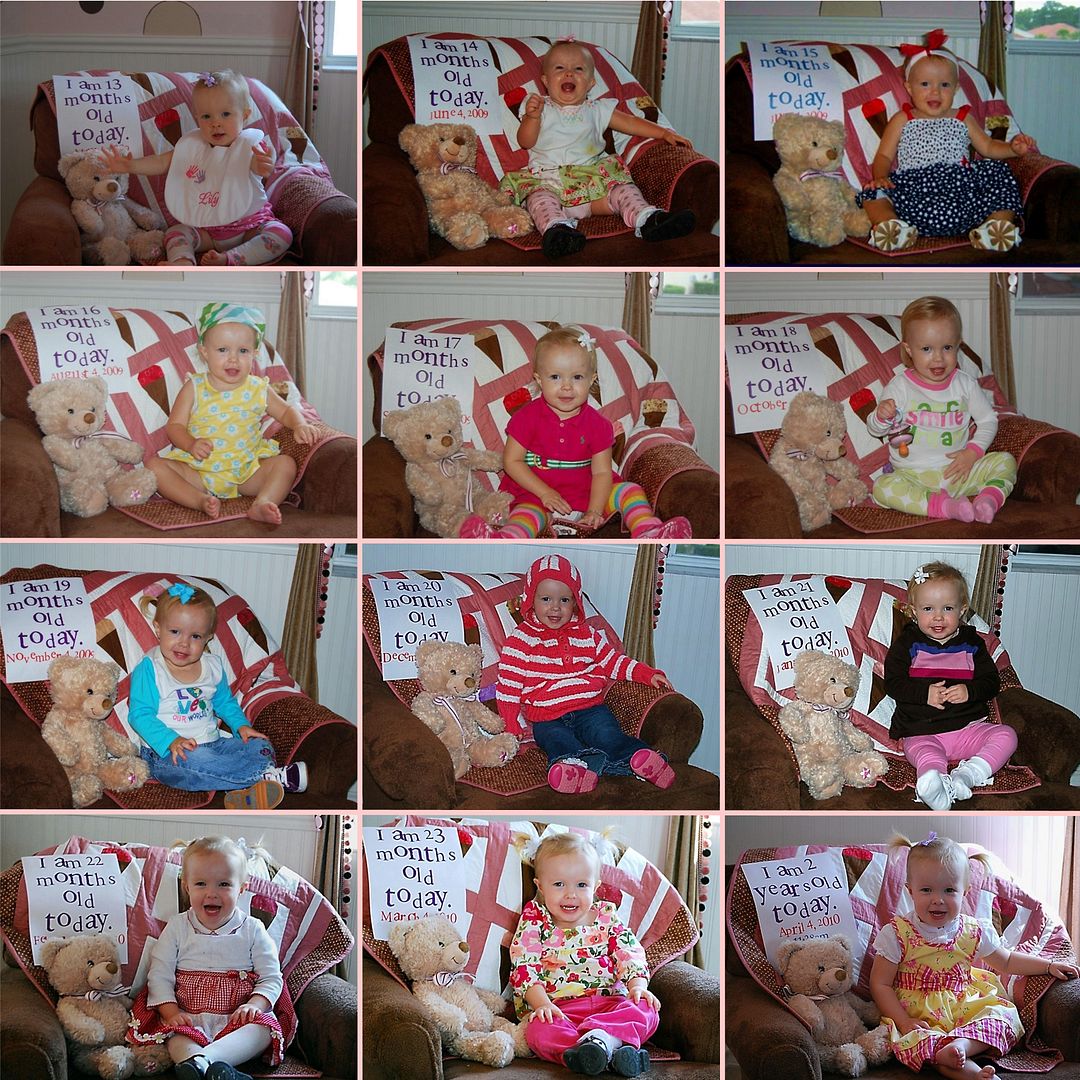 and our not so little 3 year old...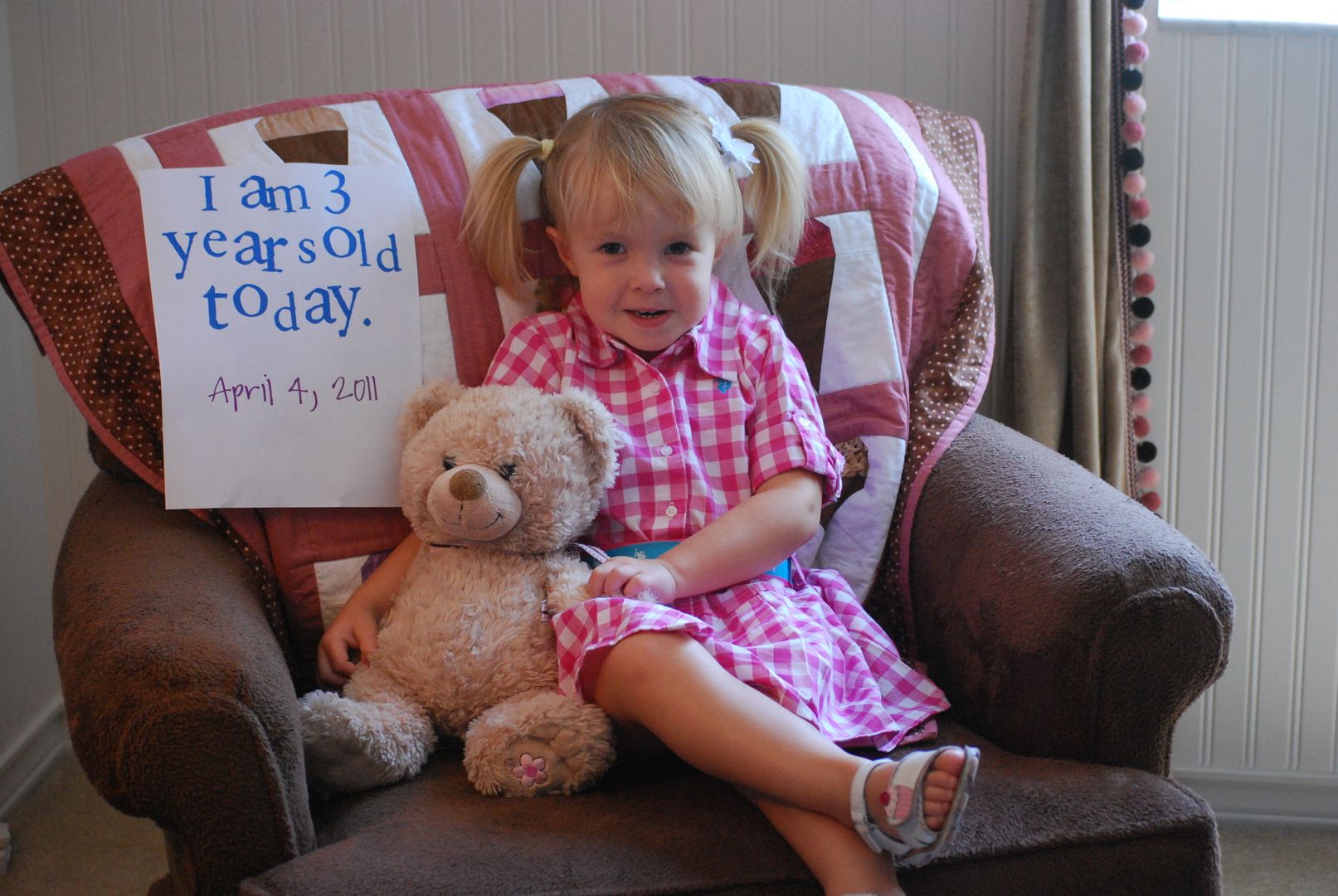 and who has blossomed into such a beautiful little soul with still so much growing, learning, and exploring ahead of her.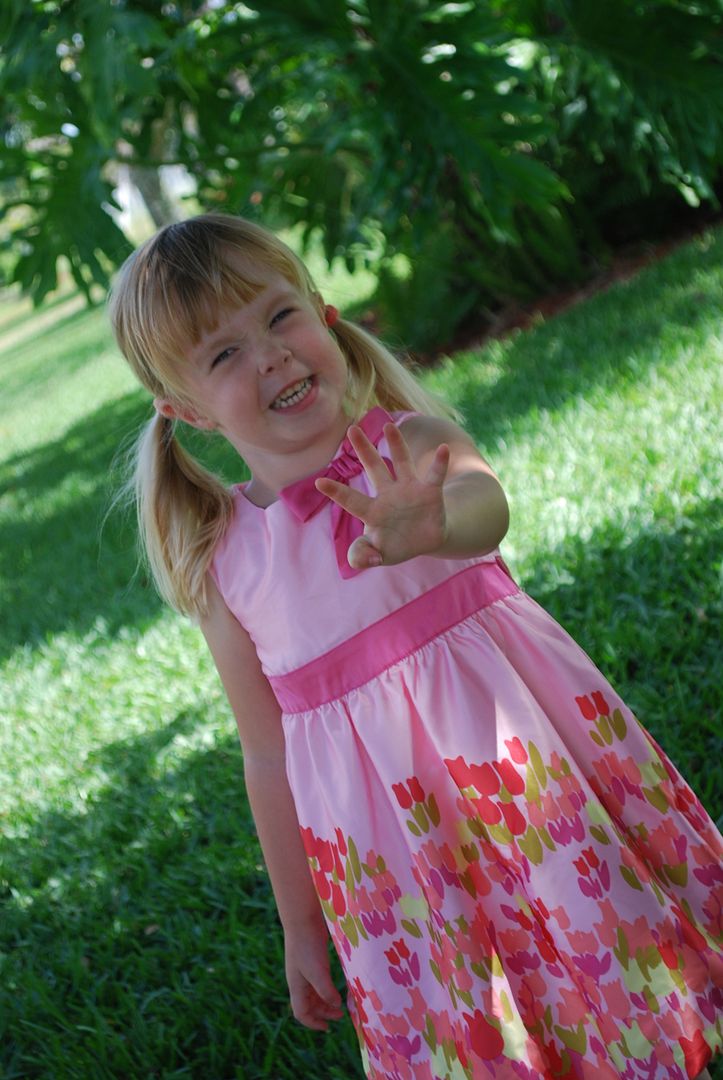 Lily, thank you for being the rainbow in our house when there was a dark cloud over our house for 4 long agonizing years. You'll never fully understand the hope, joy, happiness, love, and laughter you have added to our home and into our lives. And all I can think of lately is the lyrics from the famous song "We love you more today than we did yesterday. But not more than we will tomorrow." Happy 4th Birthday and thank you for being your funny, sweet, adorable, and thoughtful person you have grown to be and always know you are loved beyond measure.
Life is good.