Life has changed so much, but not really much at all since this little guy came into our hearts. I still can't believe we have two kids, but yet I can't remember life without him.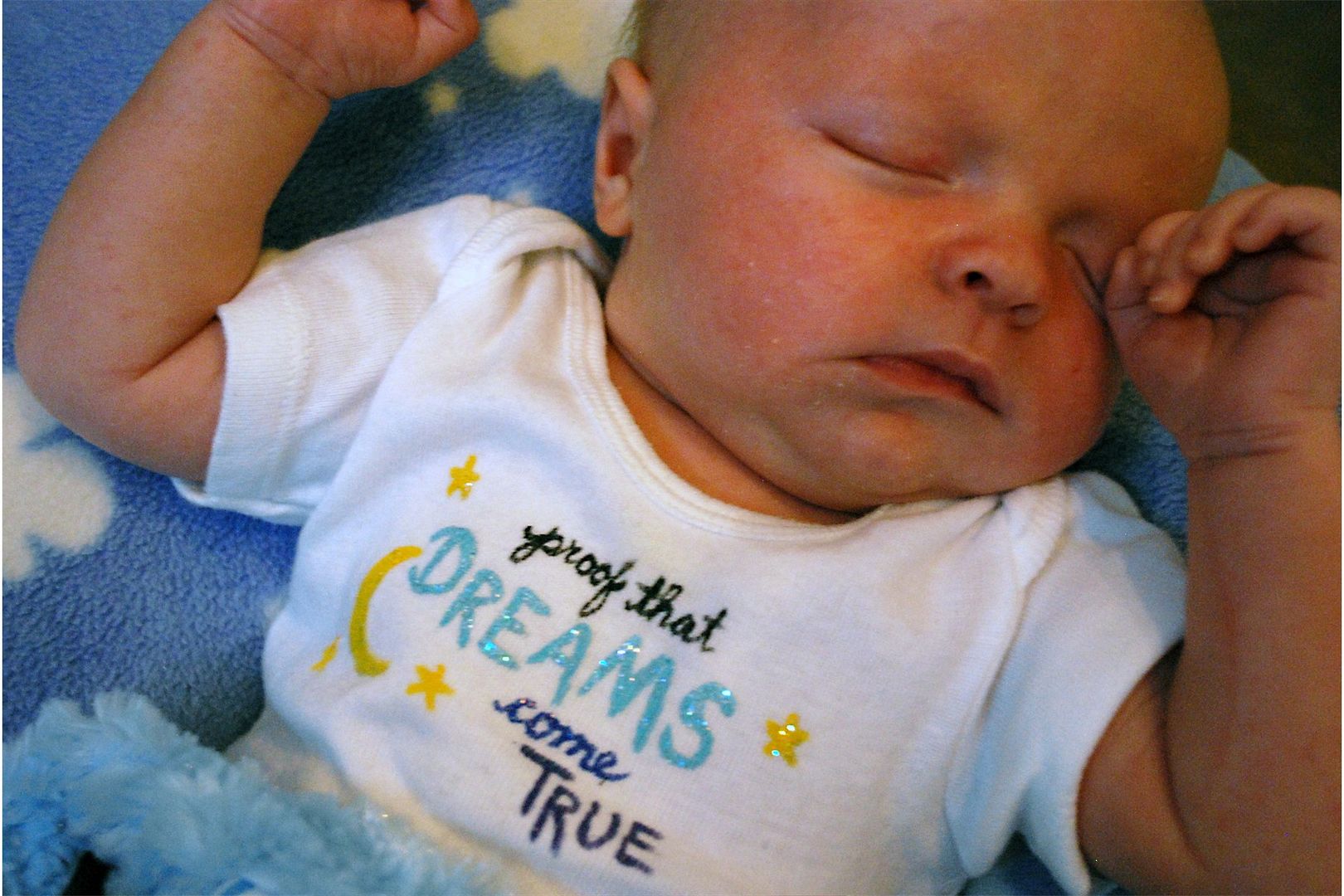 This is 1 of 2 onesies that Kelle made for Lily and love to see him in it too. The other one says "I'm a Little Miracle" and it's so true about every baby born into this world that they should pass those onesies out at the hospital with the handmade booties and hat.
And our little guy likes to sleep thanks to the
miracle blanket
. We wrap him up like a burrito every night and it truly works like a miracle. I don't know how or why it works, but I think they should pass these out at the hospital too. Momma and dadda need their sleep! Thanks Allison and Stephanie for letting us borrow your blue ones so he didn't have to wear Lily's pink ones every night. ha.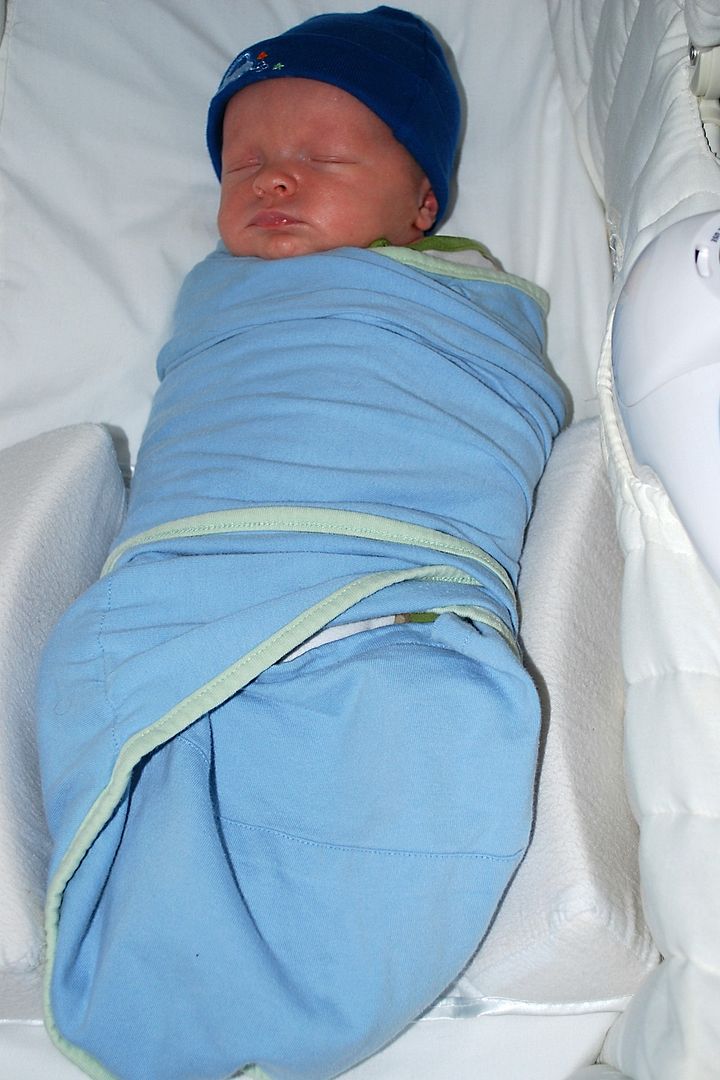 Lily went to meet Elmo and Dora for lunch last weekend and when it came time for a picture, she gave Dora's big head a little kiss I caught on camera. So sweet. I happen to know Amy who was inside Dora, but she couldn't talk so it was hilarious to see her in character. Check out David and how it looks like he's for sale for $24.99. LOL!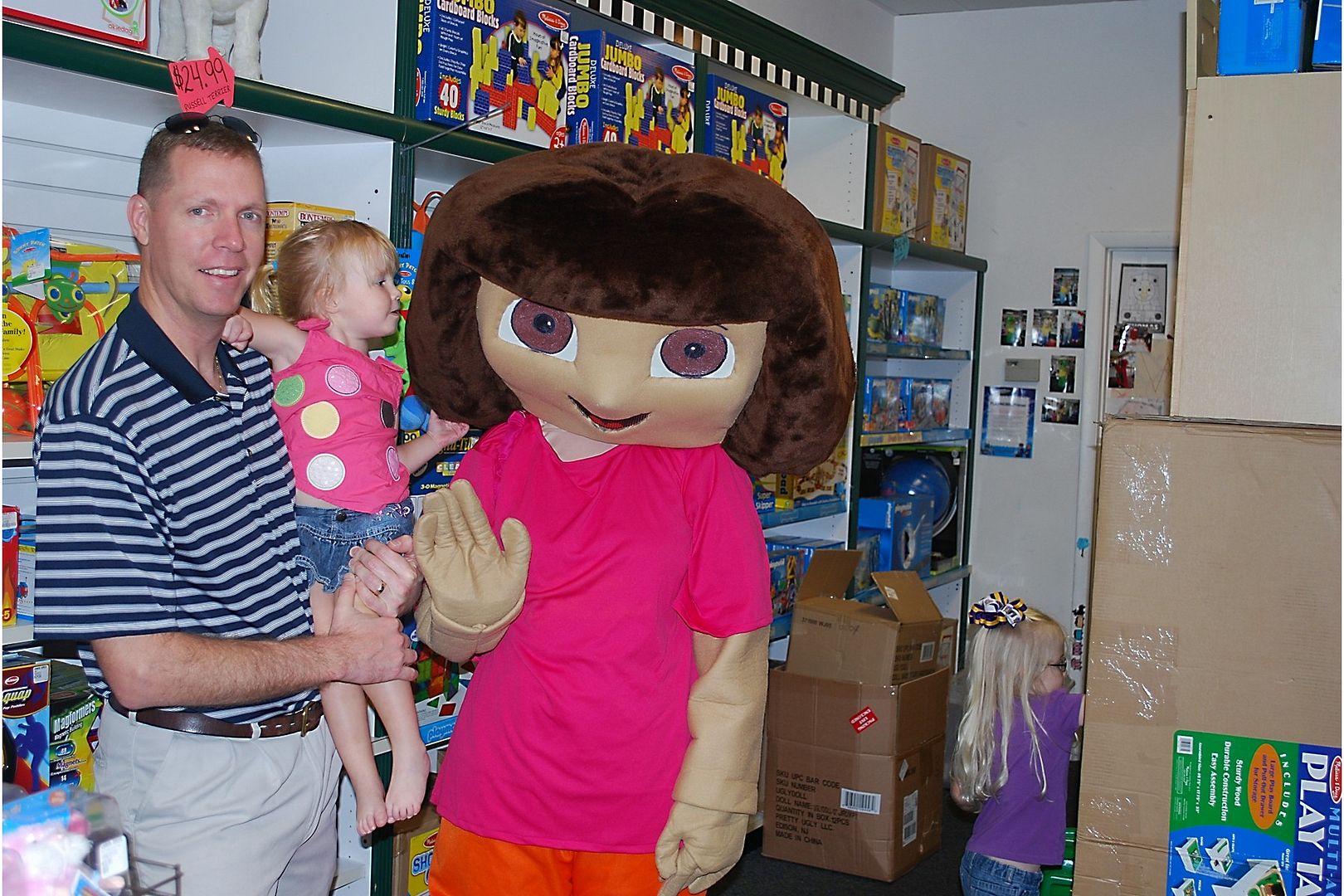 I love this picture; especially because a code 5 tantrum followed minutes after this picture when she saw us packing up our stuff getting ready to go. We weren't actually leaving just yet, but I was putting some stuff in my purse/stroller, but she lost it anyway so needless to say it was a quick exit stage left.
So we went home to calm down for some r&r...I love this sweet picture of Grady - it epitomizes his nice little heart. And how I love this blanket made for him by my friends at MOPS.
and Grady has been welcomed with open arms from his cousins. It's crazy that my 2 sisters and I all had 1 boy and 1 girl each! What are the chances of that happening? Grace is like part of the family when she's here and she kept whispering to Molly "he's so cute" all weekend.
Lily and Grace of best of friends too. Grace got her face painted so Lily was next in line which I didn't think she'd do, but the positive peer pressure of seeing Grace do it got the best of her.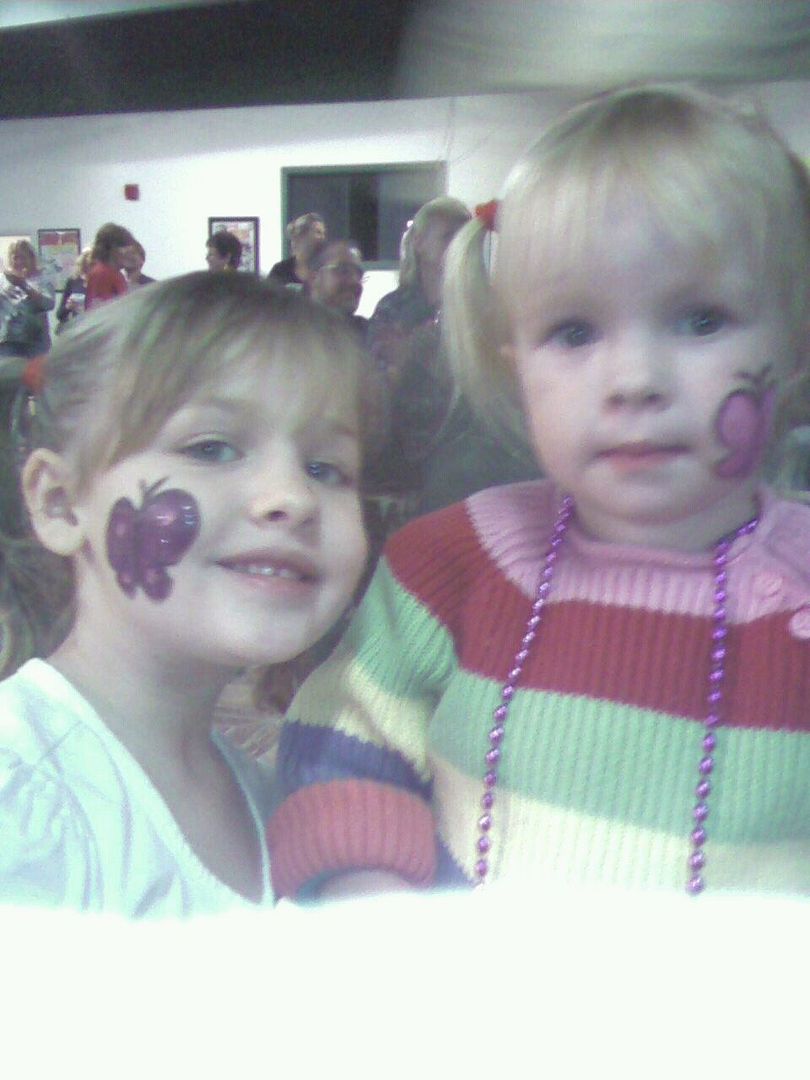 This picture was taken at Baby Kian's fundraiser. He's a 9 month old baby boy who needs 3 open heart surgeries and is having his first one
tomorrow, 12/1
! Please pray for him that everything goes the way it should! He's a sweet little baby with such amazing parents who have been incredibly strong through all of this. Your prayers are greatly appreciated.
We sing "Love Can Build a Bridge" with the book at night and Lily wants to hold hands at the end in a circle; she insists on holding Grady's hand while I grab the cat's paw. It's 2 parts cheesy to see, 3 parts funny, and 5 parts adorable. I'd love to get it on video, but Lily probably won't let me leave the Kumbaya circle. ha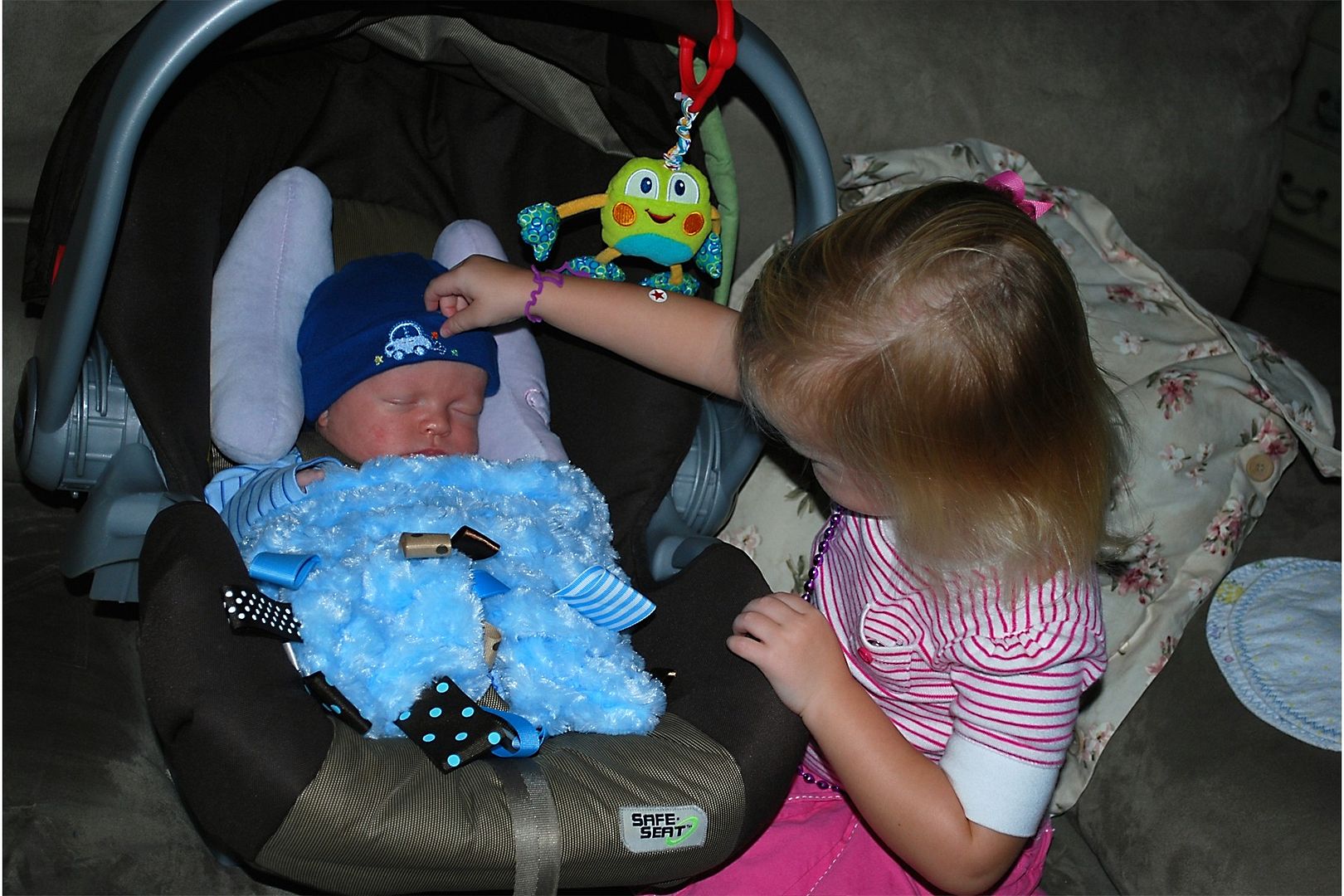 I love taking pictures of little people in a big space to show how little they really are.
Here's a close up of the little guy in trucks! Honk. Honk.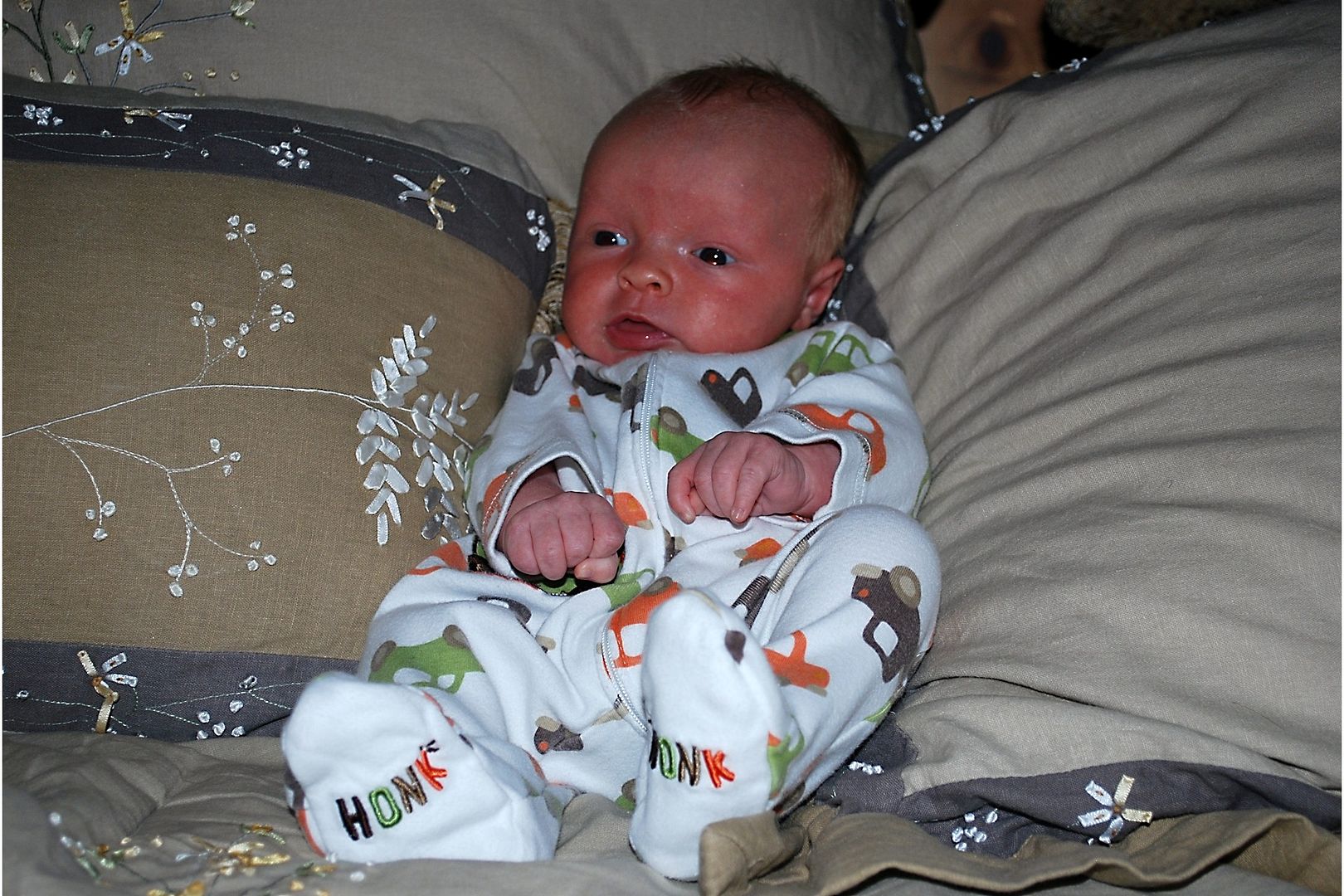 See? I like to do it a lot. Where's Grady?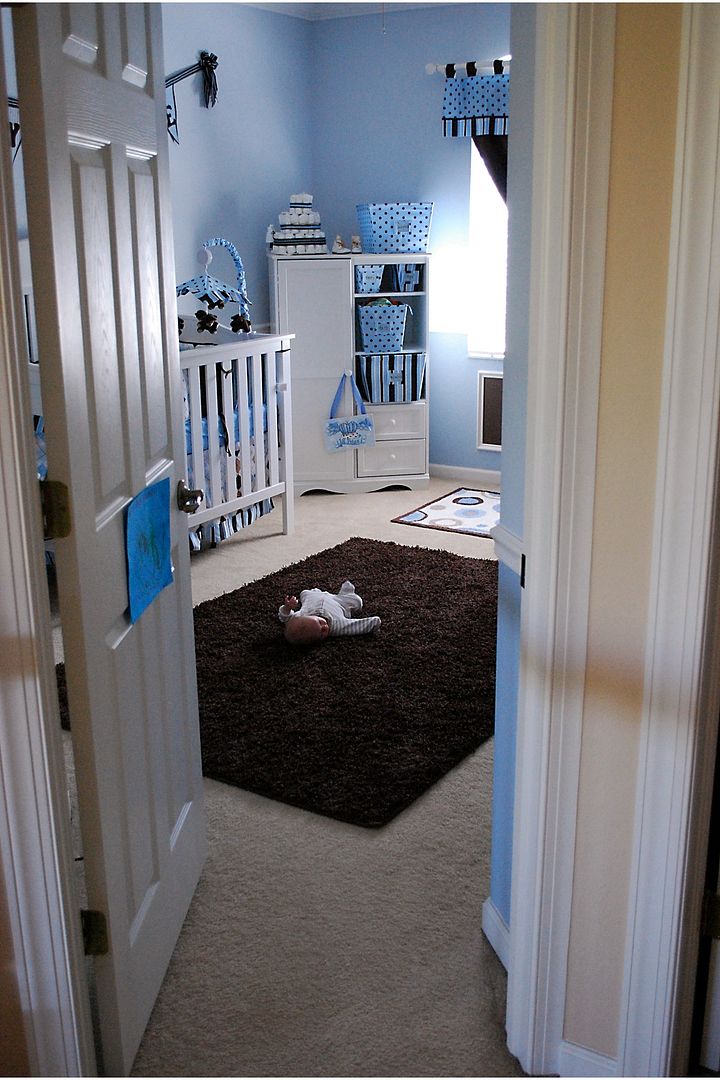 He's a little doll inside and out...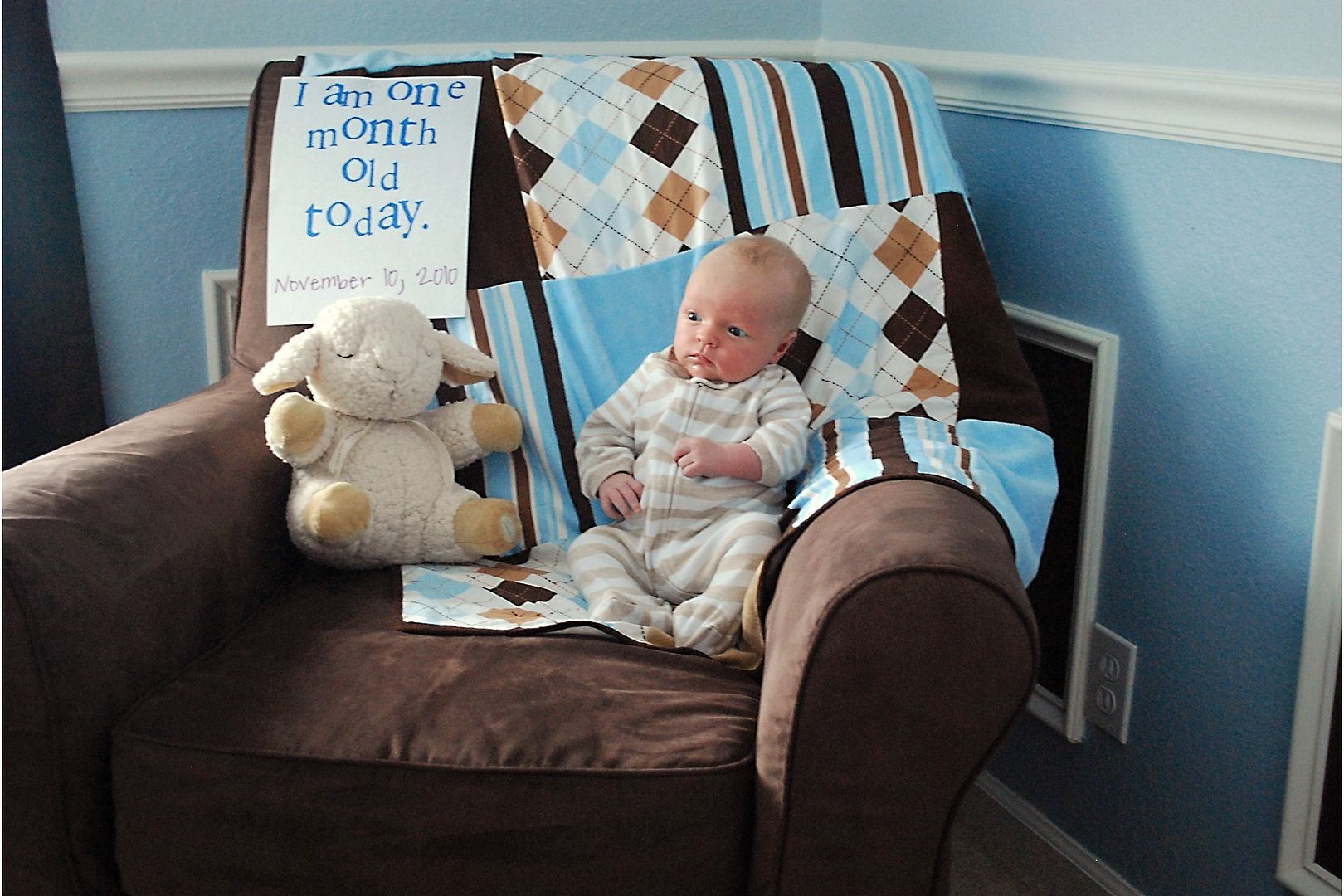 This is one of Lily's favorite past times. She'll go through the hundreds of loose pictures I haven't put into an album yet, talk about each one, place them methodically out in front of her then stack them back together like a deck of cards and start over. Rinse. Repeat.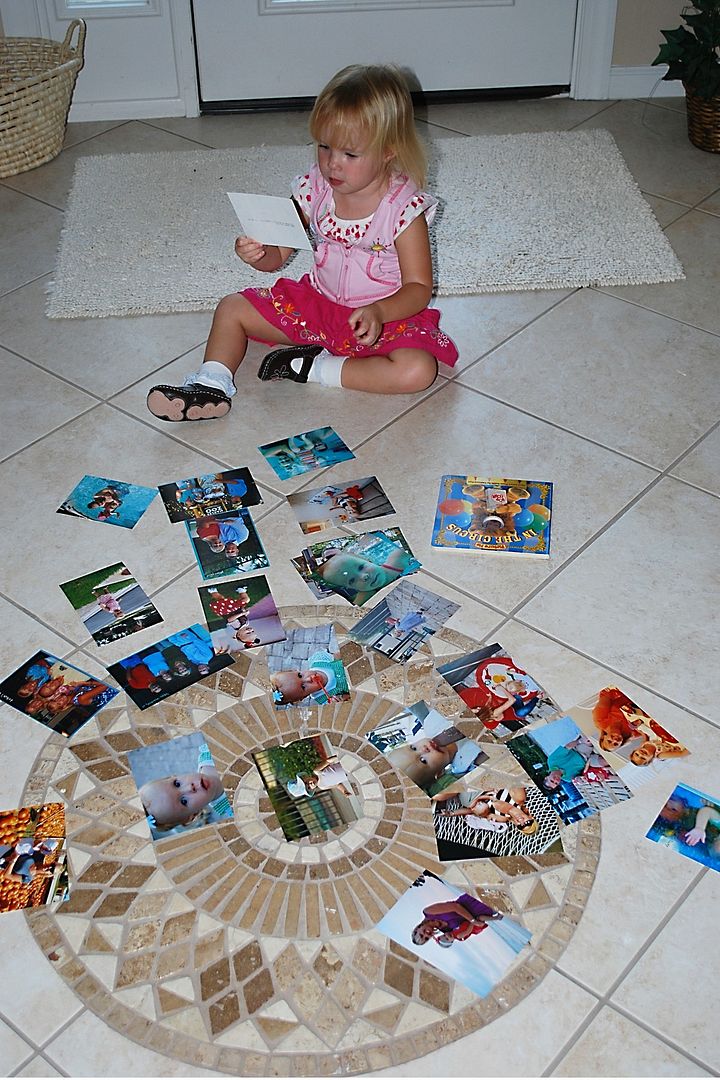 Going for a train ride at Taste of Bonita with daddy. This was a highlight for her.
She wanted to go up a pretty big gerbil-like playground, but got stuck at the top. She literally froze in fear and couldn't get down no matter how hard she tried and we coached from below. I was in a skirt so Daddy was the next choice to rescue her. I can't tell you how funny it was to see a 6'3" David scurrying t hrough the different tubes and netted ladder to get her.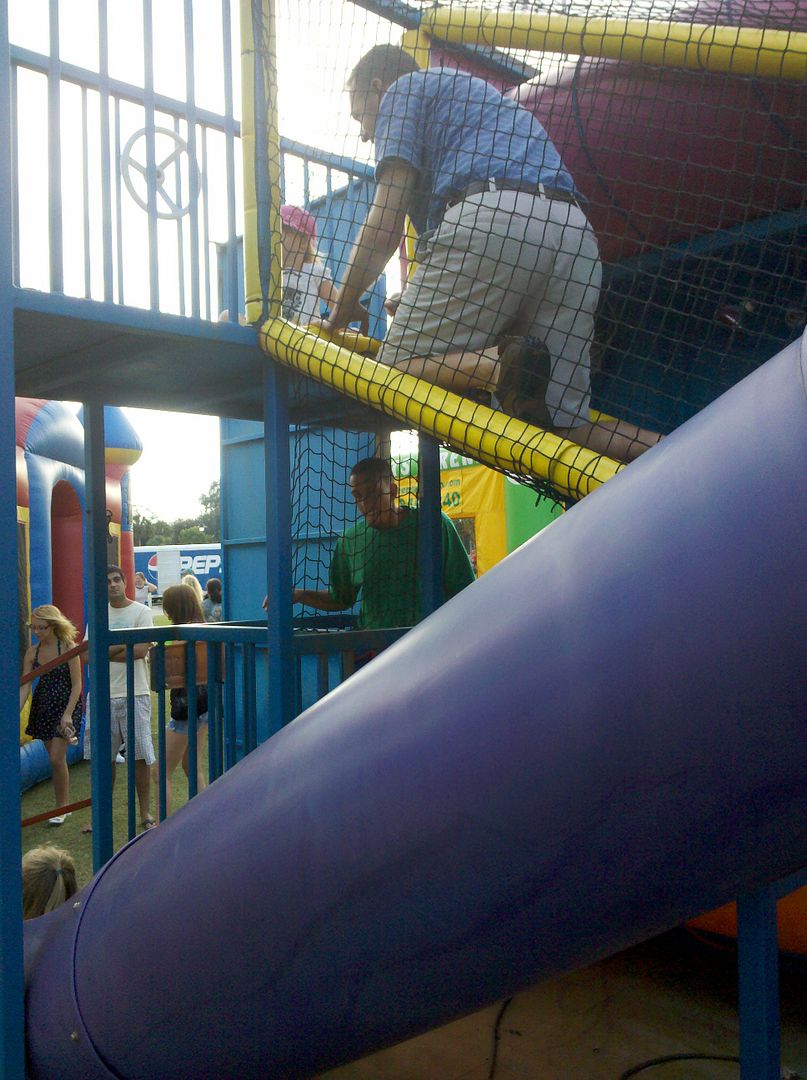 ahh, rescue caught on camera, but now we have to get out of this place...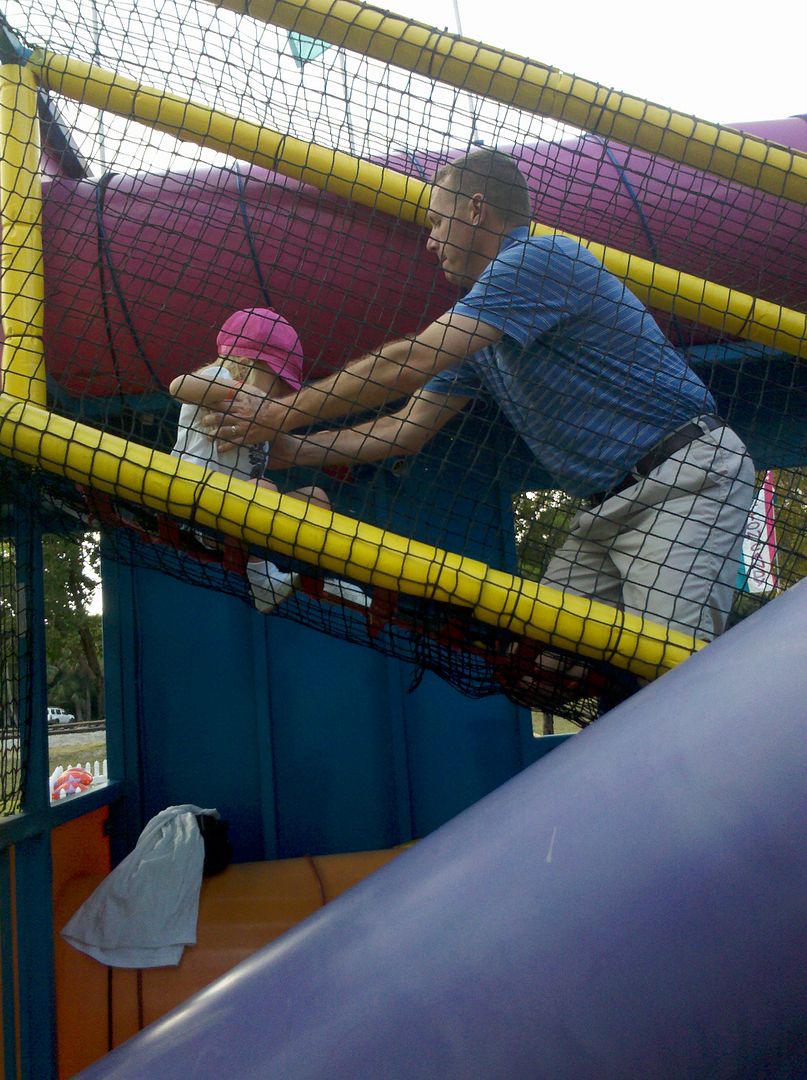 the tube part of the playground was definitely the most challenging...and funniest. Ahhh, the memories we're making!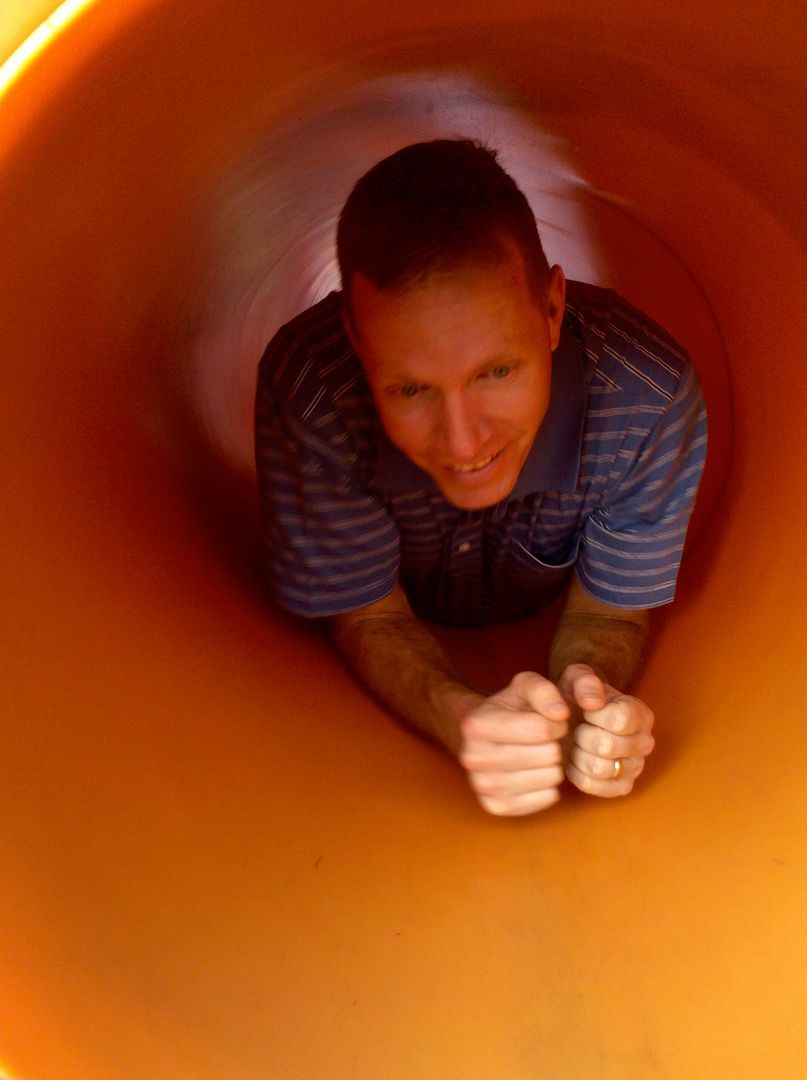 life is good.