I feel so behind in the blog world and can't possibly summarize everything we've had going on, but they say blogs cover 20% of one's life so here's about 15%.
I've gotten the couponing bug others have told me about for ages, but never realized how rewarding it could be. I used to spend $150 a week on groceries, but now I'm buying the
same amount
of groceries and spending $25-$50 a week! It was a big learning curve and a lot of work in the beginning, but it's so much easier and less time consuming now. I put some of my go to links/tutorials on my blog, but my favorite strategy is to go to
http://www.iheartpublix.com/
and go to the weekly ads link where Michelle (couponing site guru) has matched up anything on sale with the coupons. It's genius and she makes it so easy to save money.
My total bill here was initially $101, but after coupons, the total was dropped dramatically to $24! After following sales and couponing, Publix figured I saved $102! Zowie!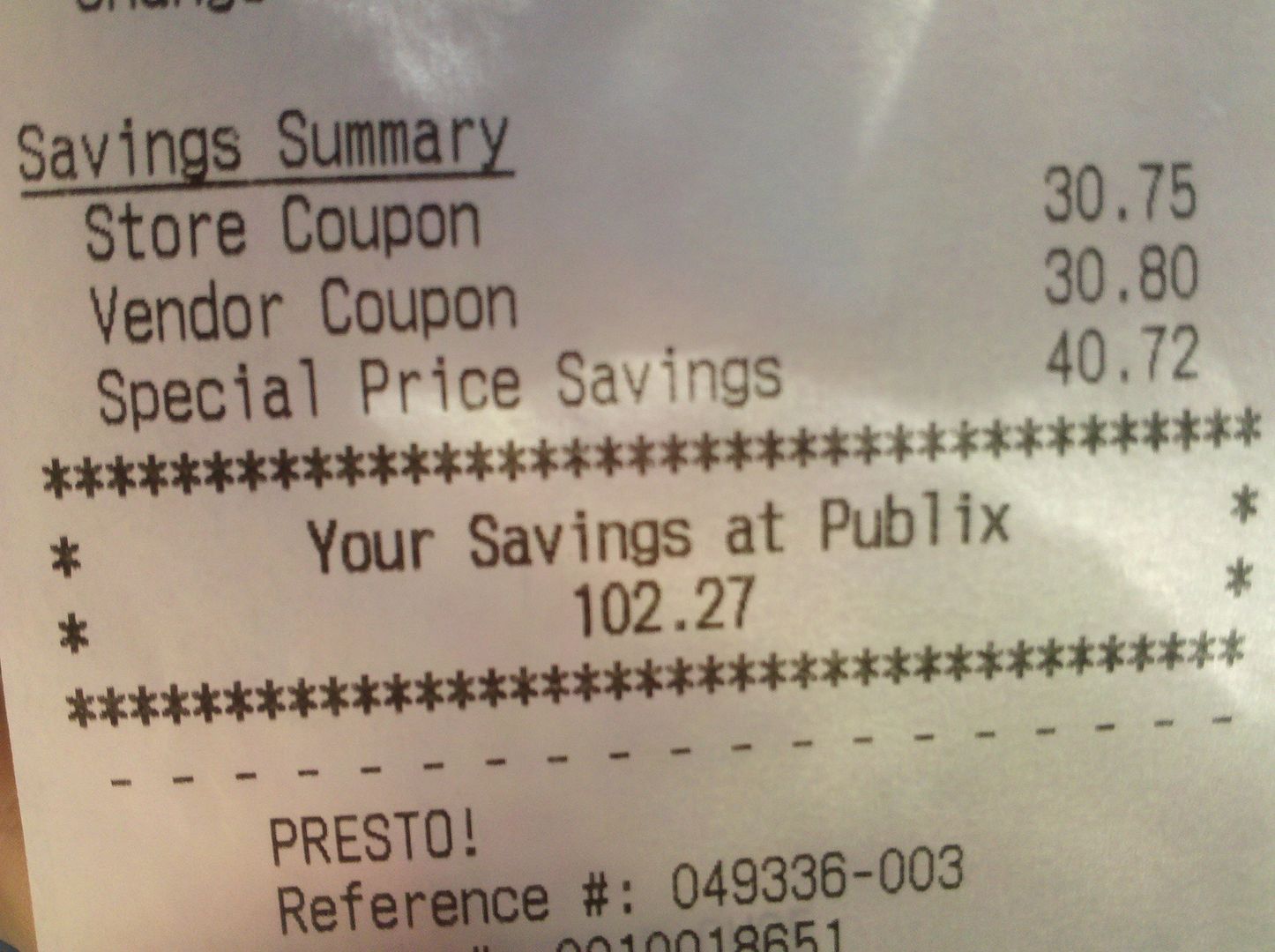 my receipt was almost as long as my couch. lol
Thanks to Jen K, Allison and my other couponing pals for helping me learn all about strategic shopping.
In kid news, Lily thinks she's a little photographer like her wannabe mommy. She was holding this camera backwards and I told her to turn it around and instead of flipping the camera around, she twirled
herself
around. lol. Talk about literal thinking. I just love her hilarious personality and the way she laughs with her whole body, doubling over when something makes her laugh really hard.
Here she is playing pin the tail on the donkey at Jill's house. There were a bunch of excited boys before her and I didn't think she'd let someone else she didn't know put the blindfold on her, spin her around and play the game, but she proved me wrong yet again and before I knew it, she was spinning like a top. I love when she does things that I don't expect her to.
can we please have a moment of silence for this adorable boy? I can't tell you the sweetness that oozes from his every pore. I remember feeling this way when Lily was born and didn't think it was possible for lightening to strike twice here, especially when everyone says your 2nd is the exact opposite of your first, but we're not seing the differences; just so much love coming from this little 10 pounder. So much love.
look at those little chicken legs...we have to pull his socks all the way up so they don't fall off and he looks like he could be Revenge of the Nerds.
and Mother Hen Lily and I have gotten into verbal disagreements, elbowing each other out to help Grady when he's crying. He's usually hungry when he cries, but Lily always thinks he needs a nuk. I think she secretly enjoys when he cries so she can be the hero and save the day.
she wants to play with him so much but he can't do much yet so she just pushes him in the swing while sharing her favorite balloon with him.
and here's the video of Lily meeting Grady for the first time at the hospital. I was so nervous for this meeting. I pictured her running from the room in tears, but as soon as she said "hold him" I knew I could breathe again.
Can't see video? Click
here
She's acting a little more temperemental at home to get our attention, but we gave her a "big girl bracelet", which is just a princess shaped silly band and we hype it up to help her use her big girl voice and it seems to be helping. She picks out a new one every day and wears it proudly, but loses it for a bit if the baby voice comes out. It's not a cure all, but it's getting better. I never expected this type of behavior from her so we're trying to brainstorm different strategies. I expected more behaviors like pinching Grady, putting blankets over his head or other behaviors showing her distaste for his arrival, but she couldn't be sweeter or more loving towards him so I guess we should thank our lucky stars. ( knocking on wood) We were at B&N last week and she accidentally bumped his head with a book and he started crying. Once she saw he was crying, she started wailing too. She kept saying "sorry gravy" through her tears while kissing his head. It was sweet to see her show so much empathy for him and boy was it loud by the tree house at B&N! I didn't know who to comfort first.
And check out this amazing announcement my talented sister made for us. She 'baby-napped' him for a few hours and worked her magic putting him in the coolest poses and I was shoo'd away whenever I tried to see what was going on! I actually gnawed on the announcement because I was so in love with them. See more of her yummy, almost edible pictures
here.
Look at Grady snuggled in a blanket knitted by hand from David's Grandma Lilley (our Lily's namesake). I just love the meaning behind it all when I look at this picture and then I see his cute little vulnerable face looking back at me, my heart just swells.
and all the little parts that make him so special and our little miracle.
life is good.