Here are just a few things Lily has been up to the last few months - I've had this in my drafts forever and want to get all of them posted before I print the next volume of her blog book. We're also gearing up for the printing of her (clearing throat, sniffing smelling salt to avoid passing out) 2nd year scrapbook. I can't believe it's been almost 2 years since this sweet little soul entered our lives, but it also becomes VERY foggy to try to remember times before her. It's like our life began when she was born, but I always thought we had a pretty fun life before she was here too (other than the bouts of depression searching for this big, giant, huge, ginormous piece of the puzzle missing in our lives-forced laugh).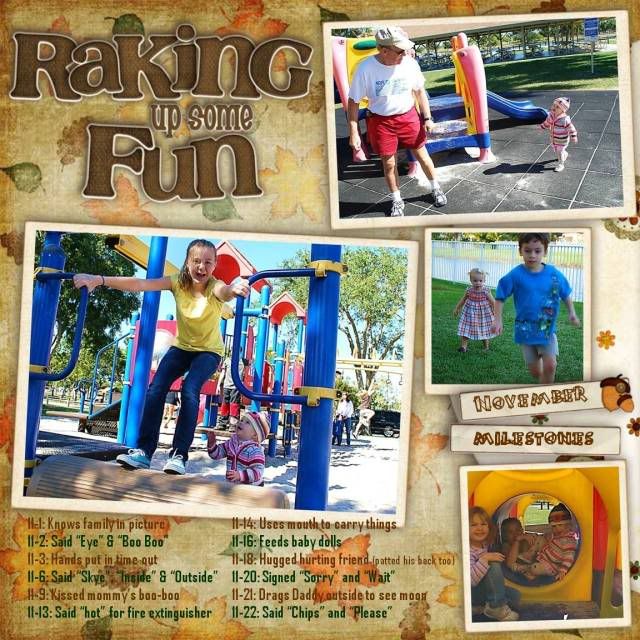 I don't know when to stop writing down every new word she says because they're coming out left and right lately that I can't keep up. I wonder if she'll be scarred as an adult if I forgot to document the day she says "tunnel". Hearing her string words together is so adorable and it's as if I never want to her to speak full complete, coherent sentences because this way is oh so much cuter.
Here are the pages from when we visited Sharon for a Thanksgiving/Christmas combo trip.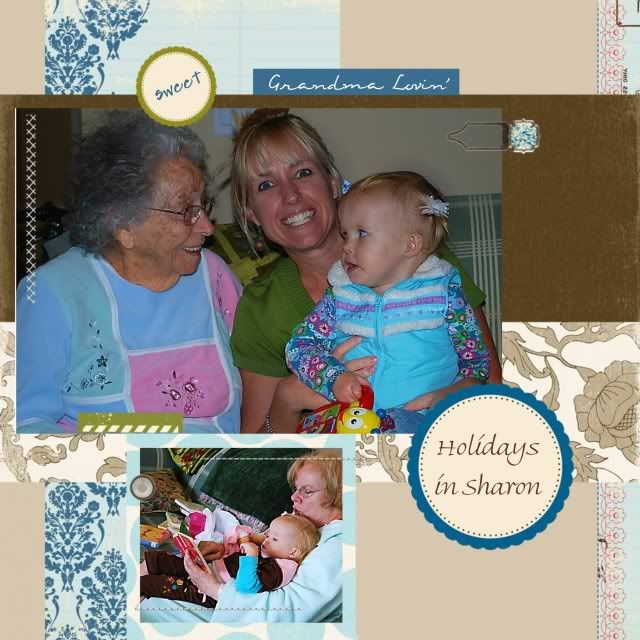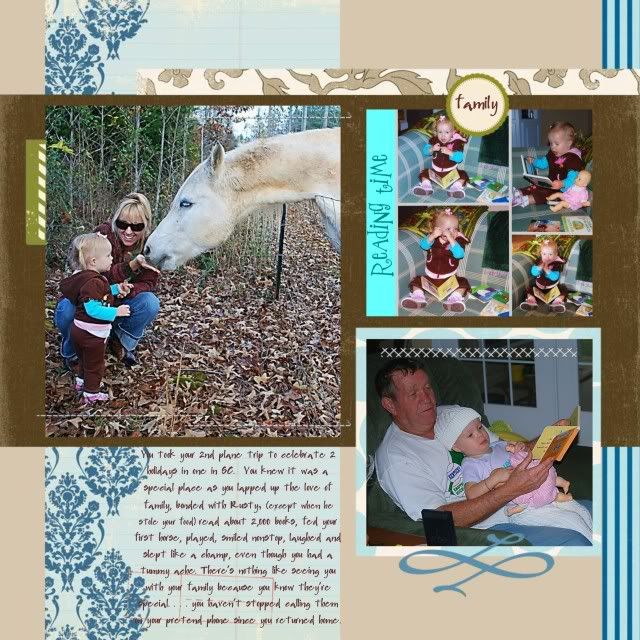 and her Christmas pages...
I truly don't think there will ever be a day when she falls in love and sits on Santa's lap telling him what she wants. She is so scared of normal beards lately; if a bearded man says hello to her, she goes straight to meltdown mode and holds onto me like a vice. When said bearded man leave she says "bye-bye" over and over and sighs a breath of relief. I can predict it everytime. I say to myself "uh-oh, here comes a bearded man, please don't coo with my daugther" lol. Then Santa has a beard 5 times the length and she doesn't cry as long as we're holding her, but I think she'd call the police on us if we put her in his lap and walked away asking for her to smile for the camera. We'll see next year, but my money is
not
on Santa.
Her saying "I dunno" when she looks for something and can't find it is one of the cutest things I've ever seen. Top left she's looking for the moon and is perplexed she can't find it. Top right, I guess she didn't like David's book choice because she brought one of her own.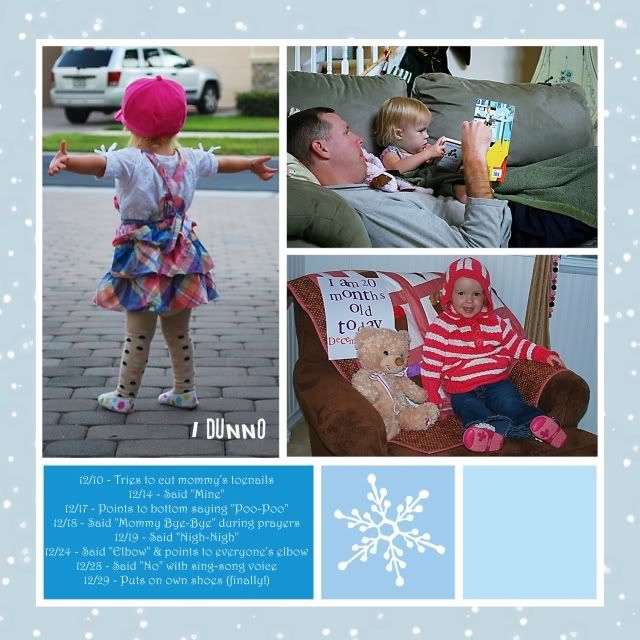 Referring to 12/18, "said good-bye to mommy during prayers" was one night I suppose she was particularly tired because as I was tucking her in saying prayers and all the things we love about her (which she usually loves) and she starting waving saying "mommy bye-bye" like she was trying to tell me to get the h-e-double-hockey-sticks out of here because this girl has got to get some beauty sleep. She makes me laugh everyday and my heart is smiling from shoulder to shoulder just thinking of the joy she has brought to our lives and the innocence of how she has no idea how all 26 lbs of her has lifted the weight of the world off of our shoulders and made everything sweeter.
Life is good.