Some of her milestone pages from April for her "book after she turned a year"...doesn't that sound better than her "2nd year book"? lol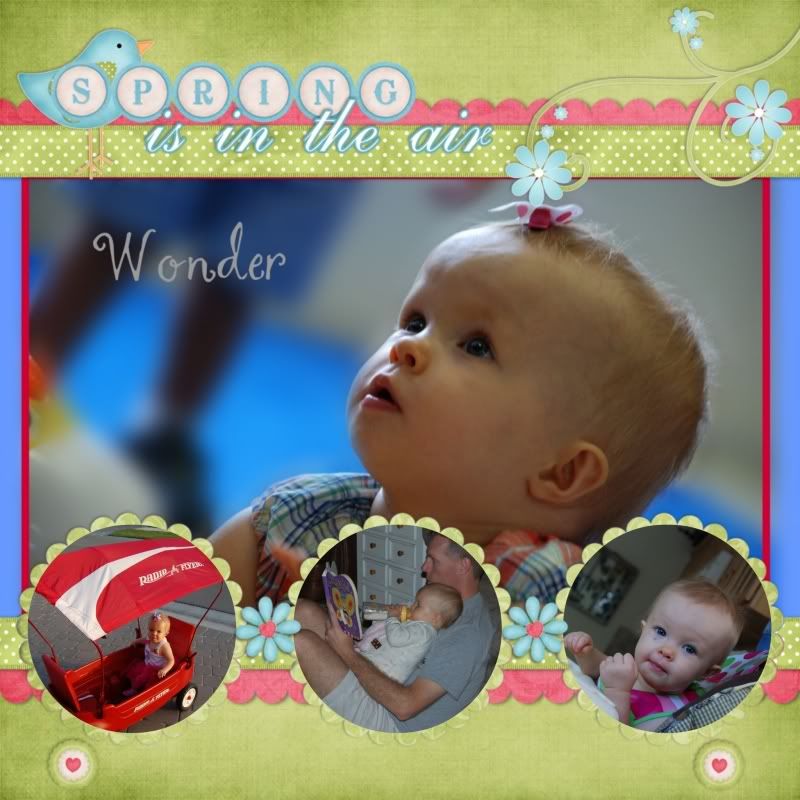 Thanks
Jen
for some of these amazing shots when you watched sweet Lily!! YUMMY!!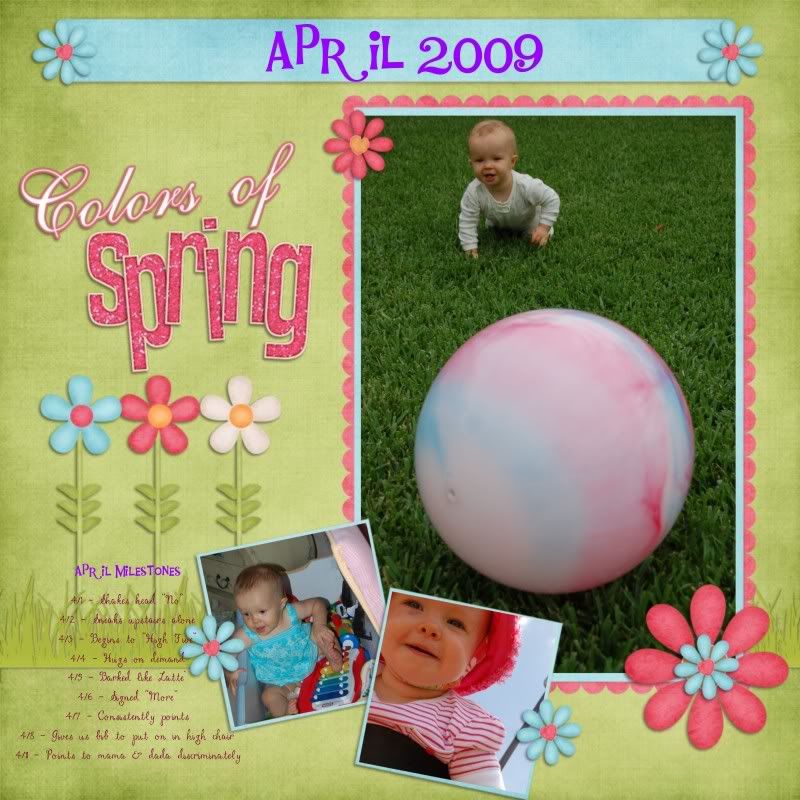 Here's a video I found in my drafts,which blows my mind because she looks so wobbly and younger and it was just a few weeks ago...she claps all the time now and points to everything with an "uh-uh-uh" after it wondering what it is. And I mean everything. It's so stinkin' cute to see her ask what something is with those big blue eyes and after we tell her, she replies with her eyes saying a big thank you and relief like "phew, thanks mom, I was wondering what that was". She must be getting the inquisitive mind from all the Curious George books we read to her!
I've been getting a lot of questions about
this program
and yes it is worth every penny! Here are some of my thoughts:
*A lady at work gave us the videos so we don't have all the supplementary goodies, but I just got the word cards off of ebay and wasn't impressed with them because I could make them myself on cardstock in a flash. We only have the videos which I've seen on EBay sold separately so you don't have to buy the whole kit. Not sure about the other items that come with the package, but the sliding word cards look enticing, but can't seem to find those sold separately.
*We watch and interact alongwith her and it holds her attention for the entire 20 minutes. There's songs along the way and her face lights up and she swings her head around to look at us when they start with a big smile like she's saying "now we get to sing together guys".
*She was starting to get squirrely after about 2 weeks with volume 1 last week so we moved to volume 2 and she's entranced all over again. They're so basic, but there's something about them she just loves and has learned SO much!
*We tried the videos around 8 months old and she had no interest in them. We tried at quieter times like after a bath or before naptime and that seemed to do the trick.
*They are applicable for any younger aged kiddo for different reasons. Our goal isn't to have Lily reading now obviously, but to understand more of what we're saying. Douglas, 5 and Grace, 3 watched them this weekend and were soaking up like crazy!
*She can point to her head, ears, tongue, teeth, diaper, knees, bellybutton, head, eyes, chin, fingers and will point, clap, shake head, kick, wave, put arms up, arms down, stand up and hug when prompted... all since starting these videos. Not that we tried to do any of these things in an organized way, but it's still crazy!! It has been a huge 'corner-turner' for her and for us. I feel we unlocked a little magical part of her brain that we didn't know existed and can interact with her SO much more! We're so awestruck by her little brain growing everyday!
On another note, today in the pool, I said, "Give mommy kisses" which we've asked a million times to no avail, but this time and she turned and gave me the biggest, sweetest open mouth kiss on my nose that I almost collapsed in the water! It was her first time giving kisses after getting about 5,587 kisses from us! She did it over and over! What a sweet tender moment! I'll never forget it.
Oh and she also is doing this like Forest Gump and I shake my head in amazement when it happens. ...
Life is oh so good!