Someone whose name rhymes with silly loves her Baby Bjorn! It's like we gave her Tylenol PM after being in this for a few minutes as she usually falls asleep... no matter how bouncy the ride is!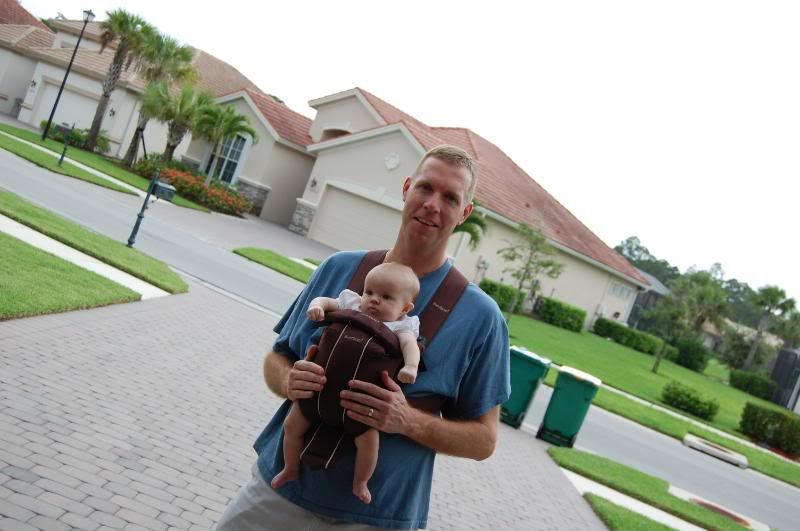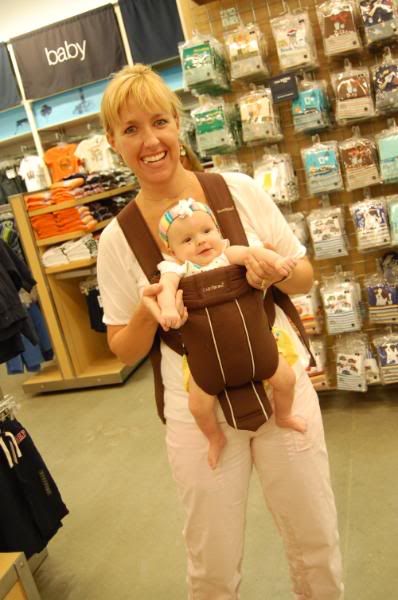 She looks like she's either going to a hip hop dance, join a gang or go to the gym in this outfit! I can't get over what a happy baby she is!!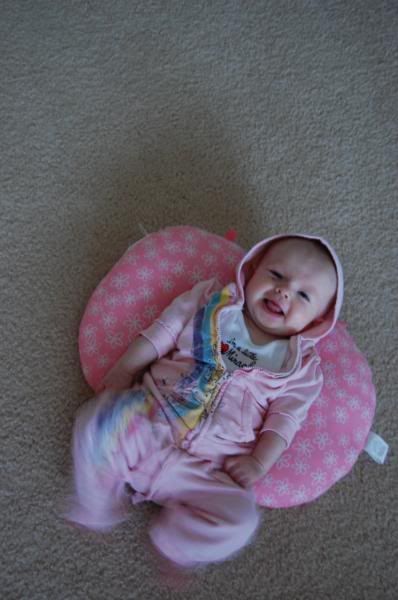 Don't worry...I was close by for this picture so she didn't roll off, but I just couldn't get over how small she looked asleep on the big couch!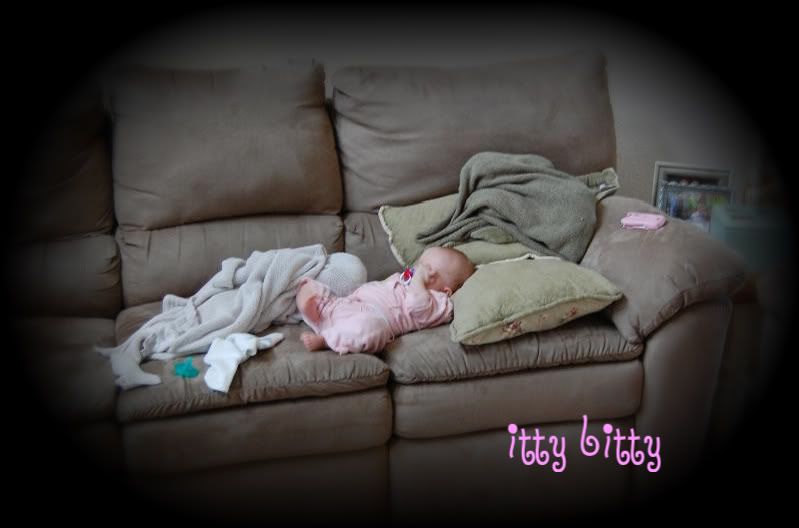 Do you read multiple blogs per day? If so, plug them all into the "
Google Reader
" and they will monitor them all and let you know when there is a new post! This has been a HUGE timesaver for me because I don't have to check every blog I read to see if there is a new post. Thanks Jen for finding this timesaving lifesaver for my blogging life!!

I haven't talked about going back to work on the blog because I think a part of me is in denial (big time!) and it seems so far away, but September is starting to creep up on me!! It causes me a lot of stress (tears, lost sleep, denial, etc) to think about being away from Lily when I'm back to work and I'm trying to focus on the present and not fast forward too much.
Good news is I just found out this week that
Kelle
wants to watch Lily this year!!!! That makes my heart SO happy to know how loved she is by Kelle already and she'll be marinating in this love everyday! Not to mention her daughter Lainey is such an incredibly sweet girl and an awesome role model for Lily!! It'll still be incredibly difficult to be away from Lily, but this helps to soften the blow tremendously!! What a blessing that someone who is like family will be with Lily everyday!! Happy (and scared) sigh.
PS There is an highly sought after opening at our previous planned sitter's house who is INCREDIBLE! She came HIGHLY recommended by so many people and is extremely caring and loving. She treats her babies/kids as her own. I taught her daughter years ago and she is such a sweetie! Email me if you know anyone interested at Kelster5@aol.com ....you won't be disappointed with Dawn!
David, Lily and I are off to the Hyatt this weekend! This was Lily's gift to me on Mother's Day. I can't wait as this is my favorite place on earth!! I love everything about it!! Especially the short drive home on Sunday!! I would've chosen to go there on our honeymoon if I knew about it 7 years ago....that's how much I love it! I'm sure I'll have lots of pictures when we return! Lily also bought me a massage for when we're there so that should be heavenly!! Carrying her and that awkward carseat can really twist things up in my neck/back. She's so thoughtful! ;)