We just returned from an awesome trip filled with so much southern lovin this side of the mason dixon line! Tummies are full, hearts are dripping with extra love and feeling so blessed to have these amazing people in our corner helping to raise and guide Lily and Grady on their way through life. As we were leaving, I kept saying "thanks for everything" because it encompassed everything I was feeling, but really came up short when words fail me to tell them the gifts they give us everyday...just for being them & loving our kids. How does one articulate that to another? This is David's side of the family, but we all just mesh together so well, I hate to even decipher it into "sides". They're my family too by golly. They ooze goodness, wholesomeness and everything good we want for Lily and Grady. And for ourselves.
(sweet Thelma, Allison, and dog Rusty are missing)

They teach me to slow down, shut off my phone and get back to basics of living.
How do you ever thank someone for that and saying yes to the 100th game of tag or racing?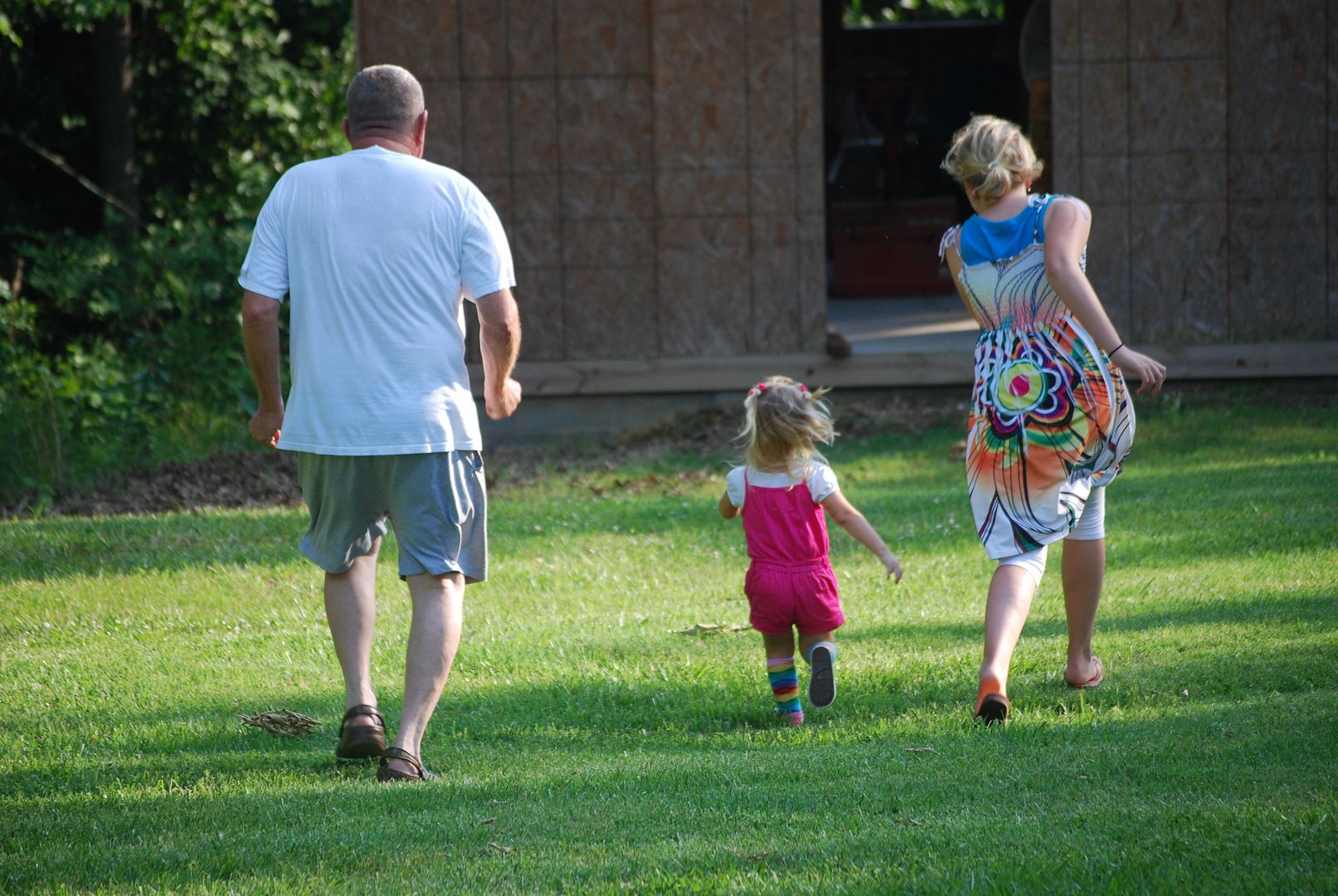 and letting them win every time to make them feel good on the inside...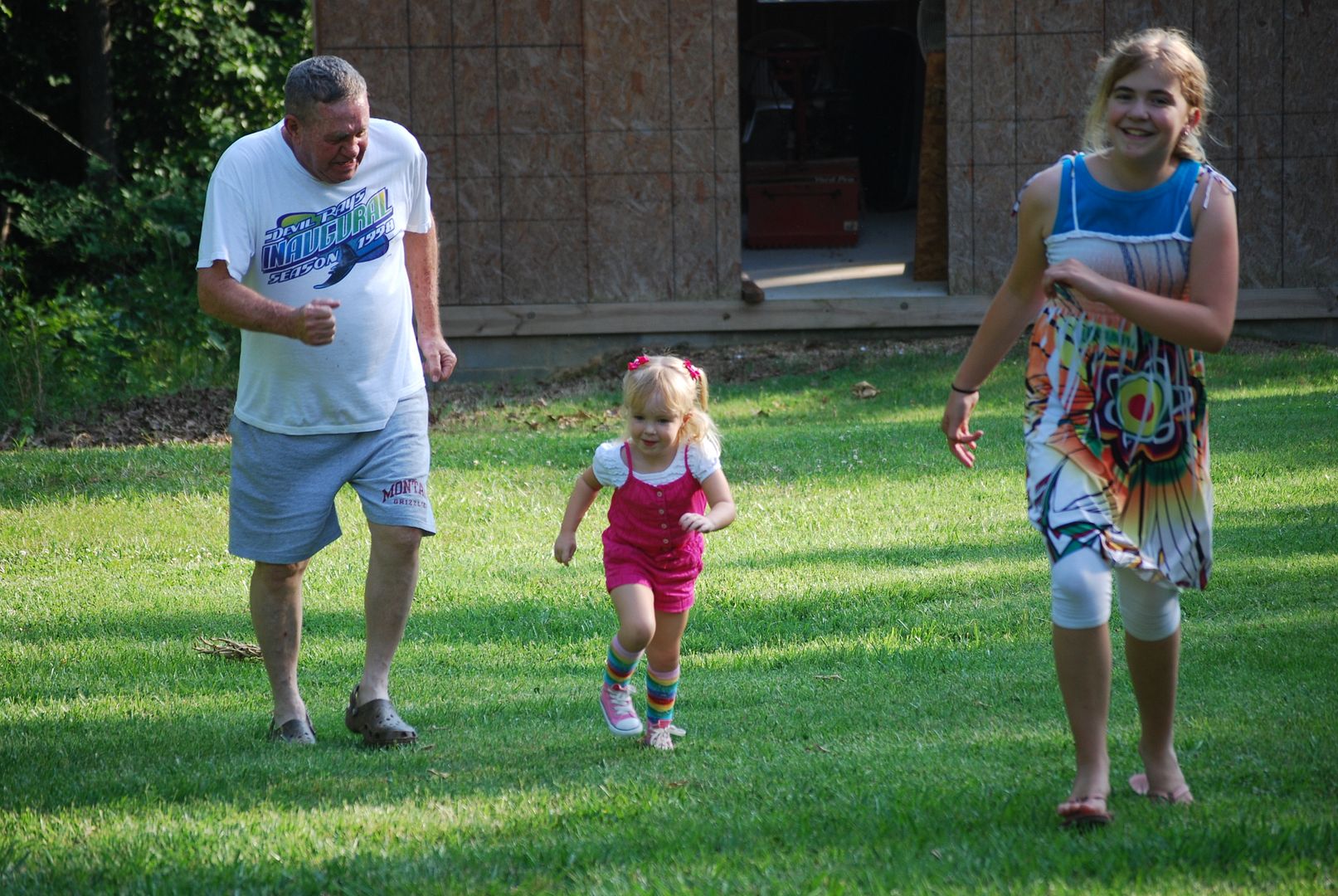 or saying yes to the 200th game of catch and praising them like when they catch the ball like they just got accepted into Yale; just to fill them up...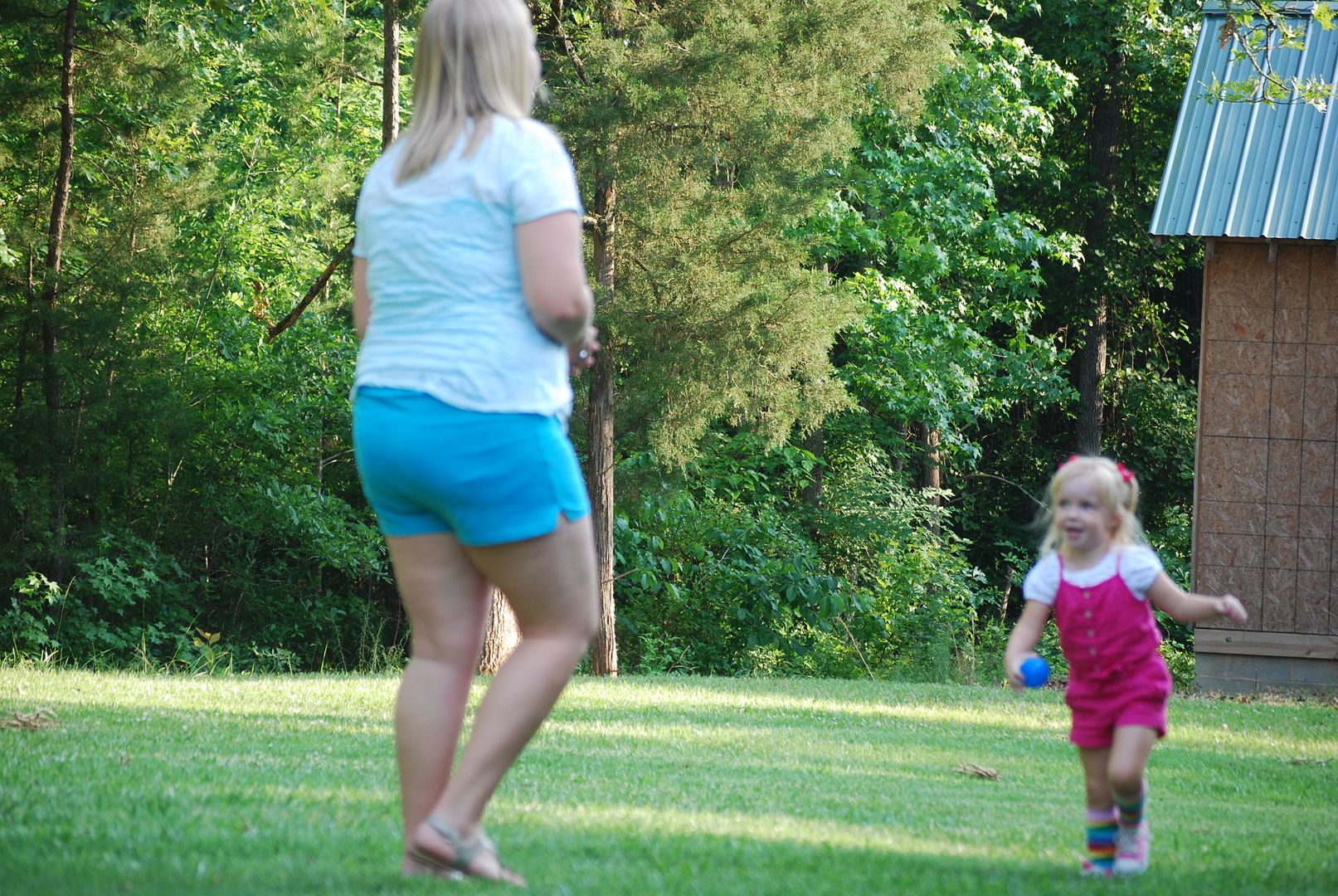 Sitting back taking it all in can be overwhelming and I wonder how we got here. Then I smile extra big knowing the answer...
Anna stood on the side of the road holding up a handmade "Welcome to South Carolina" for 30 minutes before we arrived. She practically waited by their doors while they napped and spread her love evenly between the 2. I don't know who had more fun?
And Grady became one of the boys in no time. New tongue trick for all to see. Look at me guys.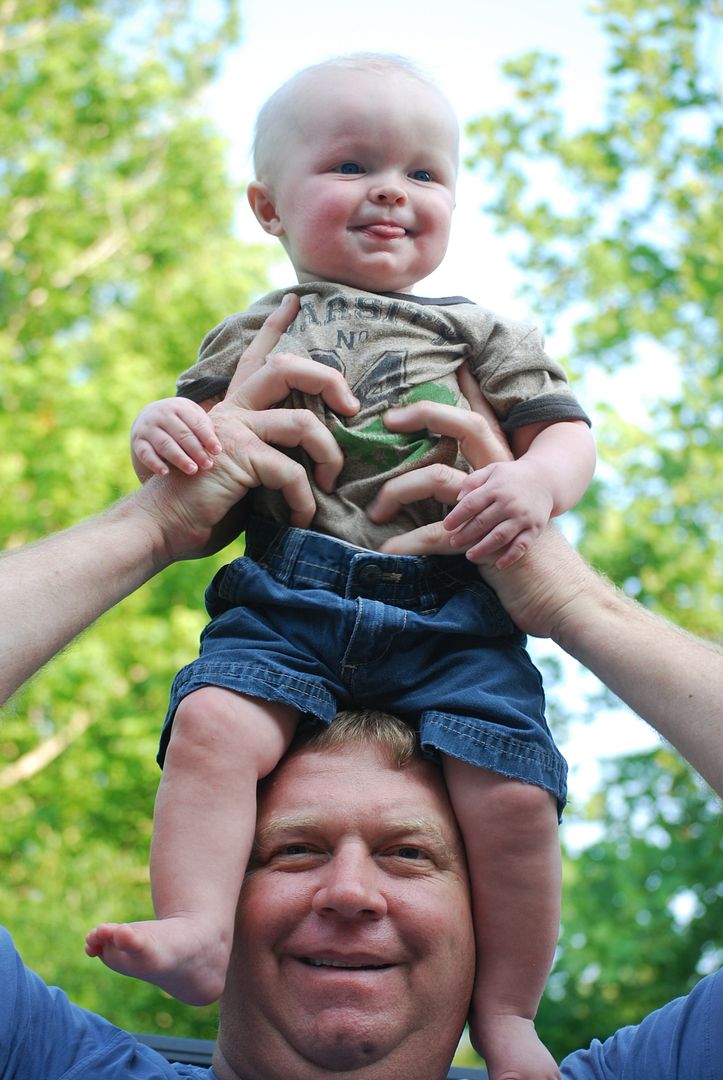 He was either smiling or making this face the entire time as he studied a new face holding him, not sure what to think, but then putting down his guard once he realized this was just another person who was going to kiss, hug and nuzzle him.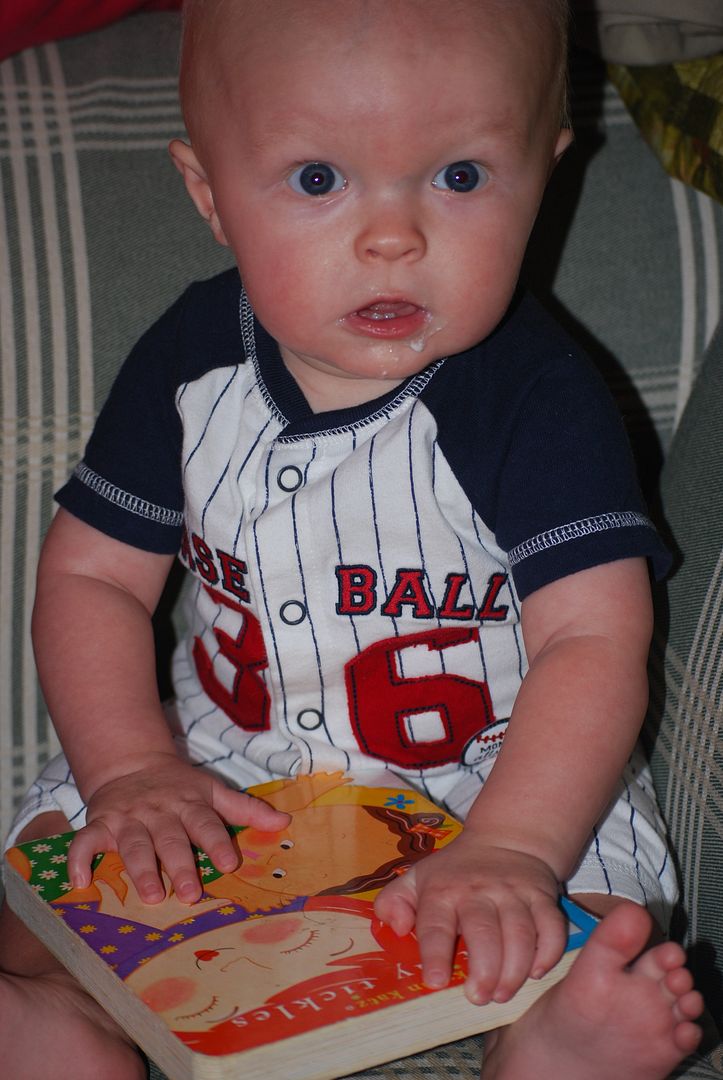 I think Lily would've been happier if David and I had dropped her off in SC so she could have them all to herself. I dont know if it was the crazy sleep schedules, the air mattress vs the crib, or all the new people, but she just wasn't herself and wasn't that into us. Maybe it's because she's 3 and asserting her independence, but i know it heightened the moment we arrived and curtailed itself when we left so I think she wanted us to stay back in FL this trip so she could have them all to herself.
She asked Anna "Pleez, will you pay with me?" at least 98 times. and even when they were playing together, she'd keep asking. I think she was so excited and comfortable with her she didn't know how to quite articulate it. Hide and go seek was a favorite game but Lily had a hard time understanding the concept because once Anna would yell "ready or not here I come", Lily always yelled out "Okay" from her secret hiding spot..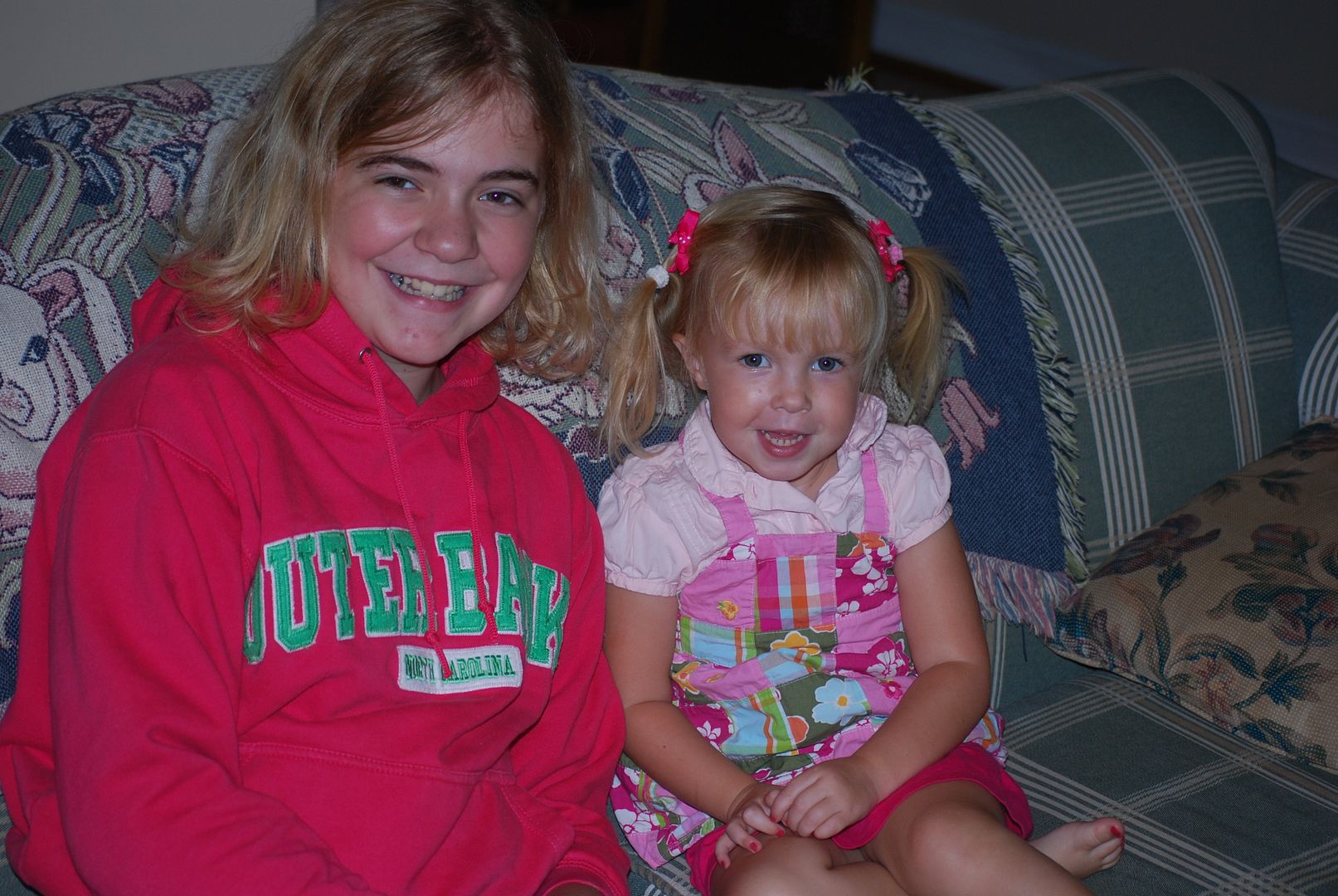 One of the highlights of the trip for me was visiting Lily and Grady's GREAT Grandma who will be 99 in September! 99 people! That's 63 more years of living for me and I'm already exhausted at age 36. She has been alive for 99 years. I don't know if you realize it, but that's pretty freaking close to 100 and being on the Smuckers Jar with Willard Scott. Her memory is poor, but seeing her face LIGHT UP like a Christmas tree when she saw Grady for the first time made me a pile of mush.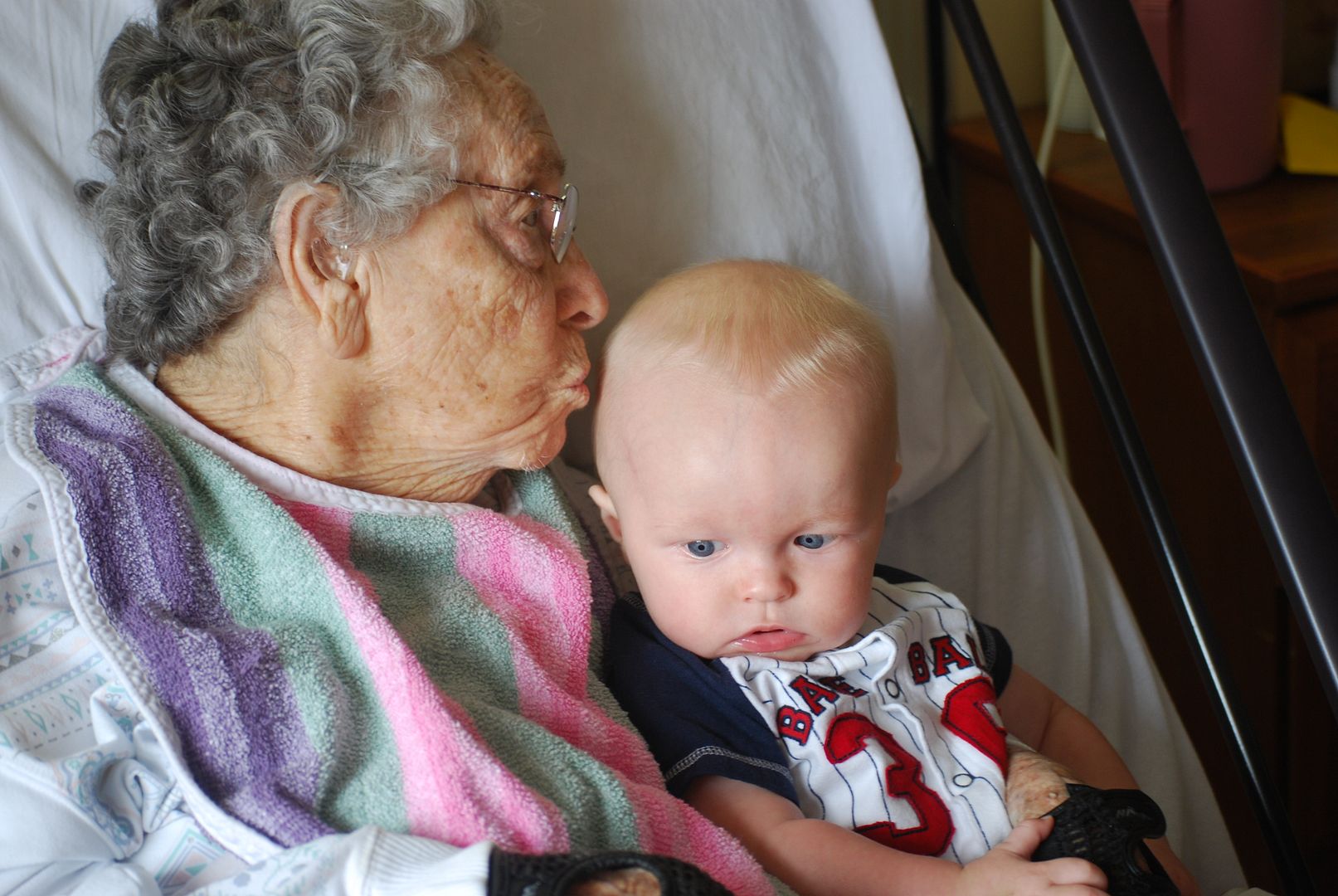 I excitedly anticipated seeing Lily and Grady with Thelma when planning this trip. If my camera cwuld've broken after getting these priceless pictures, I would've been a happy camper.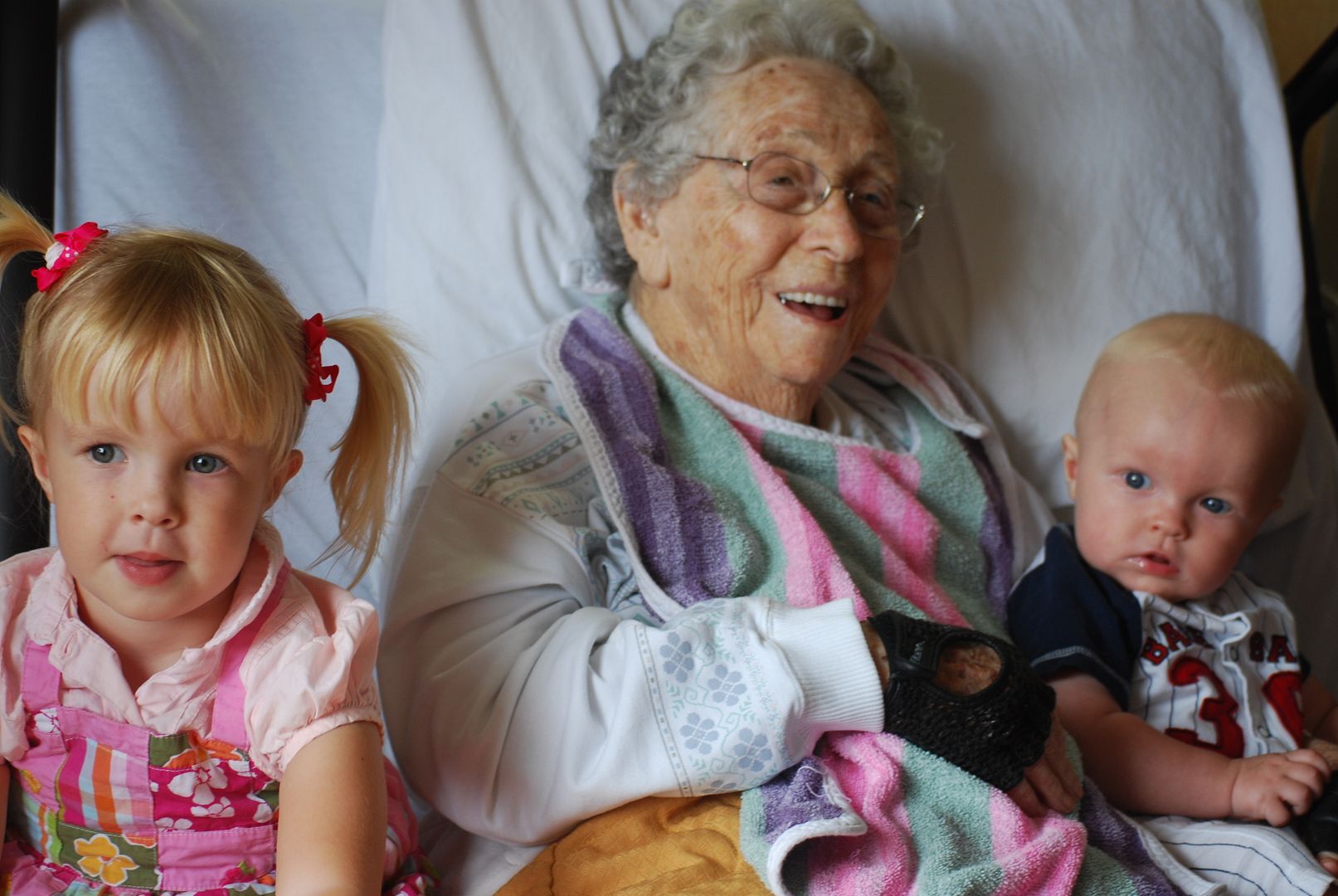 Yes, she is as sweet as she looks. I promise.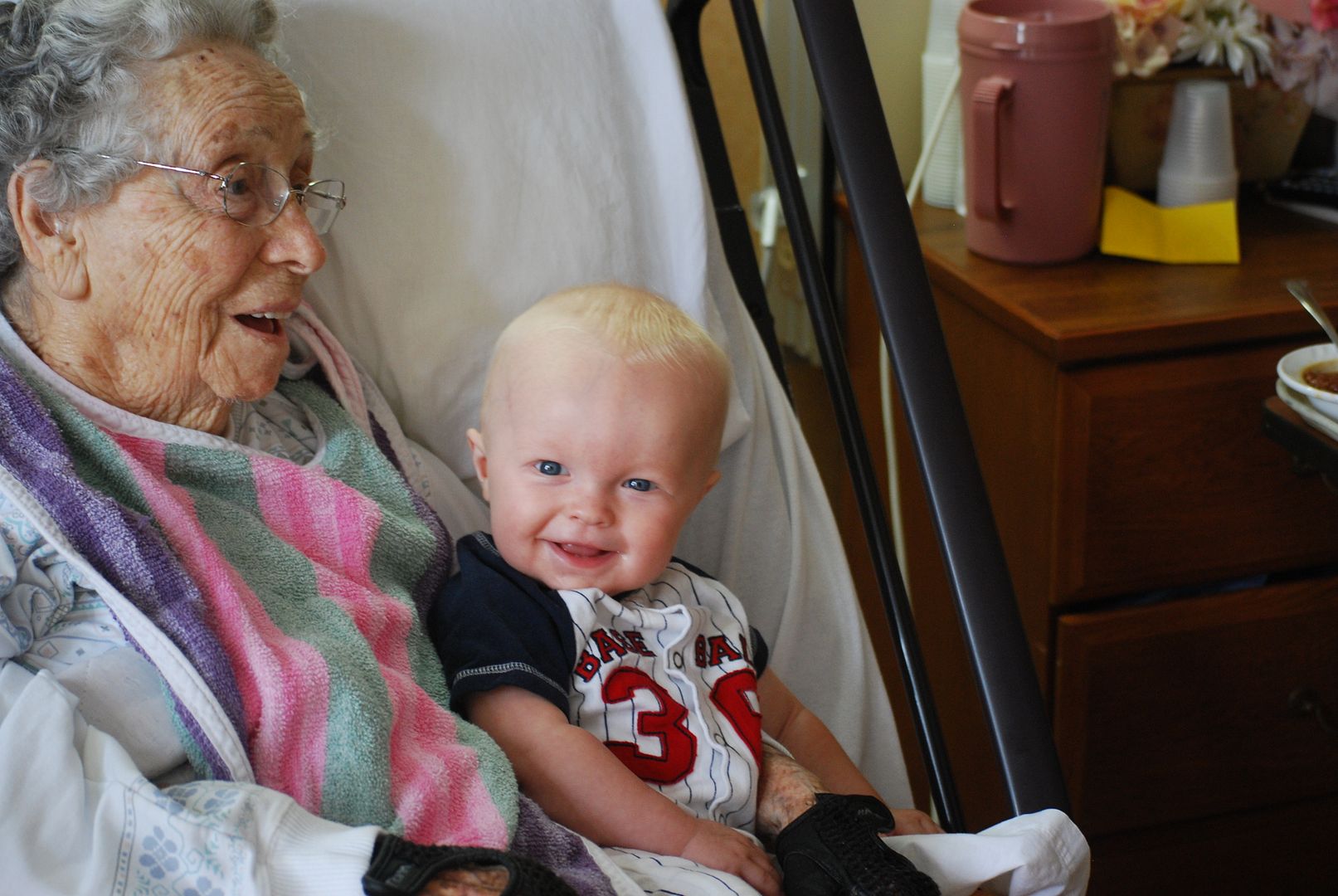 Lily went over all the pictures in a scrapbook Aunt Sandy made for Thelma and I could barely see through the camera as I snapped.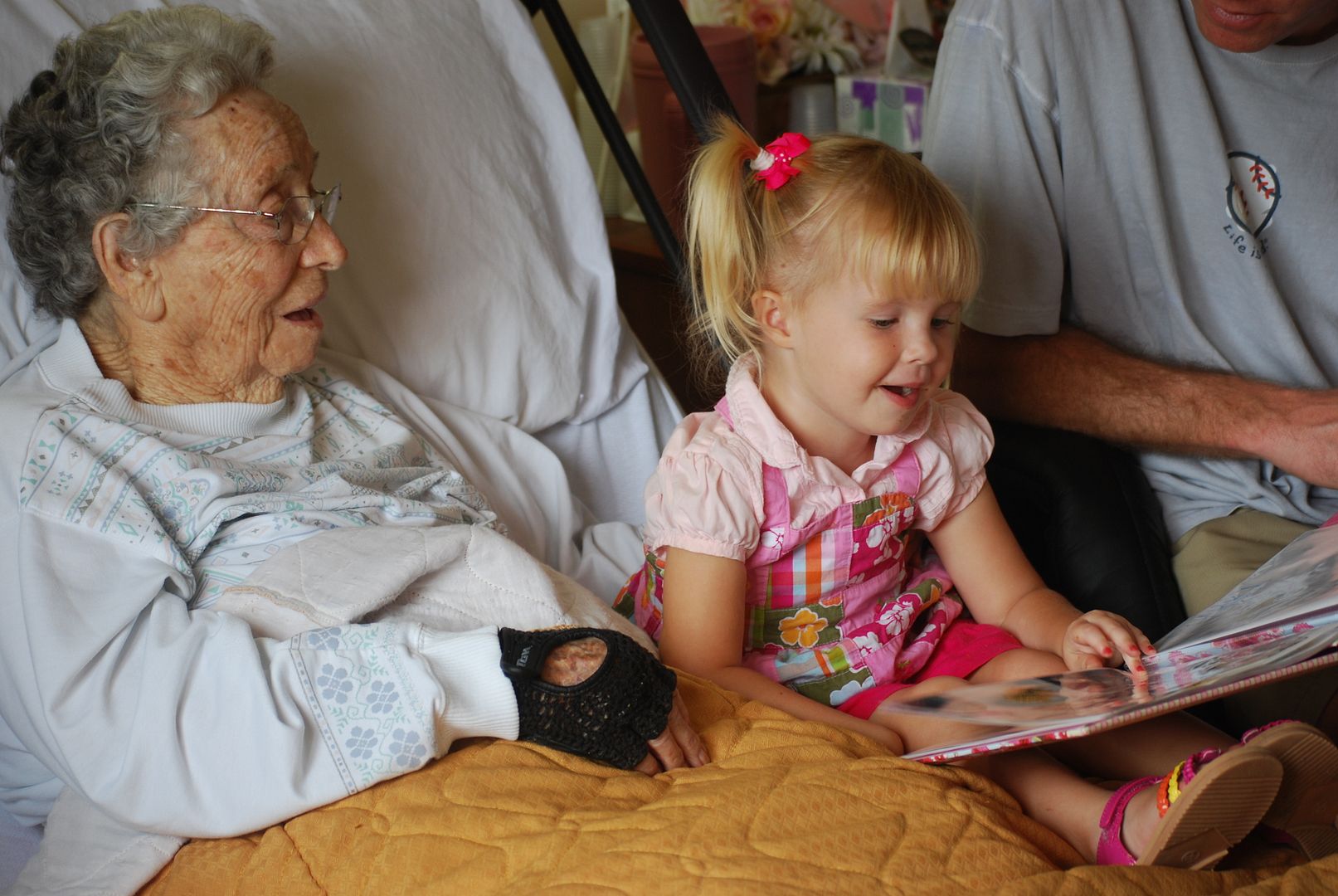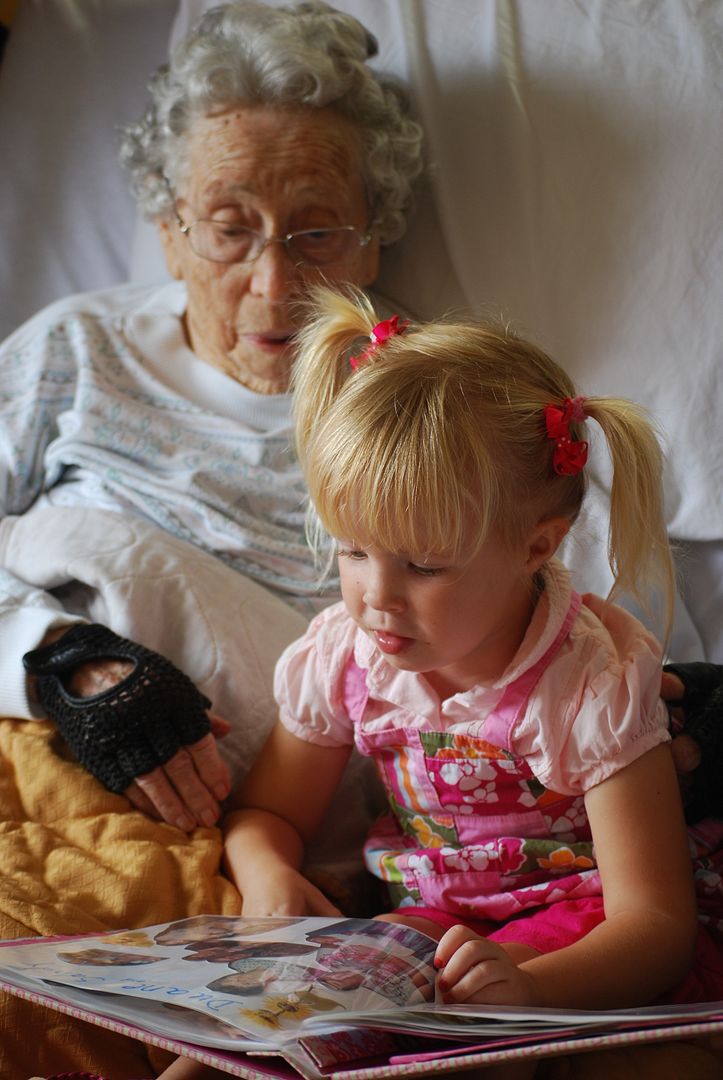 I'm a big fan of the cheesy shot when everyone looking at the camera, smiling and posed, but this is one of my favorite pictures from our trip. We're laughing and interacting while she just takes it all in smiling with her heart.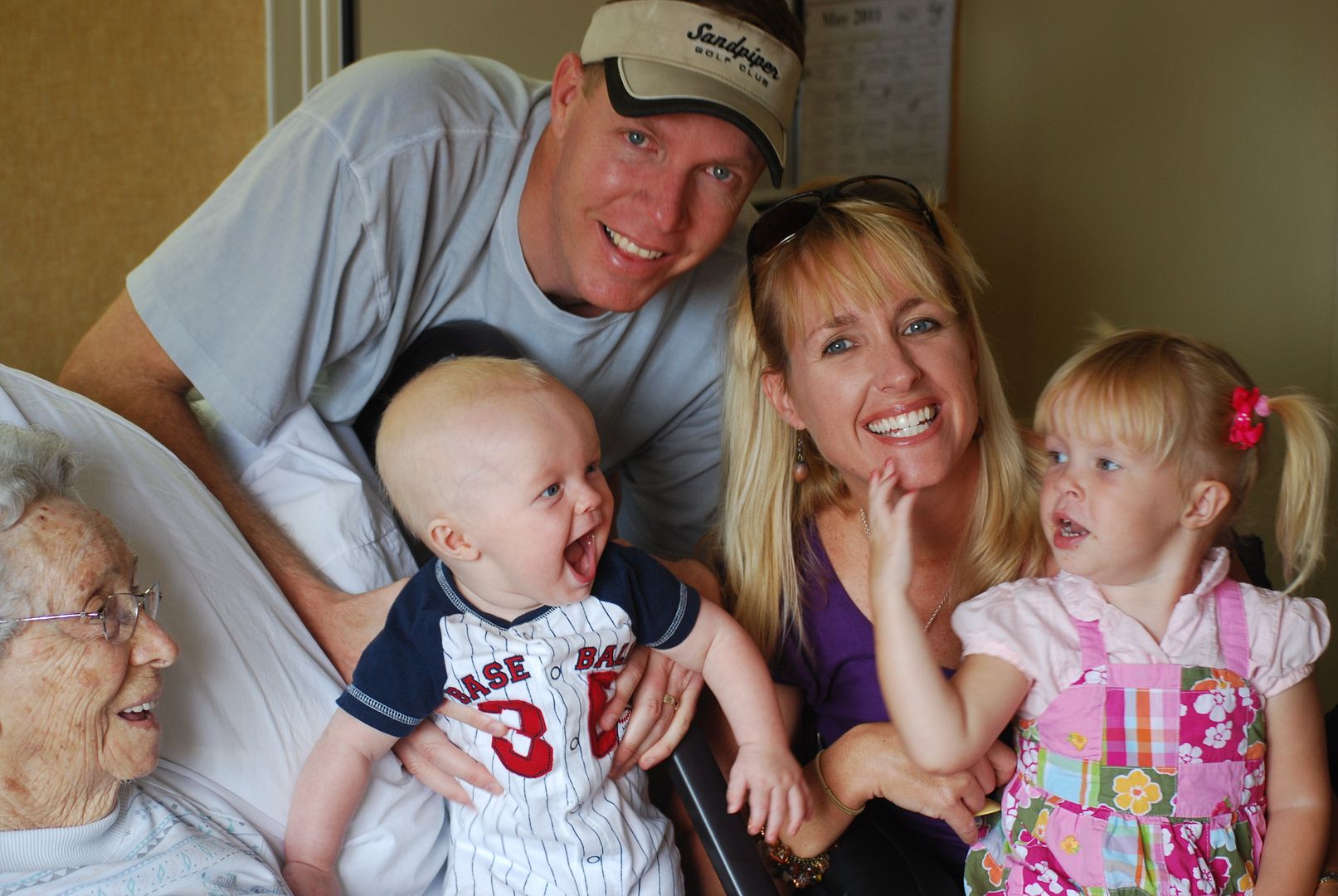 So even though,
thanks for everything
are such shallow words in comparison to all of the time, effort, planning, noise, chaos, and love that went into our trip, those are 3 little words that really have a bigger meaning and the only way to show them our gratitude is to pay it forward to our little miracles. This is just a fraction of the 200 pictures I'm wading through, but gives you a sweet taste of the southern charm we were lucky enough to savor while together.
Life is good.