There were major tears while we were waiting in line to see Santa.
Tears from me.
I used to avoid the malls like the plague around the holidays because seeing Santa represented so much of what I longed for. In an instant those feelings came flooding back! It's amazing how it usually seems so far away, but all the pain of trying to have Lily can come back in a moment! This was one of those moments.
Once we set Lily down on Santa's lap, I think she thought it was her turn to cry. She looked at us like we were crazy to put her with this crazy bearded man. Suddenly, the photographers were telling us to hop in the picture too. We knew we only had 1 shot at this so we wanted to get it right. Unprepared and not dressed appropriately, we hopped in and tried to make this picture what we always dreamed of...
we came up a little short...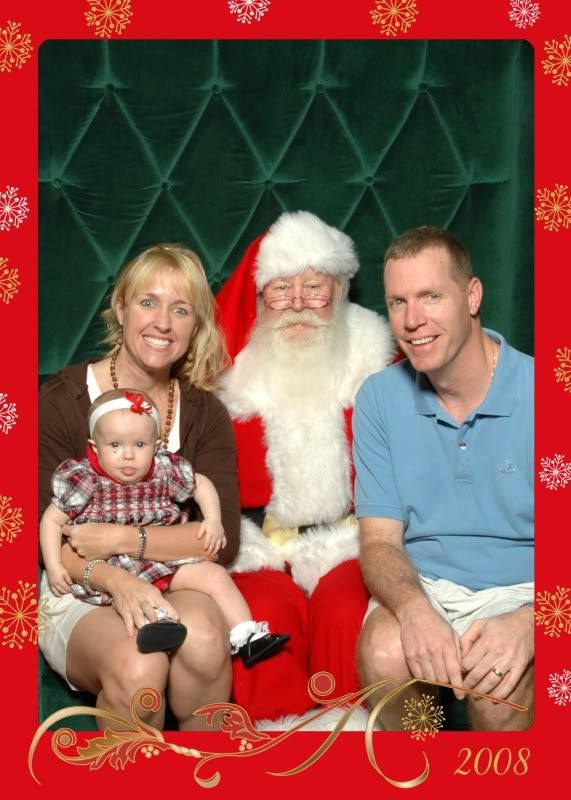 Feeling defeated and ripped off because we had to pay an ridiculous amount of money for this jpeg and couldn't even use our own cameras, we went home thinking we'd have to wait until next year to get that perfect shot with Lily and Santa. I never knew pictures with Santa could be so rare and stressful. I called everywhere looking for a Santa. I thought there were Santas on every corner ready to say cheese.
Not so much.
Until we got home and I saw an adorable picture of
Leah
with Santa. I thought they were up North because of the background and great Santa, but Wylie told me it was just around the corner to us and it was FREE! And you can use your own camera!! That's my kind of Santa!!!
So the next night we hightailed it up there and got a much better shot of her with Santa.
Maybe one year, we'll be able to hop out of it so she can have some alone time with Santa. This picture is actually an optical illusion because even though she's smiling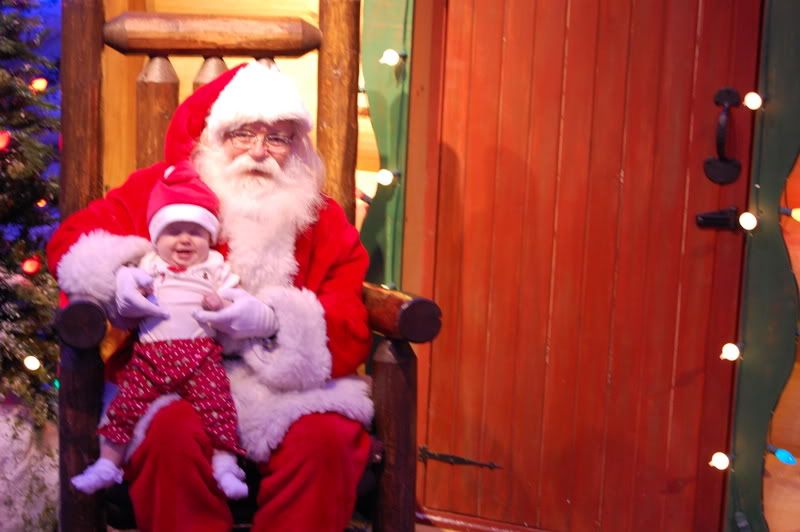 it's actually an illusion because she's in the middle of a meltdown...(audience awws)
she went from happy-go-lucky to full out wailing in less than a second. even santa looks stressed...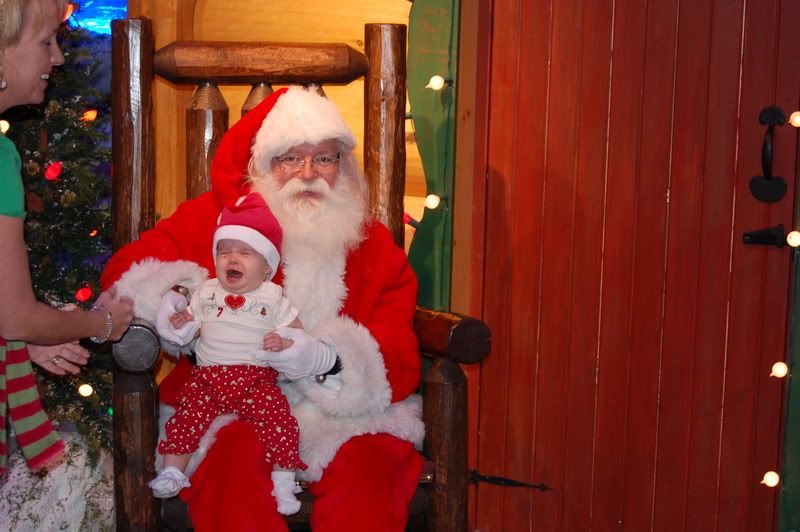 awww, much better...Mommy saves the day(audience awws again)
Then we were honored to be invited to the
Hampton
2nd Annual Hot Cocoa walk where they do a Christmas version of trick-or-treating going door to door playing Christmas music & passing out hot cocoa to neighbors. (topped with marshmallows by Lainey) It was so festive and the girls had a ball in their decked out Radio Flyer wagon which had a sign, garland, and even Christmas lights! Yes, battery operated Christmas lights!! At one point, Lily had a light in her mouth and she lit up like a glow worm!!
I would pay big money to know what is going on in their reindeer heads...
Thanks for including us Hampton Herd. It was snuggly, heartwarming, and put us ALL in the Christmas spirit!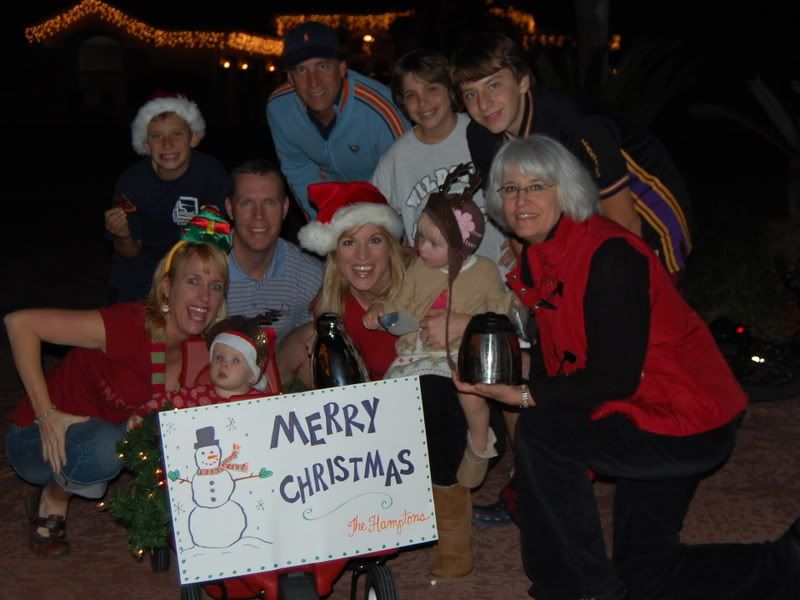 Happy Holidays to everyone! May your hearts be full and bubbling over with love this holiday season!
Life is Good.