If you know me then you know I love numbers and think everything is a sign. Well, today is my 500th post (gasp) and it just so happens to fall on Grady's Baptism day!! Words will cheapen the love and magic I felt during his baptism so pictures will have to do. I can't believe I've written 500 posts, but the even crazier part about it is that this blog started off as a infertility blog and was called "Life Thu IVF" because I thought it rhymed (doesn't) and I needed support through the toughest trial of my life thus far. My first post was written on
December 1, 2006
and when I read it back, it's like another person was writing those words and I'll sometimes skip back to a random post and remember the angst and worry that I had then to help put the angst and worry of today in perspective and my heart is so filled with gratitude for Lily and Grady I could just cry thinking about it. Oh and did I ever cry during the baptism. People watching me must've thought I was a lunatic with all the tears; not to mention the entire section that should've been roped off like at Sea World called the Splash Zone for all theh waterworks. It was a beautiful hour out of our life that will be cemented in our hearts forever.
Pastor Ted walked around holding Grady showing him off like a trophy and my heart almost melted right there on the stage....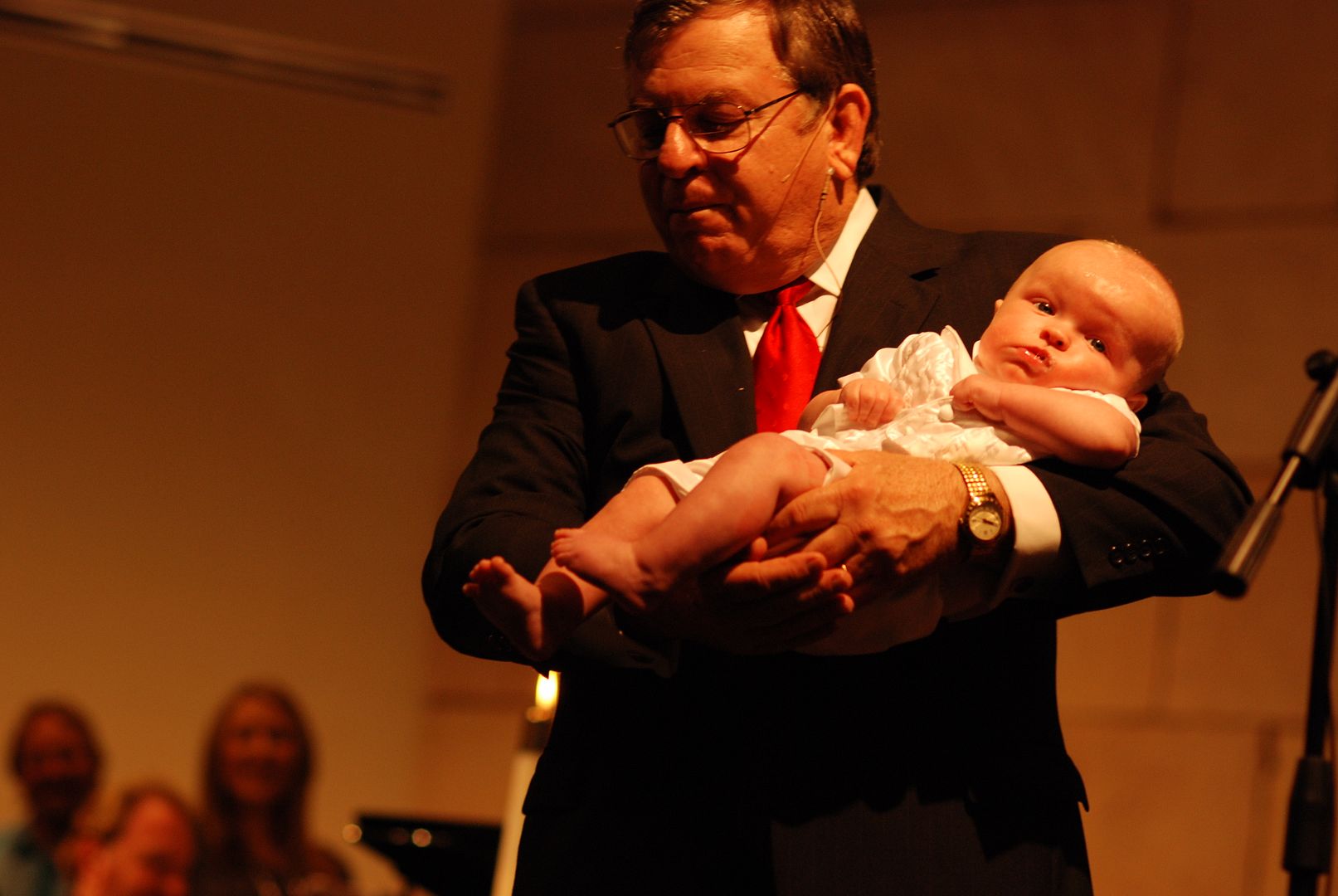 How did we get so lucky?
times 2? (uncanny resemblance here)
It felt like my wedding day being up on stage professing our love and commitment in front of God and the entire packed congregation; except this time it was to Grady and promising how we'll raise him with love, laughter and faith all intermingled.
All the while Julie and Eric his Godparents, praying and helping to guide him on his journey through life. If you've ever met thier kids. Nathan and Erica, it speaks to what amazing parents they are. Julie and I worked together when I was going through the worst of the worst so to speak. Many tears were shed together. Within a month of working together I had my first miscarriage and things went downhill from there , but she was always there helping, healing, guiding, loving and most of all praying the whole way through practically in my body going through it with me. I felt like Whoopi Goldberg from Ghost with so many people in my body feeling the same things I felt. Since then we've been able to celebrate and share in all the wonderment of motherhood; albeit our kids being at different stages, but still the parallels are there. Eric is the sweetest man on the planet and happiness seems to follow him everywhere with his big smile. Eric has the same birthday as Grady and it just so happens that the day Grady was born, Eric turned 50 on 10/10/10 so Eric will always be exactly 50 years older to the day than Grady! Another sign. My heart was so happy standing there with them.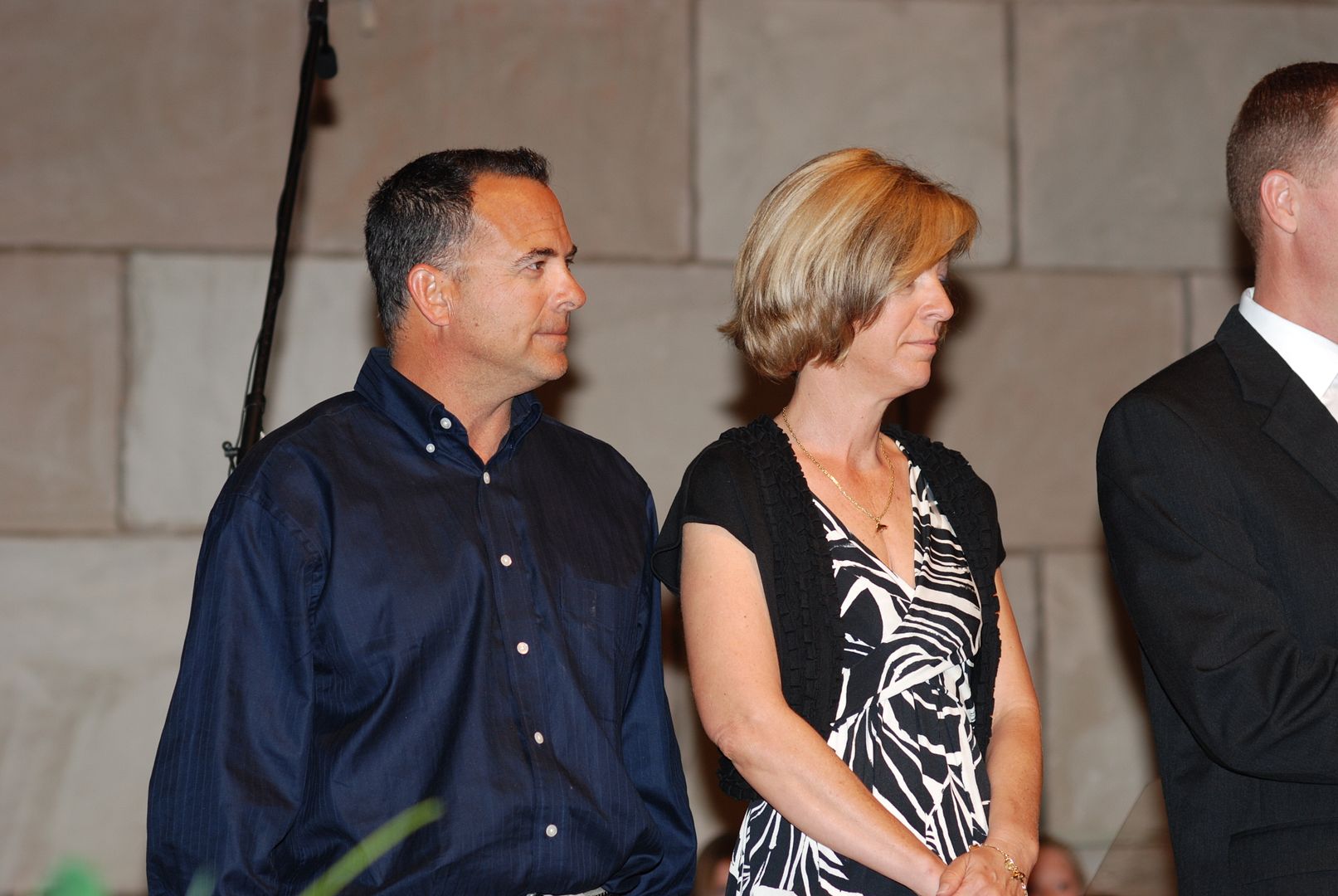 And the highlight of the day was my dear friend Andrea sang at the service. She and I both struggled to conceive, but then we both got pregnant and delivered within a day of each other. Another sign. Not only did she sing the baptism song
to
Grady as Pastor Ted walked him around the congregation, but she sang the special song we had playing the
exact moment
Grady was born. And when I tell you I was crying, that's an understatement. Andrea and I couldn't meet eyes during the song or she might've forgotten the words. I don't know how she got through it with such grace. My head felt like it was going to explode as I held Grady listening to her sing Hallelujah and it was as if my life flashed before my eyes during that song.
My mind was going off like rapid fire as snapshots of the last 6 years literally fired off in my brain; one half of a super split second I was in the delivery room and David was telling me Grady had blonde hair,
then the next millisecond, I was looking upstairs into 2 empty bedrooms that should be nurseries,
then the next I was watching Lily about to walk,
then I was at our wedding,
then I was getting shots from David,
then I was finding out there wasn't a heartbeat at our ultraound,
then I was at happy hour crying about not being pregnant,
then I was pushing a stroller for the first time at CPK,
then I was crying in David's arms,
then I was painting Lily's room,
then I was at Grady's shower,
then I was hugging a tearful David finding out we were finally pregnant,
then I was singing this beautiful song that I have listened to 124 times since Grady has been born, but never has it been more meaningful than hearing Andrea sing those words that we all feel. Her voice is just breathtaking. Listen for yourself. I know I have about 53 times since yesterday.
Beauty...
Can't see video? Click
here
Even Lily sang along...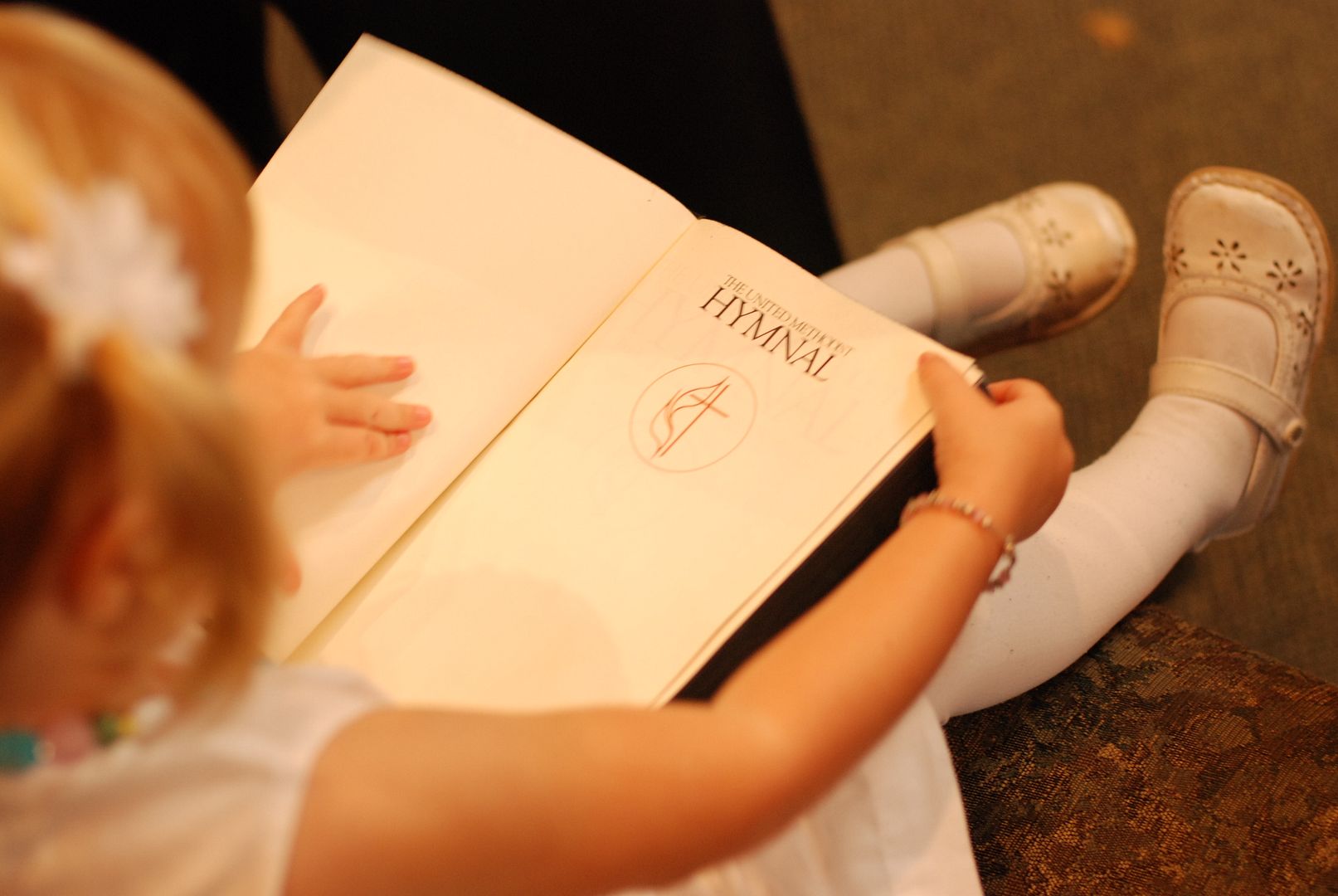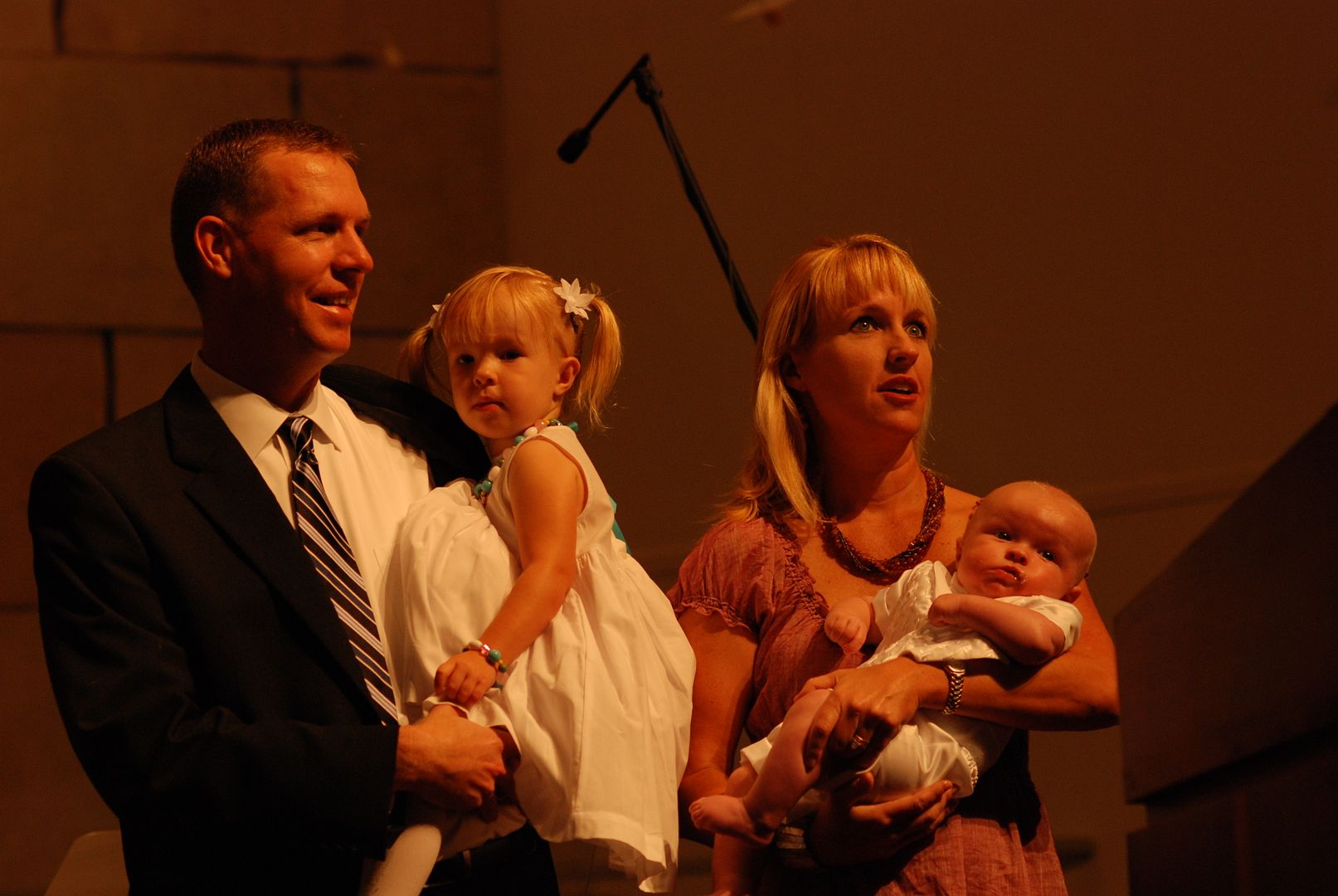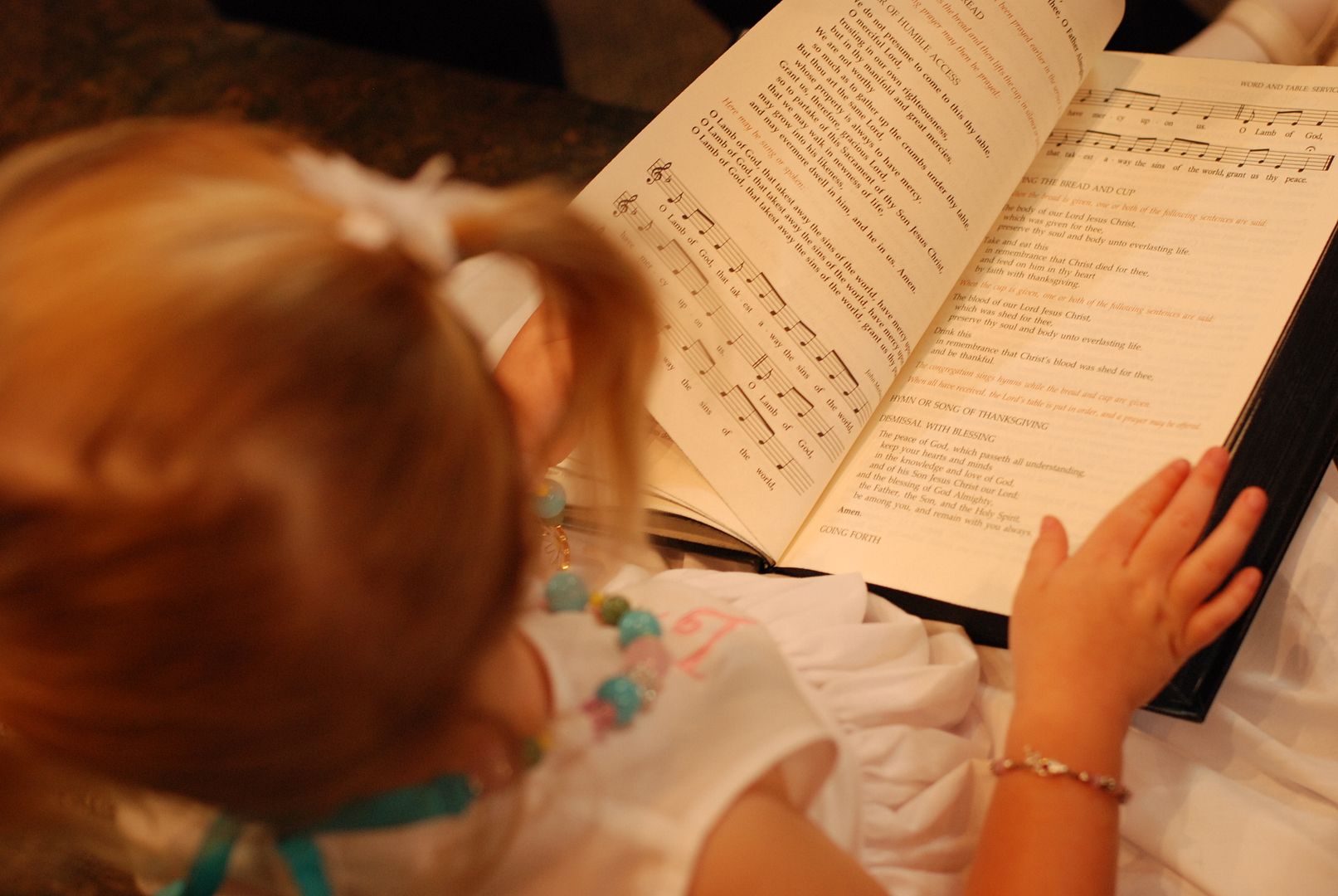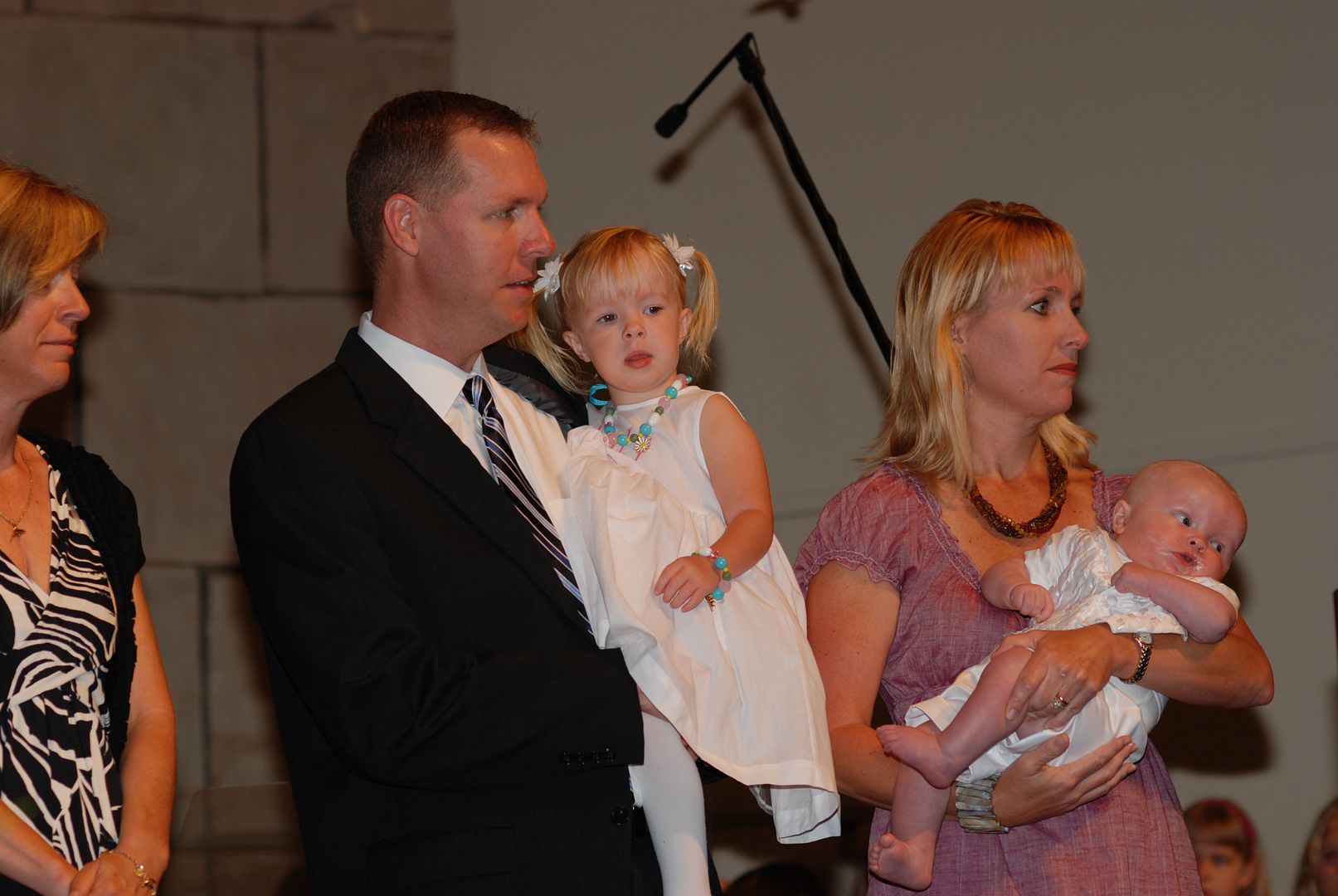 I wish i could put that hour in a bottle and sprinkle it around the world. I knew it'd be special, but never dreamed it'd be
that
special...
Ella and Grady reunite...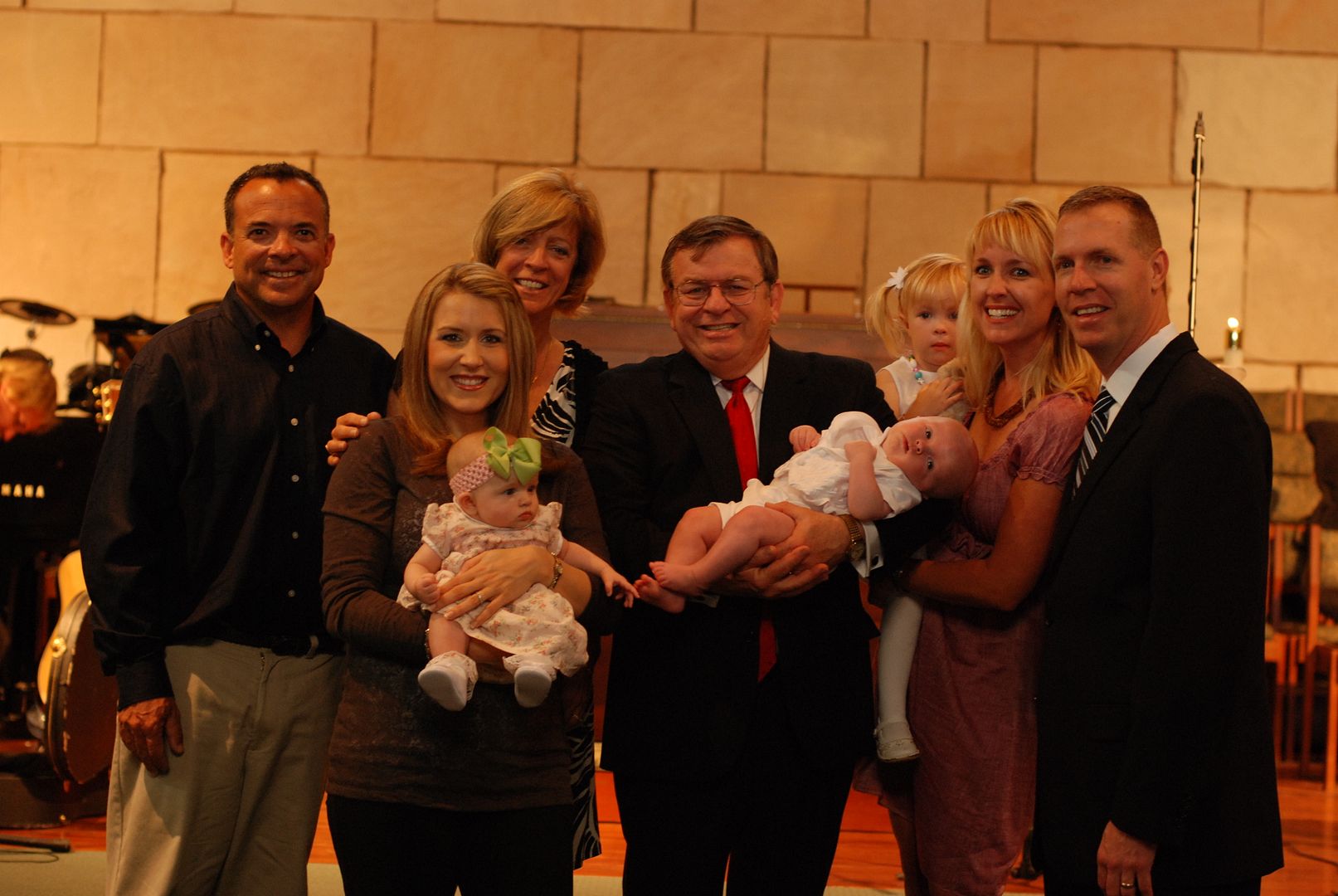 and of course he was dressed for the occasion. We skipped the sweater vest this week and went with a bowtie.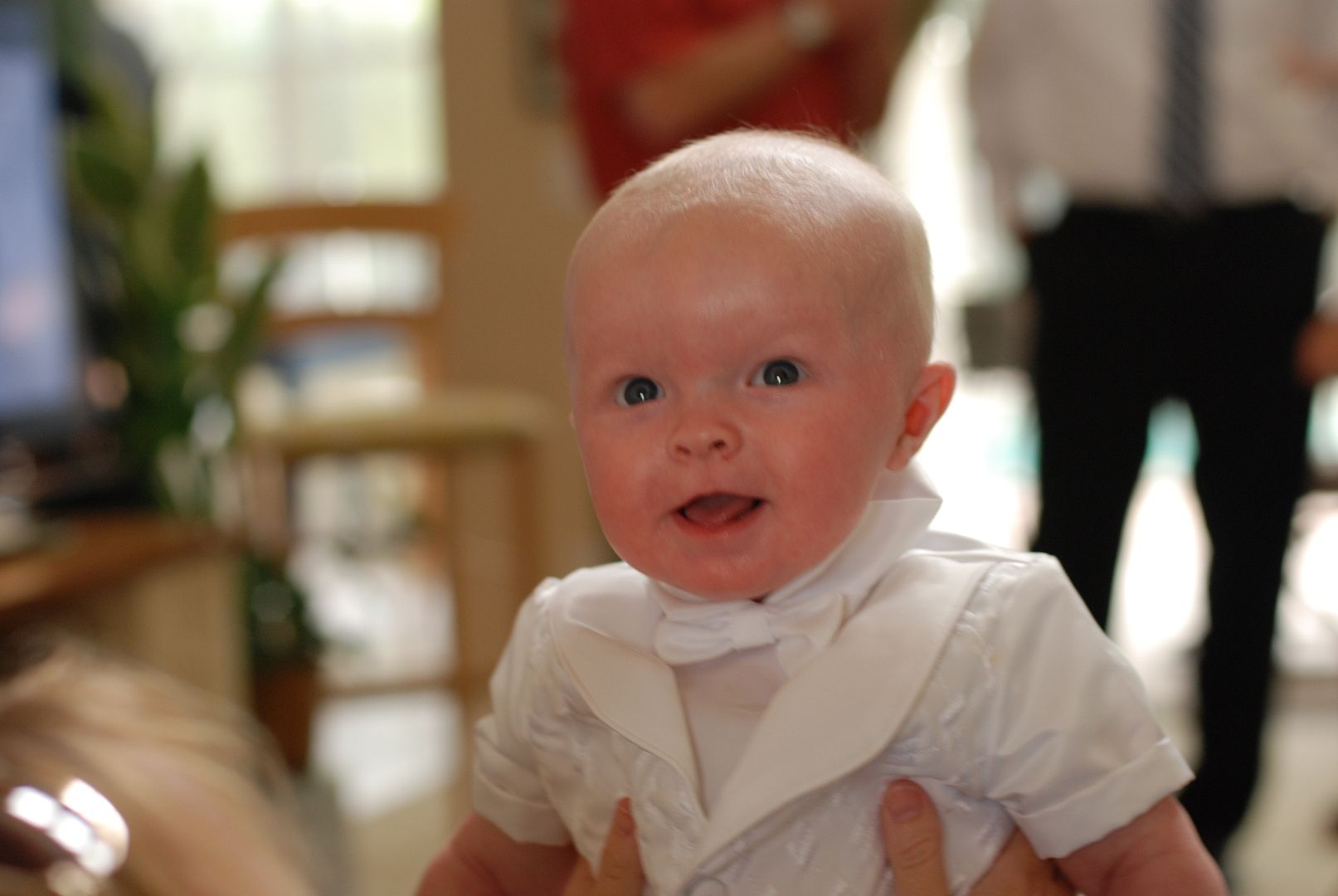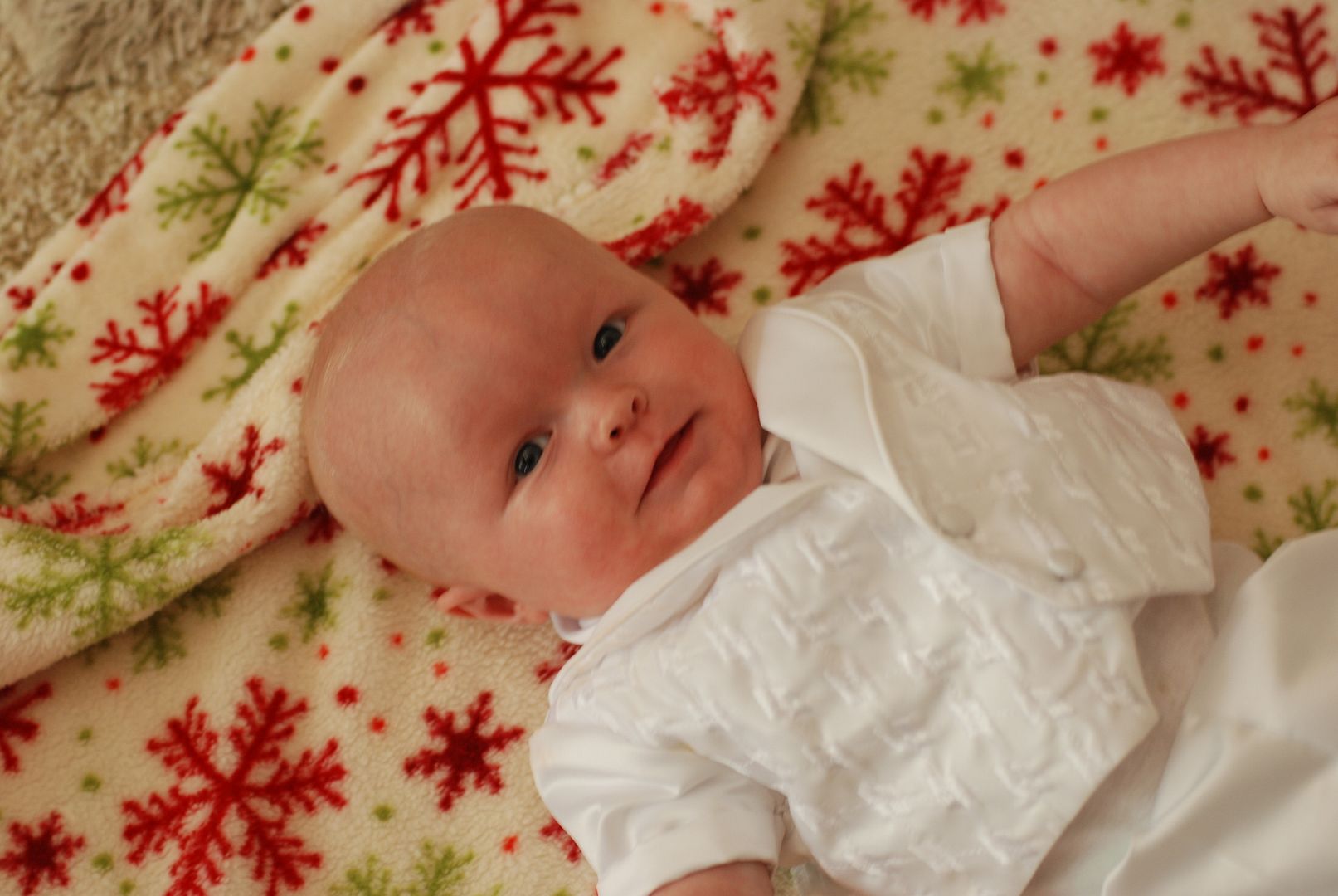 And Lily, of course, had to have a new dress paired with her Stella and Dot jewelry and her baptism bracelet. Thanks Trish! :)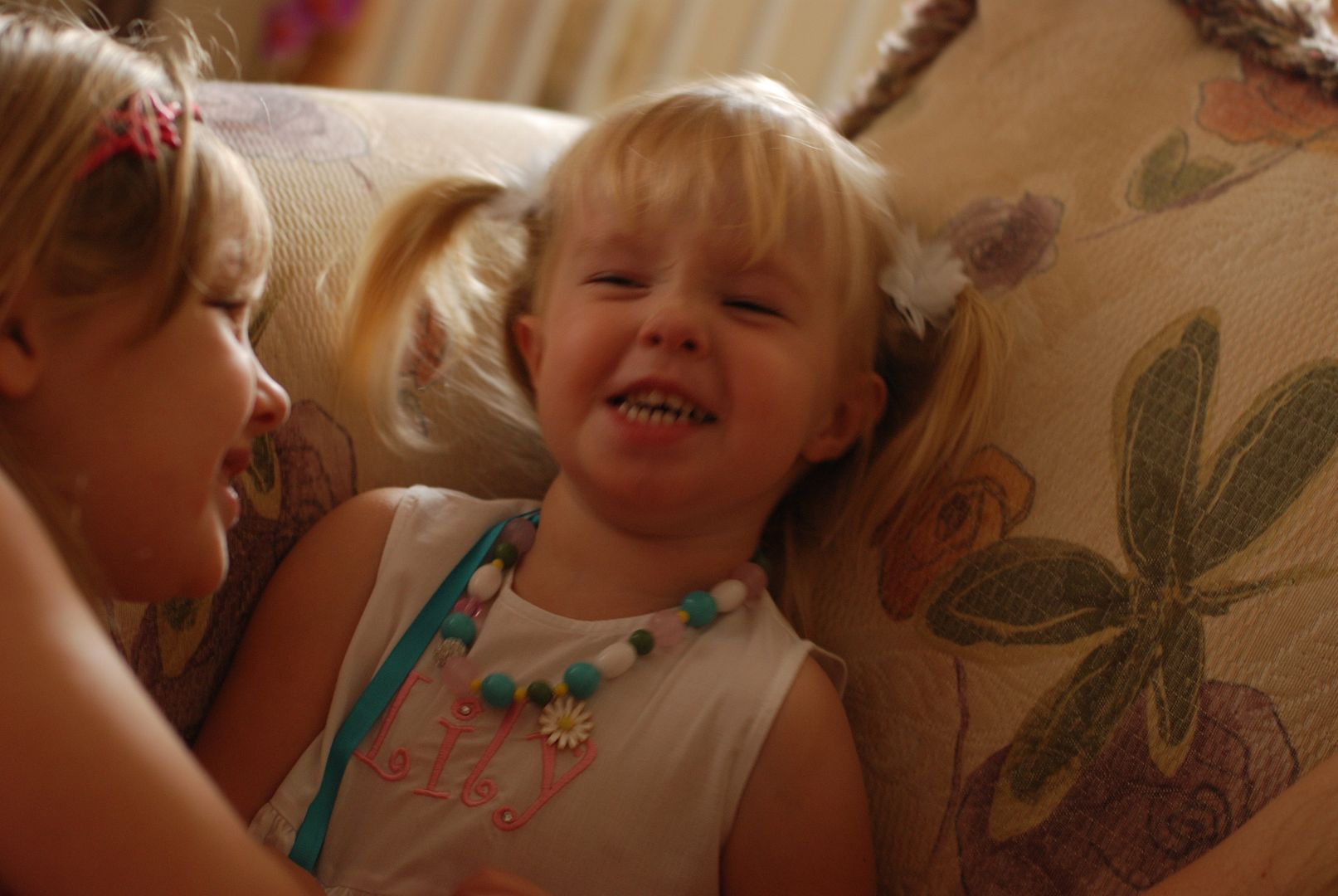 These 3 are like sisters without the sibling rivalry and fights about sharing clothes...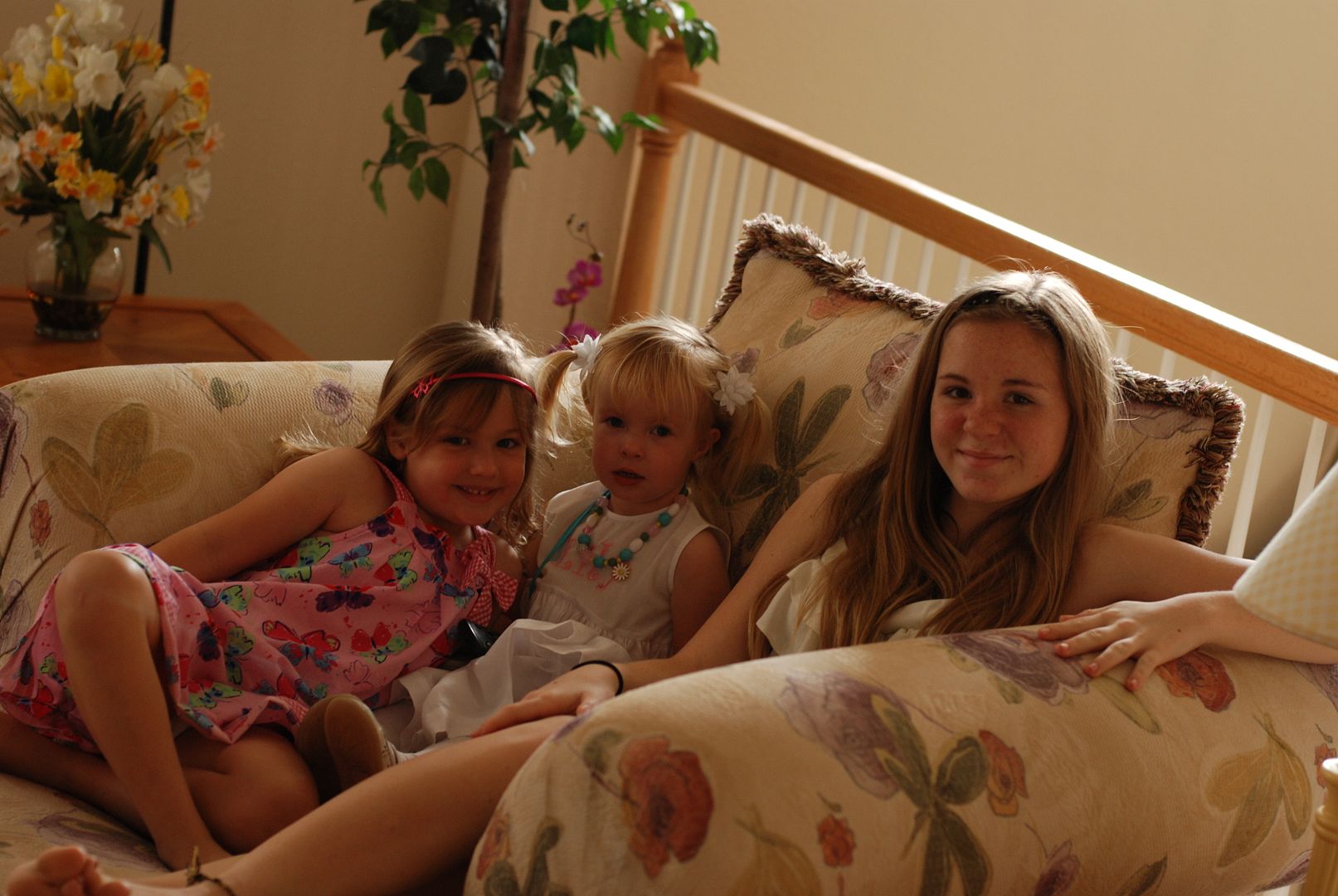 Jen almost recreated her octomom shot, but came up a bit short this time...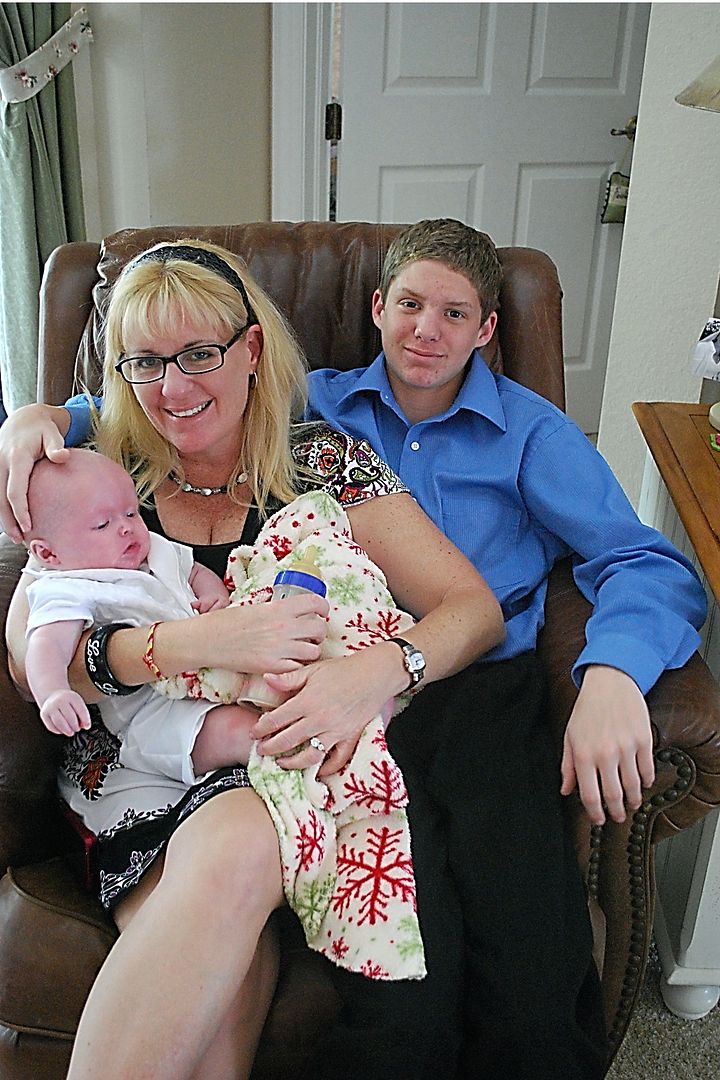 Ella was making the moves on G-Money and we caught it on camera....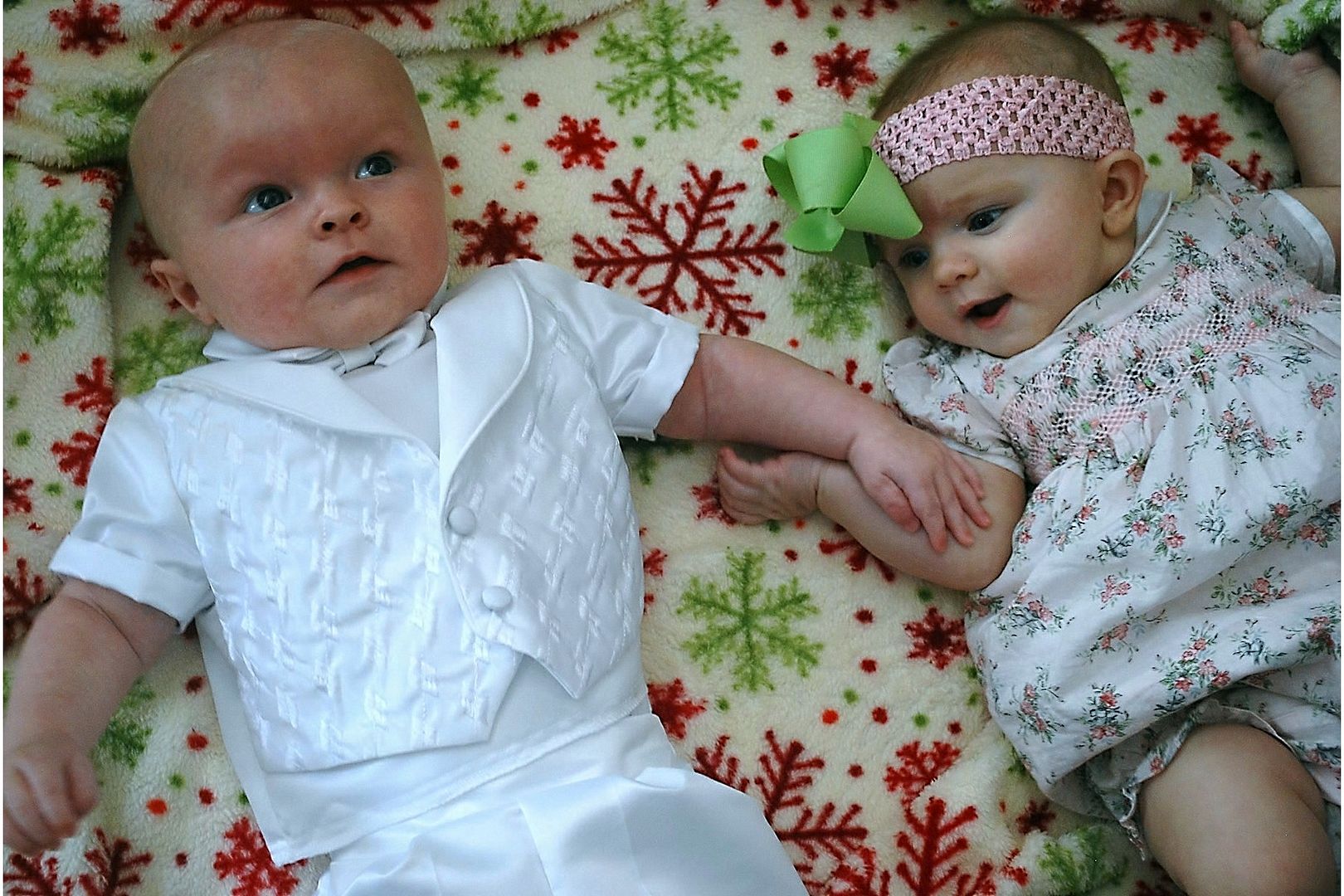 I had to do a double take with this picture because I expected Eric to be standing next to Julie. LOL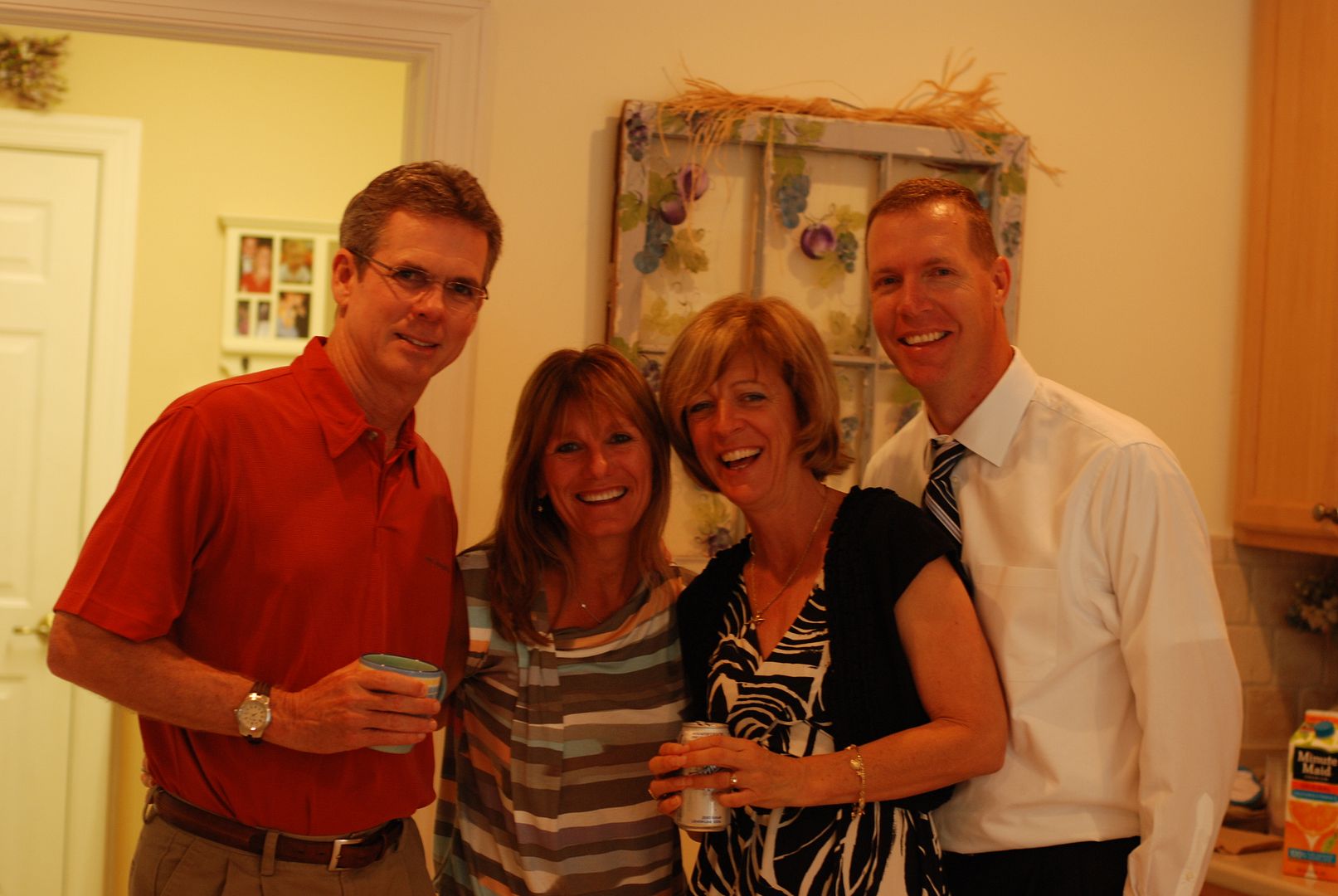 boys will be boys...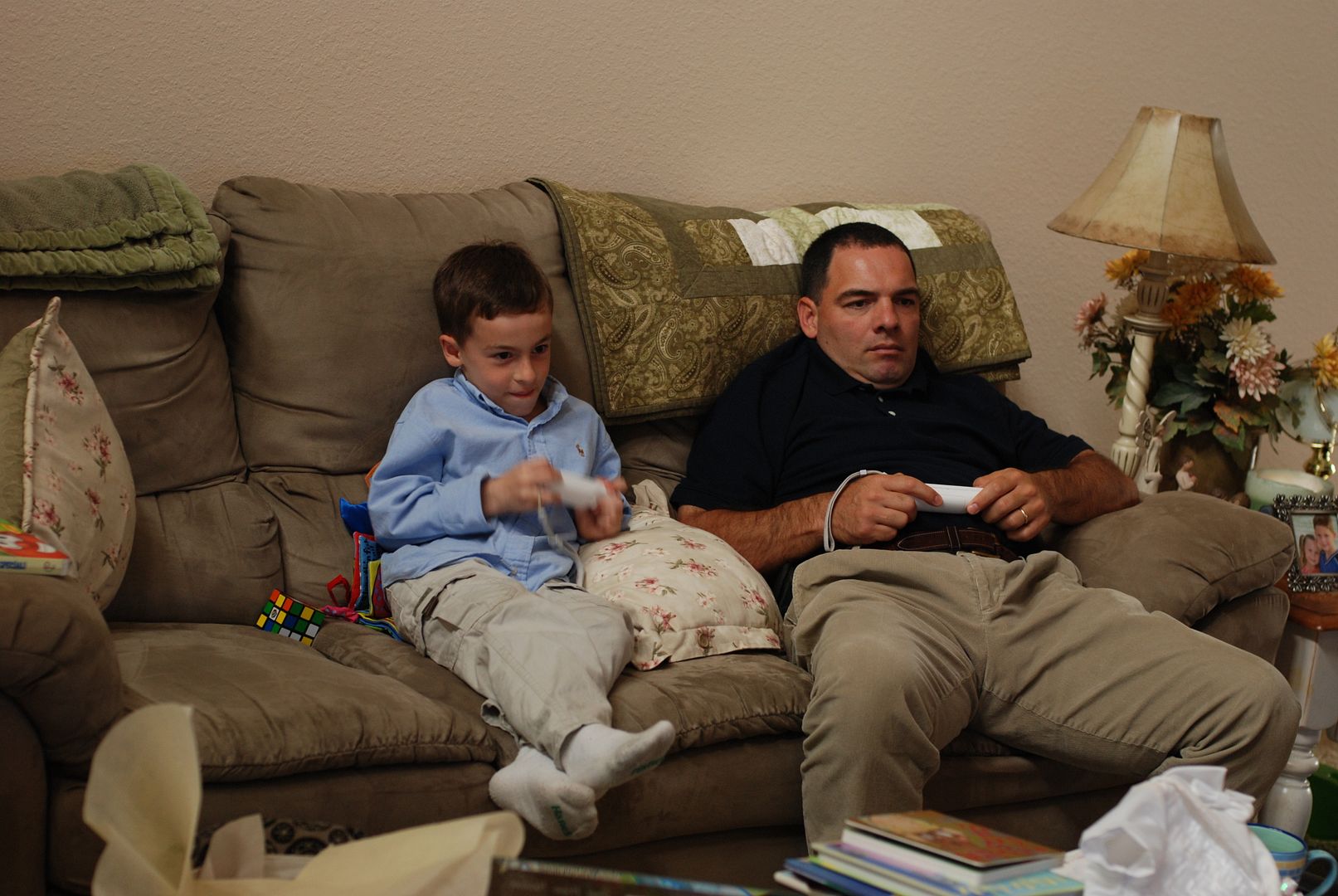 Steve is going to be a Grandpa in a few months so he was getting a little practice in early...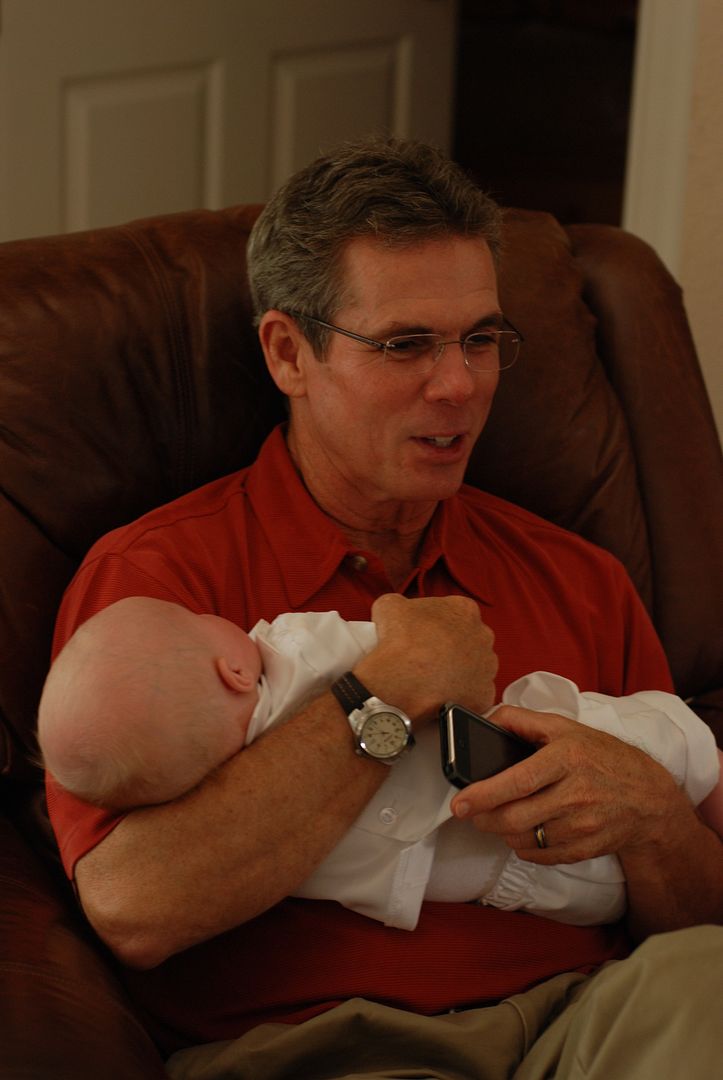 All the singing and bowties tuckered little Grady out and he was passed around like a hot potato. Feeling full and fulfilled knowing that my reason for living is finally here and my heart could fall out of my body when I look at Lily and Grady knowing the amazing responsibility we have been given to raise them. It won't be a perfect ride, or even close to it, but it'll be our very best we can give and we have the whole world of love surrounding them helping to make that possible.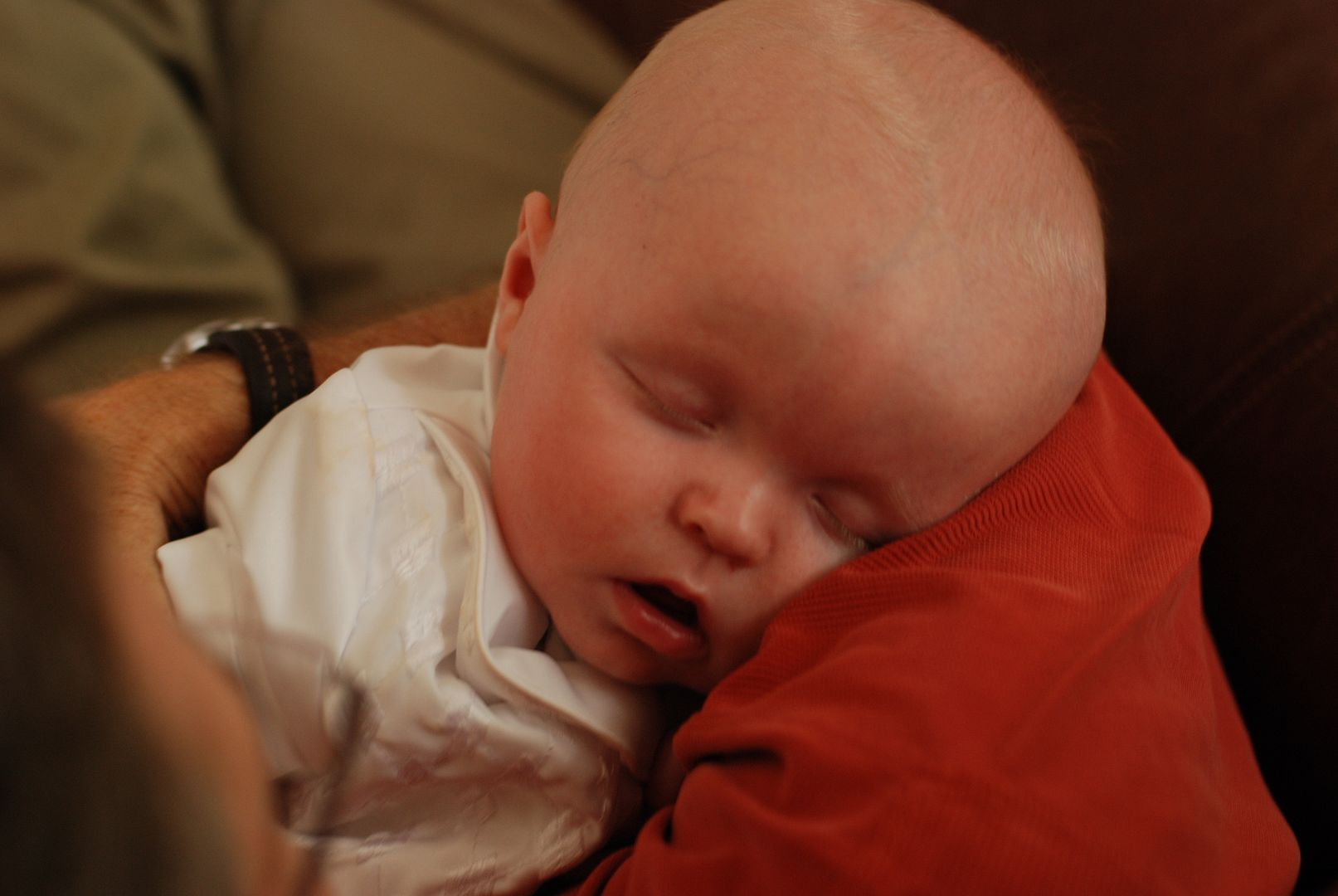 Happy Baptism Day to you sweet little Grady - you are loved beyond measure.