Nobody Puts Baby in the Corner....
except Lily does it to herself.
all. the. time.
She comes home from school and acts like she has homework because as I'm unloading the (million) bags from the car, she goes straight to the corner. We bought her a new chair for her reading corner, but she wanted nothing to do with it and loves to sit on the floor while reading. I could wallpaper the house with all the sneak-up-on-Lily-pictures-and-she-never-looks-up-while-reading-unless-i-call-her-name-50x-pictures. (she's actually kissing the book on the bottom)
and this is one of my favorites...she propped Mouse (Mou) and Snowman in
his
lap and sat them just so for a solid minute before nuzzling into the not so soft carpet for a good tale...
Then she saunters over to the
other
corner of our bedroom to put shoes on and off. Actually, she can't put any on and can't take them off, but she tries and tries. She puts them on for about 2 tries each foot, then hits them on the ground 3 times to try again like something is wrong with the shoe itself. Then she's on to the next shoe. Rinse. Repeat. Love her persistence.
Can I get arrested for spying? If she looked up, she'd see only an arm around the corner with a camera attached to it while I peek through the door crack. Is that legal? If not, I'm going straight to the big house.
Enter evidence A:
I can't tell you how long she does this.
and we think she has Daddy's clean gene because she'll put them all back into the basket when she's finished. If only she could mop.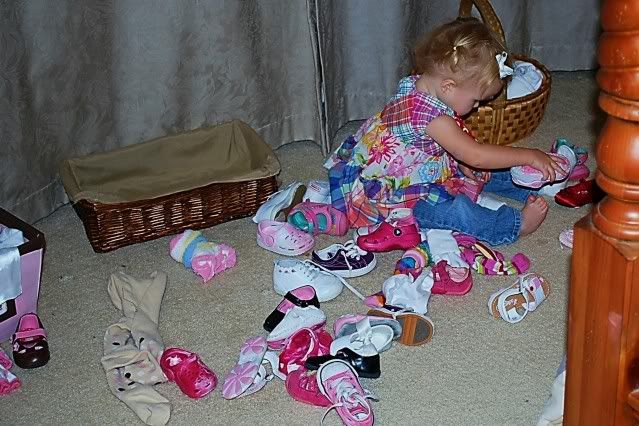 and when she's not in the corner, she's holding multiple things around the house like she's preparing for a business meeting and needs them with her at all times. You don't see an empty-handed Lily zipping around the house very often.
Still hard for me to comprehend that she's here and ours to raise, love, while adding this giant ray of sunshine into our house so I stop trying to comprehend it all and just enjoy our little miracle who has touched our lives in a big way.
Thank you Lily for being you. I feel honored to be the one chosen to be your "mommy" .